If you are getting married in Perth then you are in luck!
The city might be the most isolated capital city in the world, but when it comes to weddings and events it is blessed with a plethora of outstanding venues that will make your ceremony or reception a truly special one.
From lavish, upscale hotels and stunning waterfront locations to gorgeous vineyards and quaint cottages there are a lot of options to consider. So to help you out we have put together this list of 15 wonderful venues for your 2022 Perth Wedding.
Choose any of them and you can't go wrong.
Ritz-Carlton Perth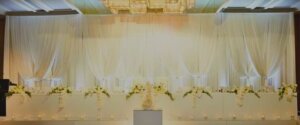 One of the most popular waterfront hotel wedding venues in the city, the Ritz-Carlton Perth is a luxury five star hotel on Elizabeth Quay that is perfect for upscale weddings.
Boasting terrific views of the Swan RIver and city skyline, which can be seen from its floor-to-ceiling windows, the hotel features a magnificent contemporary ballroom that can accommodate up to 500 guests. It also has a lovely private outdoor terrace too for more lower key functions.
To help you plan and organise your wedding, the hotel also has a dedicated team of experts that will create the bespoke wedding of your dreams. Their supplier network is awesome too, so you can be sure they will source for you the best of everything.
Caversham House

Image Source- Instagram
Whether you are planning an intimate gathering of only 20 people, or a massive celebration with up to 1000 guests, Caversham House can host any style of wedding function.
Nestled along the Swan River bank within Swan Valley, this enchanting early 1800s property features the most beautiful manicured gardens. It also has a spectacular four-story high waterfall, wrought iron gates and a collection of statues, all of which provide excellent backdrops for your photos.
A total wedding destination, within the historic building lies a number of ceremony and reception sites, most of which provide French-inspired furnishings like Tiffany chairs and chandeliers, as well as lovely views.
If you are looking for an upscale Perth wedding venue, this is the perfect place for you.
Rendezvous Hotel Perth

Image Source- Instagram
Located in Scarborough, Rendezvous Hotel Perth offers one of the city's most impressive wedding spaces.
Set on the 24th floor, the ballroom at this deluxe four star beachfront hotel features an observation deck that showcases panoramic views of Perth's immaculate 32 km coastline. 
Perfect for both grand wedding receptions, where 450 seated guests can attend, and more intimate ceremonies that can accommodate fewer guests, this unique venue has a real 'wow' factor to it.
The team here can assist with any style or theme of wedding and have many years of experience in doing so.
Chapel Farm

Image Source- Instagram
If you have always dreamed of a vintage wedding then Chapel Farm is an excellent venue.
Situated within the Perth Hills this fabulous destination is just 20 minutes from the Perth CBD, but it has everything you could want. 
Dominated by a gorgeous Victorian homestead which features timber that is hundreds of years old, this expansive pastoral property also has a stunning landscape of waterfalls, lakes, beautiful lawns and hundreds of species of plants and flowers.
With three private reception rooms that can host up to 250 guests, and a number of excellent accommodation options, this really is the complete package when it comes to Perth Wedding venues.
Sittella Winery & Restaurant

Image Source- Instagram
Nestled within the heart of Swan Valley's iconic wine region, the Sittella Winery & Restaurant is a favourite venue among Perth couples.
Set against the backdrop of the stunning Darling Range escarpment, the venue is situated in Herne Hill, just 30 minutes from Perth, So it is easy for your guests to get to.
Featuring earth rendered, Mediterranean-styled architecture, that encapsulates the spirit of contemporary Italy, the picturesque vineyard, stunning lake and beautiful gazebo provide wonderful photography opportunities.
The impressive timber verandah also provides wonderful alfresco dining for up to 150 guests, which adds a very romantic air to the occasion.
The Boatshed Restaurant 

Image Source- Instagram
A popular wedding venue in South Perth, The Boatshed Restaurant is known for its terrific 180-degree views of the Swan River, which provide a wonderful backdrop for your special day. 
Perfectly set up to host both a ceremony and reception, this charming venue is rich in character, with hardwood floors, lots of natural light, and big windows that convey the Perth city skyline.
As the venue is also known for being one of the best restaurants in the city, you can rest assured that the food you offer your guests will be of the most exceptional quality.
Bridgeleigh Reception Centre
The Bridgeleigh Reception Centre has been a stalwart of the Perth wedding scene for almost 30 years.
Family owned, the venue offers a distinct colonial charm for your special day with expansive cottage gardens and lush Australian bushland.
Despite being only 25 minutes away from the CBD you will feel like you are in a much more remote location at this delightful Perth wedding venue, and with two spacious function rooms onsite that can accommodate up to 170 guests, you will be able to invite quite a few people.
For those on a budget, they even offer discounts to host your reception during midweek.
Joondalup Resort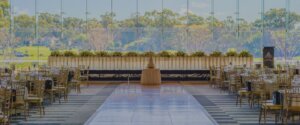 Image Source- Instagram
Tucked away in tranquil bushland, just a 25 minute drive north of the city, the Joondalup Resort provides one of Western Australia's most picturesque settings for a wedding.
A very impressive, holistic, venue that can host up to 600 guests, it boasts five idyllic locations which are perfectly set up for your ceremony.
It also has seven fabulous function rooms for your reception, as well as luxury accommodation for the bridal party.
While there are also a variety of garden settings that offer plenty of photo opportunities too, including besides a marvellous cascading fountain or within the outdoor gazebo.
Sandalford Wines

Image Source- Instagram
Another terrific winery setting for a Perth wedding, Sandalford Wines boasts wonderful rolling vineyards and a quaint rural heritage vibe.
Accommodating anywhere between 20 and 500 guests the team here take a very personal approach to your wedding planning to ensure everything goes smoothly.
With lovely manicured gardens for your ceremony and three ornate function rooms for your reception, the venue is well set up to host your special day.
The quality of their wines is outstanding too, while their food offering is also first rate.
Fraser's Kings Park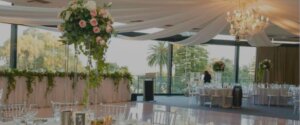 Image Source- Instagram
Situated within 400 hectares of lush parkland within Perth's CBD, Fraser's Kings Park is a popular wedding venue that showcases inspirational views of both the Swan River and the city skyline.
Catering for weddings that vary in size from intimate affairs with only 28 guests, to extravagant cocktail receptions for up to 700 guests, this is one of Perth's most reputable wedding venues.
Specialising in top notch Western Australian cuisine, the function space is a stunning semi-circular room that features wooden accents and floor-to-ceiling windows.
Despite the numbers it can hold, the atmosphere it creates is warm and intimate, which always makes for a memorable occasion.
The Vines Resort and Country Club
Another fabulous vineyard in the Swan Valley, The Vines Resort and Country Club provides the quintessential vineyard wedding experience.
A versatile venue, it offers you the opportunity to host your ceremony and reception amongst beautifully landscaped vineyards and gardens. Alternatively you can choose to host it in the splendid garden pavilion that overlooks koi ponds and the golf course, or the the chic clubhouse.
Located just 35 minutes from Perth, the winery is a very romantic location. It can host up to 160 guests for your wedding function and even has accommodation packages for guests to stay overnight.
Hyatt Regency Perth

Image Source- Instagram
If you are looking for a venue with a 'wow' factor then the Hyatt Regency Perth delivers in spades.
Directly overlooking the Swan River on Adelaide Terrace, this lavish, five star hotel offers a number of unique event spaces that exude elegance and sophistication.
Boasting state-of-the-art facilities, they range from small rooms that can host quiet, intimate ceremonies, to a fantastic ballroom that can host an opulent gala dinner for 500 people.
The hotel also offers a dedicated wedding co-coordinator who can help you plan all aspects of your special day, as well as extensive catering options to suit all budgets and tastes.
Matilda Bay Restaurant 
The Matilda Bay restaurant has been a popular venue for weddings in Perth for over 30 years.
Nestled on the banks of the Swan River, within the suburb of Crawley, the restaurant offers terrific waterfront views of the Perth skyline.
Offering three private function rooms that can house between 140 seated and 250 cocktail guests, each of them features glass bifold doors. Leading out onto a verdant patio and garden, which can host a ceremony that will overlook the marina, this enables you to have a mix of an indoor and outdoor celebrations as you see fit.
Pagoda Resort & Spa

Image Source- Instagram
Over in Como the Pagoda Resort & Spa provides couples with a fabulous location to host their special day.
Sat directly on the shores of the Swan River, the venue offers four wonderful function room options,  that can cater to all styles and sizes of weddings.
This includes two ballrooms, a stunning function space that overlooks the swimming pool, and a scenic outdoor ceremony spot.
Accommodating up to 250 guests, this 4.5 star rated property also boasts a wedding coordinator called Santina who have been arranging weddings onsite since 2009. So you can rest assured you will be in great hands if you decide to host your wedding here.
Brookleigh Estate
Ever wanted to get married in a French Chateau? Well the Brookleigh Estate gives you the opportunity to do the next best thing.
Nestled in Swan Valley, around 25 km from Perth's CBD, the charming facade of this property has been inspired by the wonderful castles and country houses you see in France.
The lovely property features exquisite estate grounds that are perfect for garden wedding ceremonies, as well as onsite accommodation and even a spa.
The food options are fabulous here too, whilst your photographer will want to take hundreds of photos of you in the surroundings.