The women's silicone wedding rings that we've handpicked are precious and famous. There are as stunning as diamond rings.
These wedding rings come with many benefits and just a few drawbacks.
This post will discuss the ten beautiful silicone wedding bands for women. But, first, let's see the tp five silicone wedding rings at a glance. 
Silicone Wedding Rings Top Picks at a Glance
We hope you find these products valuable and purchase them through my referral links. In that case, we may receive a commission at no additional cost to you.
Groove Life Silicone Wedding Ring for Women

Enso Rings Classic Elements Silicone Ring

ROQ Silicone Wedding Ring for Women

KAUAI Timeless Elegance Ring Collection

Egnaro Braided Silicone Wedding Ring for Women
10 Beautiful Women's Silicone Rings; Ultimate Review Guide
We looked on Etsy and Amazon for the most exquisite women's silicone wedding bands.
Although I wouldn't suggest either for precious stones or gem rings, it's ideal for silicone rings.
1. Groove-Life Silicone Rings For Women
Groove-Life brand is a well-known silicone wedding ring company, making them an excellent spot to start your search.
You may find it challenging to pick the best from the vast collection, but we're particularly fond of this design. It features two black rings and a rounded flower white ring.
It's a collection of three bands, and you can use them individually or stack them. But the stacked style is more appealing to many. 
Groove Life Stackable Ring – Women's Breathable Rubber Rings, Lifelong Coverage, Original Designs, Perfect Fit Band – Size six
Size – You can check out the size guide in their photo section if you've got questions about your perfect size silicone band. Alternatively, you contact their customer care desk for any assistance.
NO BS Lifelong WARRANTY – With a No BS Assurance, you're covered for LIFE. They'll have it replaced almost instantly if it is cut, stretched, broken, or misplaced! Don't hesitate to get in touch with them for additional details.
BREATHABILITY – Their circular interior design reduces body contact and allows air and moisture to move in and out. As easy as that. Your finger doesn't have to be sweaty anymore.
MEDICAL GRADE – A high-quality, injection-moulded rubber blend that is appropriate to wear in healthcare facilities
QUALITY – Groove-Life Aspire, Nomadic, and Camo bands and watchbands have a medical-grade artificial rubber composition exclusive to Groove Life. While these rings may be stiff at first, they soften after a few weeks. But If it's still stiff after a couple of weeks, don't worry; they'll replace it with something more suitable for you
2. Enso Bands Classic Elements Silicone Ring
Enso is a well-known brand in the industry of silicone wedding rings. They also offer many attractive options, but their metallic appearance design is their most outstanding feature. 
Besides the copper design, these rings are also available in ordinary gold, "pearl," silver, rose gold, and more hues.
Furthermore, all their jewellery has a lifelong warranty, so they'll exchange it at free cost if it breaks or stretches.
Enso Bands Classic Elements Silicone Ring with Fine Elements – Marriage Engagement Ring – 1.75mm Thick, 6.6mm Diameter – Quality Copper Integrated Silicone Band – Size seven.
ELEMENTS CLASSIC SILICONE RING: These Elements of Silicone Bands change how people think about silicone rings. Every ring is filled with premium materials, blurring the distinction between classical and silicone bands. The ring is injected with genuine precious stones to provide a metallic lustre, giving all of the perks of the silicone bands.
UNISEX BANDS: This wedding ring is perfect for both men and women, which allows you and your partner to get a nice set! The slender ring is 6.6mm in width and 1.75mm in thickness. Get rings in the same or complementary hues for you and your companion.
BREATHABLE CUSTOMIZABLE FIT: The Enso Classic Elements bands are exceptional. Each ring has interior breathing canals, making them the greatest silicone bands and the most breathable bands. The ring's unusual, flexible construction makes it easy to wear, even for individuals whose fingers are prone to inflammation.
FINGER-SAFE RING: Since Enso understands how busy you are, we designed this band using Anti Ring Avulsion Innovation. If your finger gets stuck on speeding  items, the ring should be a breakaway.
HIGH-GRADE ENSO SILICONE BAND: Enso company was the first to provide Premium Silicone Rings. You can buy them with confidence since each ring has a lifelong warranty. The warranty protects you against tears, rips, breaks, and discolouration. The initial warranty is free of charge
3. ROQ Silicone Wedding Ring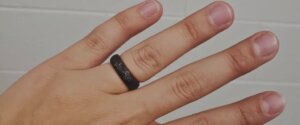 Would you like something a bit more colourful? Take a look at this fantastic set by ROQ!
They come in multiple colours. But if you find them too vibrant, ROQ still offers other options that have a more natural touch. 
ROQ Silicone Marriage Ring, Cheap Silicone Rings Sparkling & Metallic Bridal Set – Pink, White Silver, Teal, with Pink Colors of Glitter – Size four 
Medical grade- Hypoallergenic and high-quality material

Maximised Dimensions – Thickness 2mm and Width 5.5mm

Trendy Colors – Every ring complements the others, A Perfect Match.

Lifelong Warranty – Satisfaction guaranteed or your money back
4
.
KAUAI Timeless Elegance Ring Collection
The KAUAI Timeless Elegance Collection is a three-ring set with a stunning Celtic gender-neutral motif.
Choose a collection of three or a single ring in various colours. Each of the rings is crafted by Donna Lee, a world-renowned artist.
Their rings have a lifetime warranty, just like other recognised brands. They'll exchange it at no cost if it gets damaged.
KAUAI Men's Silicone Ring Timeless, slick, and elegant. Men's Wedding Bands from the most comfortable brand. This Athletic workout silicon rubbery ring is designed for those who desire more. 
TIMELESS, SLEEK, AND ELEGANT. This ring is for those who desire more than a simple rubber ring.
Size – You can go through our size guidepost if you've got questions on your perfect size silicone band. Alternatively, you call their customer care desk for any assistance
ULTRALITE COMFORT: A smooth and soft ring with the most comfortable fit. It grips your finger gently to give the impression that you're not wearing anything whatsoever.

MEDICAL GRADE: They're made of hypoallergenic, purely medical-grade materials
5. Egnaro Braided
Silicone Wedding Ring for Women
The braided rings by Egnaro are a charming alternative to standard "flat" type rings.
You can select from various colour selections or create your array by selecting individual rings.
Stockpile them for a one-of-a-kind design, or wear each at a time for a more delicate look.
Egnaro Braided Silicone Wedding Ring
BRAIDED DESIGN — Add some style to your outfit by wearing an Egnaro BRAIDED silicone band. Besides, it's also a thoughtful and sophisticated presentation.

PREMIUM SILICONE- All of their rings are crafted of medical-grade materials. They're soft, silky, poor heat conductors, and perfectly safe, even for people with sensitive skin. Compared to most silicone rings, they are customisable and sturdy and will not deform even when firmly tugged.
GREAT PROTECTION -These rings designs are excellent alternatives to the regular wedding band. They are not destroyed by hard labour or intense activity such as electrical work, weight lifting, swimming, etc. Furthermore, their smooth and pleasant materials would protect your finger from injury.
ULTRA-COLORED CLASSY BANDS – Design rings in a variety of colours. You can wear whichever one you like with your outfit any day.
REFUND GUARANTEE guarantees a total cash refund, so you won't have to worry if anything doesn't meet your expectations. You'll quickly have your money refunded.
Let's go check out Etsy and find out what they're offering.
While Knot Theory appears to reign supreme in the female's silicone rings sphere, I found several other lovely options for you.
6. Knot Theory True Comfort Fit in Rose Gold
If you're looking for something with all the benefits of silicone rings while having the traditional touch, go for a rose ring from the Knot Theory.
These rings come in seven sizes and are made of safe silicone. Their slim design allows you to engage in handy jobs without worrying about them snagging. 
They're hand-crafted

Gem – Rose quartz

Ring hues – Rose gold

Design – : Minimalist
7. Personalized Customised Silicone Ring  
The personalised Silicone ring by PizzaMoneyLLc is among the most famous unisex rings. These rings come in five different hues. 
You can curve the ring with your wedding dates, names, or anything you want—a maximum of 12 characters.
This brand doesn't accept exchanges or returns despite all these peaks, which is their major downside. 
8. True Comfort Fit Lotus 5-Pack
This women's silicone ring design is also a perfect pick as it comes with a multi-coloured property. 
Like most bands, they're designed to look like genuine metal rings rather than toys.
You can engrave about 12 characters on the rings.

They've got size charts in the image section of their sites

Women's Width: 5.6mm, Men's Width: 8.7mm Non-Toxic, Hypoallergenic, and Antibacterial

They're perfect for fitness, yoga, firefighting, police work, training, an active lifestyle, and so on 
9. Stackable Silicone Wedding Bands
This collection comes in five bands, giving you the option of wearing one, three, or stacking all of them into one gorgeous blingy band. 
Pick from seven distinct collections in a spectrum of hues. 
Exceptionally designed – the United States patent pending

The premium silicone quality ensures the ring lasts a lifetime

Perfect for extreme sports, heavy machines, and workout

It's durable 
10. Black and White Stacking Set
We head to Knot Theory's Etsy shop once more (they genuinely create some of the greatest silicone bands from Etsy) for a lovely stackable collection.
They come with a charming tiny braided feel, similar to the Egnaro collection in the Amazon category.
This set includes two black rings and a white ring. Don them separately or cluster them for a cool monochromatic look.
What Are Silicone Rings?
As their name suggests, these rings are silicone, making them unique. On the other hand, most traditional rings are from precious metals such as gold, silver, and titanium. 
Silicon is an artificial material manufactured in a laboratory and often comes with a rubbery touch. However, these bands aren't made of the ordinary silicone polymers used in cookware, so there is no need to worry. 
Instead, they're made from premium, medical-grade materials. Therefore, they are durable, prettier, and pliable. 
Now that you know what silicon rings are let's view their pros and cons. 
Pros and Cons of Silicone Rings
Pros of Silicone Rings
The following is a quick overview of the benefits. We'll discuss them more shortly:
The silicon rings are more affordable than the traditional ones, significantly lowers. 

They are safer options for individuals whose job specialisation needs them to use their hands a lot, like factory workers, hospital staff, etc.

Excellent for people leading an active lifestyle. Groove life, for example, was designed for mountaineers. 

They're perfect for individuals with sensitive skin. While some people are allergic to silicone, they are hard to come by
Inexpensive
These gorgeous rings for women come at barely $100, and even the premium sets are affordable. Surprisingly, the beautiful designs are typically bought for less than $20.
Hypoallergenic
Very few people are allergic to silicone compared to the common metals used to make rings. For this reason, silicone rings are widely recommended for individuals in the medical sector. 
Comfortable
These rings are soft and flexible, and they're more comfortable than the other metallic rings. 
They Offer More
The silicone rings offer more than the typical metals. For instance, you can get your ring adjusted if you gain more weight after buying it. 
Safer Than the Metal Rings 
The safety benefit is among the most extraordinary things about silicon bands. They're not likely to hurt your finger if they get caught with something. 
Metal rings can cause many injuries. On the other hand, silicone bands are safer to put on. They are safer options for people working in nearly every industry, especially in accident-prone careers. 
Allows You to Express Your Personality 
Silicone rings are excellent for those who don't like jewellery like gold, diamond, or silver. 
Easy to Maintain 
Silicone rings are more straightforward than metal rings, which can look awful if not appropriately maintained. 
Cons of Silicone Rings
Despite all their advantages, these rings also have a few drawbacks. There are only two main disadvantages of silicone rings. 
Not Perfect for Individuals Who Love "Bling"
If you love glamour, glitz, and bling, then silicone rings are not the ideal ring for you. 
It cannot Be Passed Down the Generations 
Most people have reservations about silicone rings because they can hardly be passed down to future generations. 
Even though they're designed to last a lifetime, even the top-grade silicone rings break faster than most good metal rings. 
What Options Are Available for Silicone Rings?
When you've decided that silicone is the way to go, you'll need to conduct some research. You have alternatives, just as when purchasing a metal band.
Currently, the silicone market is still young compared to the traditional bands. However, this doesn't imply that you'll be stuck with only one style. 
Because most people love engraved silicone rings, you can start by learning the various options and aspects involved in customising silicone rings. 
While only a few brands offer such rings, we've made your work easier by lining up the best brands that do so. But engraving is a little different in silicone. 
Remember that it can fade over time. Therefore, it would be in your interest to pick a brand that offers a lifelong warranty. 
That being said, we would recommend the best Groove Life silicone bands. While they're more expensive than other silicon options, they are still way below the $100 mark. 
These rings offer a wide range of designs and a 94-year guarantee. It isn't clear why they've chosen 94-years, but it must be for a scientific purpose concerning the silicone's life expectancy. 
Furthermore, Groove Life offers metallic ring designs if you don't want to go with the silicon options. 
You can also look at our guide on the silicon bands that are somewhat similar to the metallic ring. The post has several excellent options from various brands. Enso is one of my favourites. 
But you might face challenges if you're looking for rings with natural stones. We posted five gorgeous silicone wedding bands with stones; however, the "stones" are made of silicon, even those. 
However, this isn't always a terrible thing. Do you recall the "benefits" of silicone? Placing a diamond piece at the centre is impracticable, defeating the ring's function.
The final alternative is stackable silicone bands. Besides the firms that offer matching stackable designs, you can craft your own. The options are limitless here. 
You can buy rings in various sizes that you love, then mix them up. This is probably the best thing when it comes to silicone rings. They allow you to express your true self. 
Indeed, metal rings can accomplish it, but to be frank, finding a classic wedding ring in blue or purple is challenging. Additionally, they're so expensive that getting the stacked look would cost a fortune.
Now that we've covered the basics of silicone bands let's look at some of the favourites for women!
Frequently Asked Questions 
How much does a woman's wedding band cost?
The price of a woman's wedding ring varies a lot. There is no such thing as a rule of thumb regarding how much you should spend on buying a ring. While we're often encouraged to spend at least two months' revenue when purchasing an engagement band, this is all bunk. 
Most of these theories were propagated by giants in the jewellery industry to boost their sales. They're equally responsible for turning a pretty standard, non-rare, and non-unique jewel into the most precious and expensive stone.
So, don't be swayed into spending too much or, worse, getting into debt.
Can a silicone ring be used for engagement?
You can put on any ring for engagement; silicone, bubble gum machine, or diamond ring. You can use any ring provided that it presents the vows between you and your partner. 
Why do people wear silicone rings?
Silicone rings are worn for a variety of purposes. Some people are sensitive to metals. In contrast, others choose them because they are safer invocations that require a lot of manual labour.
Some people like how they appear and feel, whereas others like how they better express their distinct personalities. They're less expensive than metal bands, which may play a role in some circumstances.
Can you always wear a silicone ring?
 According to Enso Rings, you can put silicon all the time. However, because silicone does not "breathe," the skin underneath it might become sweaty. This can result in a foul-smelling ring.
They also suggest that you take it off at least once a day, like bathing, to avoid this. On the other hand, their rings feature "ventilation chambers," so you can avoid this procedure.
Are our silicone rings durable?
While they do not last as long as rings made of metal, if you choose a high-quality ring, they can last for generations to come. Some manufacturers even provide a 99-year warranty.
Although silicone does not degrade as quickly as polymers, it does grow fragile over time. This will eventually cause the band to break or shatter apart.
So, if you want to pass down a piece of jewellery to your future descendants, silicone isn't the way to go.
Final Thoughts
Silicone wedding bands aren't for everyone. For example, if you're into the glitter of a genuine diamond or the glimmer of gold, you would want to look into the traditional ring options.
Just keep in mind that even if that isn't for you, there are still other options you can explore. Similarly, suppose your spending plan does not allow you to indulge in your passion for bling. In that case, you can still locate something enjoyable that complements your style.
If there's anything more you'd like to know about—a different brand or style, for example—please let me know in the comments section. I'm completely on your side.