http://www.gatherandtailor.com.au
Address: Unit 11/41-59 Sims St, West Melbourne VIC 3003
Guests: 200 seated, 250 cocktail
Average cost: Please contact venue
Located in West Melbourne 6km from Melbourne CBD, Gather & Tailor features high open ceilings with exposed beams, hardwood floors, and an ambience that suggests a fusion of modern-rustic and industrial warehouse vibes. This wedding ceremony and reception space is the perfect blank canvas to style to achieve any aesthetic you prefer, and to bring your day to life. 
With wide open spaces, off street parking available, the team at Gather & Tailor also advertise themselves as a "one-stop shop" for all things weddings to ensure that the perfect wedding that you had envisioned comes to fruition. In this they offer completely flexible and bespoke venue and catering packages, making sure your wedding is truly unique to you and your partner.
State Library of Victoria
https://venues.slv.vic.gov.au/wedding/
Address: 328 Swanston St, Melbourne VIC 3000
Guests: 280 seated and 700 cocktail
Average cost: Please contact venue
Located in the heart of Melbourne CBD, the State Library of Victoria is an Australian heritage listed venue. Established in 1854 with a certain grandeur, you can expect old-world ambience with marble staircases, opulent architecture, and towering bookcases for the bibliophiles out there. With the capacity to host both wedding receptions and ceremonies, the State Library could be your perfect wedding venue, and deliver a sense of magic about your day.
The State Library also offers 5 function spaces to celebrate and get merry, and multiple photo opportunities around the venue.
Guests
Details
Ian Potter Queen's Hall
200 theatre

500 cocktail

Refurbished 1860s decor

Double height room with guided arcades, skylights, grand marble staircase, opulent ceiling rose, polished floorboards 

Isabella Fraser Room
200 theatre

220 cocktail

Tall white ceilings, parquetry floors, plenty of natural light.

Dedicated world class AV setup

La Trobe Reading Room
520 cocktail
Soaring dome with impressive skylights at the height of the octagonal shaped room. Decorated with Banker's Green lamps, oak timber desks, bookcases placed over 4 levels. White ornate balconies on each level with curved archways. Suitable for large scale events
North Rotunda
60 theatre

90 cocktail

Suited for a more intimate wedding affair.

Original parquetry flooring, delivering historic feel with a modern undertone

Cowen Gallery
120 theatre

350 cocktail

Dramatic modern lighting, with 6.4 ceilings

 

Curated exhibition of 40 artworks centred around Victoria's history.

Parquetry floors and ample skylights
https://www.middlebrightonbaths.com.au/weddings
Address: 251 Esplanade, Brighton VIC 3186
Guests: 80-120 seated
Average cost: Please contact venue
A beautiful event space alongside one of Melbourne's only remaining original Baths, and only a few minutes from Melbourne's CBD. The Baths combine amazing cuisine with 180 degree panoramic views of Port Phillip Bay and the outer aspects of Melbourne's city skyline.
You can alternatively hire the City Room or the whole venue, both offering the same magnificent views of Port Phillip Bay. The interior styling showcases a very modern, beachside ambience with plenty of natural lighting. You'll also have access to two private deck areas, perfect for wedding ceremonies, or some canapés in between the ceremony and reception. Not to mention a great space for amazing photos opportunities of Port Phillip Bay.
The food and beverage packages are extremely flexible, and centre around the Mediterranean cuisine. Promising a delectable day for you and your guests.
The Langham Melbourne
https://www.langhamhotels.com/en/the-langham/melbourne/events/weddings/venues/
Address: 1 Southgate Ave, Southbank VIC 3006
Guests: 230 banquet to 400 cocktail
Average cost: Please contact venue
Oozing luxury, old world grandeur, opulence, sophistication and elegance, The Langham is a versatile wedding venue with multiple function spaces to choose from to bring your day to life. Coupled with a dedicated wedding team, they will go above and beyond to ensure that you have an unforgettable wedding experience.
Sitting next to the Yarra River, the Langham is in a convenient, picturesque location with panoramic city views. Interiorly, think chandeliers, marble floors, ample amounts of natural light, charming white wall panels, high ceilings, and state of the art AV facilities. 
Showcasing five function rooms, your day can be as intimate or large-scale as you desire, but not without classic elegance.
Guests
Clarendon Ballroom
230 banquet

400 cocktail

Alto
130 banquet

200 cocktail

Yarra Rooms
60 banquet

80 cocktail

Flinders Rooms
40 banquet

60 cocktail

Boardroom
20 banquet
Address: 161 Donald St, Brunswick East VIC 3057
Guests: 200 seated and 200 cocktail
Average cost: From $3,900
Located in one of Melbourne's quintessential quiet laneways in East Brunswick, the Wool Mill delivers all your chic industrial warehouse vibes. Complete with exposed red brick, soaring ceilings with exposed beams and polished concrete floors, the Mill really is your blank canvas to be styled into your perfect wedding venue.
The laneway outside can also be dressed up with fairy lights for amazing photo opportunities, as well as having a main courtyard area which the team says pairs perfectly with a food truck or various other installations or entertainment.
The team also prides themselves on being completely flexible with their services as well as with the space. What are you waiting for!
Whitestone
https://www.whitestoneevents.com.au
Address: 936 North Rd, Bentleigh East VIC 3165
Guests: 150 guests
Average cost: please contact venue
For those after a luxurious wedding, look no further than Whitestone. Located in the Eastern suburbs of Melbourne, Whitestone features chandeliers, hanging gardens, indoor trees, velvet walls, and floral canopies. The team feels like this is your wedding venue if you are after whimsy, charm, sophistication, sumptuousness and enchantment. There is no further need to further decorate this venue as it has it all already!
https://www.zincfedsq.com.au/weddings/
Address: Cnr Princes Walk &, Russell St Ext, Melbourne VIC 3000
Guests: 450 seated or 1000 cocktail
Average cost: Please contact venue
A private event space in the heart of Melbourne CBD and neighbouring the riverfront aspect of Federation Square, Zinc delivers panoramic Yarra River and city skyline views for you to tie the knot in. Ideal for large weddings, the function space is a flexible open interior space, that stretch out to two large private decks, perched over the waterfront. It can also be partitioned off to offer a more private, intimate area for you and your wedding guests.
Modern, sophisticated and neutral interiors, the venue also offers a dedicated wedding coordinator, delicious cuisine delivered by EPICURE and multiple photo opportunities around Melbourne and the venue.
https://encorestkilda.com.au/weddings/
Address: 10/18 Jacka Blvd, St Kilda VIC 3182
Guests: 280 seated and 340 cocktail
Average cost: Ceremony from $1770, custom food and beverage packages, please contact venue
Sitting right in the iconic location of St Kilda beach, Encore promises the perfect waterfront location with views that stretch over Port Phillip Bay and that focuses on an ambience of being stylish, contemporary and relaxed.
A versatile and flexible space offers a blank canvas for you to style how you choose. Each space can easily be partitioned to create intimacy or openess, impressive floor to ceiling windows, an amazing dance floor and outdoor terrace for drinks and canapés, or even an outdoor ceremony. In addition the award winning catering team offers custom food and beverage packages, and they have a dedicated wedding manager help coordinate your day.
https://metropolisevents.com.au/venue-weddings/
Address: Level 4/3 Southgate Ave, Southbank VIC 3006
Guests: 334 seated to 1100 cocktail
Average cost: Please contact venue 
With panoramic views of the city skyline from the Southbank aspect of the Yarra River, Metropolis Events is also conveniently located in the trendy arts precinct of Melbourne CBD. a short stroll from churches, gardens, and everything the Melbourne CBD has to offer.
Showcasing a New York loft-like styled space with 9 metre floor to ceiling windows, a 17 metre dome ceiling showering the space with natural light, brass bar and stylish decor, this wedding venue is a sophisticated and stylish one of a kind. Alternatively Metropolis also delivers the Aviary Room with access to an undercover terrace for all sorts of inclement weather, and a continuation of beautiful styling throughout the room. Not to mention that this is another great option for those after having a large wedding.
Dedicated wedding coordinator and the in-house chefs will ensure that your guests are satisfied, with an amazing culinary experience and the day will run smoothly and impeccably.
https://www.tfehotels.com/en/hotels/rendezvous-hotels/melbourne/weddings/
Address: 328 Flinders St, Melbourne VIC 3000
Guests: 120 seated and 250 standing
Average cost: Please contact venue
Thinking stately, regal and sophisticated wedding? Look no further than the Rendezvous Hotel in the centre of Melbourne CBD. Showcasing Edwardian-style opulent and impressive ballrooms, this is the perfect wedding venue that you have been dreaming about.
With towering ceilings and skylights, marble tiled floors, dome ceilings, king blue columns, stain glass windows, and a selection of rooms to choose from, you won't be lacking for choice in photo opportunities and space to impress your guests.
With an array of different spaces to choose from for either or both your ceremony and reception, you can truly customise your day. Also onsite boutique hotel accomodation ensures that your guests can enjoy the merriment to the fullest extent, and stay in style after the partying has come to an end on your big day.
https://museumspaces.com.au/spaces-for-hire/scienceworks/pumping-station/
Address: 431 Douglas Parade, Spotswood VIC 3015
Guests: 100 seated and 400 cocktail
Average cost: Please contact venue
A unique, historic space showcasing French industrial architecture, towering ceilings, exposed red brick, steel beams, and curved brick arches. Add a bit of history to your day by hosting your wedding at The Pumping Station.
Located in Spotswood, a short drive from Melbourne CBD this space really is a blank canvas for your perfect day. It works well either dressed up or down for multiple dramatic photo opportunities.
Offering a wedding coordinator to bring your own wedding planning to life, custom seated or standing food and beverage packages, AV and lighting setup, and security this team is flexible, professional and dedicated to bringing your day to life.
https://savoyhotelmelbourne.com/wedding-venue-melbourne-cbd/
Address: 630 Little Collins St, Melbourne VIC 3000
Guests: 20-160 seated and 20-320 cocktail
Average cost: Please contact venue for more information
Located in the heart of Melbourne CBD, The Savoy delivers elegance and old world charm. Showcasing a Victorian facade with Art Deco ballrooms, hand beaded chandeliers, plush interiors and luxury 4-star accomodation, it seamlessly combines old world grandeur with modern sophistication.
Multiple wedding packages are available that are customisable with a bespoke flexibility. There is also a dedicated wedding events team to help with full setup and executive chef to give you the ultimate food experience. The Savoy is your wedding venue for heartfelt ceremonies, and sophisticated, elegant and timeless receptions for your big day.
The Savoy also has 5 space options to make your day as intimate or large-scale as you desire.
https://www.thehotelwindsor.com.au/weddings
Address: 111 Spring St, Melbourne VIC 3000
Guests: Please see table below
Average cost: Please contact venue
Another wedding venue with plenty of old world grandeur and timeless elegance, The Windsor promises to make your day an unforgettable one. A fairytale wedding of you will.
Located in central Spring Street of Melbourne CBD, The Windsor is a convenient location for multiple photo opportunities that Melbourne CBD has to offer. This is in addition to all the picture perfect moments inside the Windsor where stainglass windows, Minton tile staircases, Victorian architecture, vintage lifts and candelabra lighting are showcased for old world dramatic effect.
The Hotel Windsor also has multiple beautiful function spaces to host your day.
Guests
Details
Grand Ballroom
180 seated

350 cocktail

Stain glass domes and windows, two marble fireplaces

Tall ceilings with ornate gilding and beams

Bourke Room
180 seated
Circular in shape, set over 3 levels and

 

finished in a classic white with charcoal carpet.

Classic, contemporary and light.

Canberra Room
30-60 seated
Perfect for intimate wedding receptions. Beige walls and ceiling with idled antique mirrors.
Winston Room
24 seated

 

Original dining room from 19th century.

Tall french windows with plenty natural light, ornate curtains and carpets.
https://www.peterrowland.com.au/venue/melbourne-butler-lane/
Address: 2 Shelley St, Richmond VIC 3121
Guests: 180 seated to 300 cocktail
Average cost: With reception from $3,000, and without $2,000. Please contact venue for individual tailored food and beverage packages.
Located in Richmond, Butler Lane is a trendy, modern warehouse conversion with a charming  private garden courtyard featuring dense ivy vine walls and complete with a fireplace. Internally features towering ceilings, polished concrete floors, large windows bringing a beautiful lightness to the space and contemporary stylish furnishings. This space oozes a coolness quintessential with Melbourne.
Complete with dedicated wedding producer and manager, full AV, lighting and air-conditioned setup, bridal suite and furnishings, this space is capable of holding your dream wedding as you say "I do" amongst your nearest and dearest. As to be expected of any Melbourne wedding venue, the food is exceptional and has the capacity to be customised.
Address: 25 Sackville St, Collingwood VIC 3066
Guests: 64 seated and 90 cocktail
Average cost: Please contact venue
Heritage listed, The Chapel was built in 1885 and is beautifully located in the heart of Collingwood. Described by the team as a combination of the history of the church with the stylish romance of New York style loft. Think exposed brick walls, soaring ceilings with original timber beams, arch windows, painted murals, and chandeliers.The venue also has on offer a grand piano, fireplaces, private bar and kitchen. Complete with stunning views of Clifton Hill through the arch windows this is the ultimate space for romance and elegance.
You also will have the flexibility to bring your own caterer to have complete creative control over the perfect wedding that they had envisioned.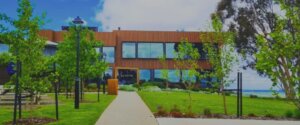 https://marnongestate.com.au/weddings/
Address: 2335 Mickleham Rd, Mickleham VIC 3064
Guests: 30-350 people depending on function space chosen
Average cost: From $2,500
Set on 1,200 acres of stunning Victorian countryside, Marnong Estate offers spectacular views of the Macedon Ranges, whilst only being a 40 minute drive from Melbourne CBD. Delivering this unique setting with rustic farm-chic, the Estate also comes recommended with their amazing food and beverage packages as it has an awesome on-site winery, and two reception spaces to choose from.
Multiple decor options and inclusions allow you to decorate the space as you desire. This is all brought to fruition with an amazing and dedicated wedding coordination team.
Guests
Details
Angliss Room
250 seated

 

400 cocktail

Upstairs wedding space with floor to ceilings windows with views of Macedon Ranges
Wool Shed
120
Heritage rated, recently renovated Shed space delivers a more rustic aesthetic
https://www.thegrovegippsland.com/weddings
Address: 27 Uren Rd, Krowera VIC 3945
Guests:30-90 seated
Average cost: Please contact venue
Producer of award-winning olive oil, The Grove has 60 acres of spectacular scenery to be the ultimate backdrop of your unforgettable wedding. With both indoor and outdoor ceremony and reception options available, the Grove is an incredibly flexible venue, a true blank canvas.
The Lounge comfortably seats 30, whilst the Conservatory is your answer to a slightly larger wedding party, accomodating up to 90 seated guests.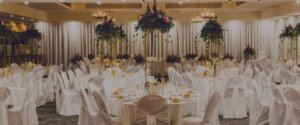 https://www.thesebelpinnaclevalleyresort.com.au/weddings-special-occassions/
Address: 1 Mimosa Dr, Merrijig VIC 3724
Guests: 200 seated and 300 cocktail
Average cost: Please contact venue
Set on 20 acres of country Victoria, 2.5 hours from Melbourne, The Sebel is another fantastic option for those desiring a country wedding. Being a destination wedding, the venue also has some amazing accommodation options for you and your guests, having the ability to sleep up to 85 people.
With the dedicated wedding coordinator, they can walk you through the indoor and multiple outdoor options available if you choose to host your wedding here. There is certainly no photo opportunities lacking.
https://www.peterrowland.com.au/venue/abbotsford-convent-events-weddings-functions/
Address: 1 St Heliers St, Abbotsford VIC 3067
Guests: 280 seated and 500 cocktail
Average cost: Please contact venue
Sitting alongside the Yarra River in Melbourne's inner north aspect, Abbotsford Convent speaks a certain level of heritage elegance and is your answer to a memorable and completely unforgettable wedding.
Featuring lead light windows for that soft, muted glow, high ceilings, polished floorboards, chandeliers and a bridal suite. The venue also has 3 main ceremony venues, from the lush lawns of the heritage gardens, to the Oak Tree, or alternately the indoor option of the quaint but impressive Good Shepard Chapel.
Your guests won't be able to resist the delicious food options, the culinary team offer bespoke menus, with food sourced ethically and sustainably from within the state.
https://www.acre-burwood.com.au/weddings-events
Address: 70 Middleborough Rd Burwood East VIC
Guests: Please see below
Average cost: From $1000
Located on a farm in Burwood, Victoria as you'd expect the menu is grown on-site and will give your guests a culinary experience like they have never experienced before. Food is bespoke and based around seasonality. The venue is also dynamic in the variety of spaces that they offer, from the Farmhouse, to the Glasshouse, to the pergola and terrace balcony that give you delightful views of the Dandenong Ranges.
Guests
Details
Farmhouse
60-180 people
Panoramic views of the Dandenong Ranges visible through the floor to ceiling windows.

 

Features of timber, exposed beams and pendent lights give an ambience of being welcoming and warm.

Glasshouse
25-250 people
True glasshouse in every manner, clear ceiling lets in all the natural light. Festoon lighting also available for after the sun has set.

Hanging baskets overflowing with greenery

Outdoor spaces
Variable numbers
Options of olive grove, pergola, plaza, balcony, terrace and an outside long table.
https://www.bianchetwinery.com.au/weddings
Address: 87 Victoria Rd, Chirnside Park VIC 3116
Guests: 50 -120
Average cost: From $4000
Located in the heart and soul of the Yarra Valley, Bianchet is the perfect choice if you are after a winery wedding. Promising a more relaxed atmosphere and ambience to your day, the team at Bianchet has a motivated wedding team that is incredibly flexible and professional to work with.
Ceremonies popularly tale place in the white gazebo with picturesque views over the vineyards of Yarra Valley. The reception continues in the very contemporary and light dining space, featuring floor to ceiling windows, polished floorboards that spill out onto the outer deck for a very al fresco feel.
Expect the wines to be delectable and flowing freely, and the food as a modern Australian cuisine that is presented impeccably.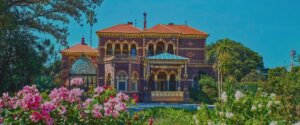 https://www.ripponleaestate.com.au/venue-hire/
Address: 192 Hotham St, Elsternwick VIC 3185
Guests: 180 seated and 250 cocktail
Average cost: From $1750, please contact venue
Are you all about garden weddings? Rippon Lea is your ultimate venue for the idyllic garden wedding. Located only 10km from the Melbourne CBD, this venue boost a "pleasure garden", picturesque lake, a beautiful fernery and orchard. Not only does this venue fulfil your garden wedding dreams, but also has a glamorous ballroom adjoining a spectacular pool and sweeping, lush lawns.
8 different lawn areas are available for both ceremony and reception hire. No space is lacking in grandeur and that is definitely the case when it comes to the indoor options. Stately and opulent finishings, from the embossed wallpaper, chandeliers, towering ceilings that lead out to magnificent terraces, Rippon Lea screams elegance and luxury. 
The venue also showcases amazing catering, and a wedding coordination team to make this day everything you have dreamed it to be.
https://pierfarm.com.au/weddings/
Address: 34 The Strand, Williamstown VIC 3016
Guests: 140 seated and 220 cocktail
Average cost: Please contact venue
Do you want a nautical white, seaside wedding. Look no further than Pier One. Located on the waterfront of Port Phillip Bay of Williamstown, this venue's soul and being is centred around the sea. From the venue, to the food and ambience, the decor you honestly will not be disappointed. 
Interiorly the decor is modern and simplistic, high ceilings with white painted exposed beams, pendant drop lights, wall to ceiling windows with views that survey the panoramic landscape of Port Phillip Bay.
Receptions spaces include:
Space
Guest
Details

 

Main Dining Room
70 seated

130 standing

Large, open and light space with hanging garden from ceiling.

Large windows show views of the marina and CBD skyline.

Covered and heated outdoor terrace

The Bar Room
60 seated

80 standing

Option to be fully enclosed space and separate from restaurant.

Floor to ceiling windows with marina and Port Phillip Bay views.

High ceiling with white exposed beams, and modern fishtail tiles as a feature wall highlighting the bar.

Full venue
130 seated

220 standing

Suitable for large cocktail parties and incorporates all the elements of the above aspects of the venue.
Being located on the oceanfront, Pier One celebrates a modern Mediterranean seafood menu. Multiple food and beverage packages are available to customise the food that you and your guests will enjoy on the day.
Address: 203 St Georges Rd, Fitzroy North VIC 3065
Guests: Up to 150 guests
Average cost: Please contact venue
Located in the ever trendy area of Fitzroy's North, Ryne is a celebrated French inspired restaurant, but also dazzles as a first class wedding ceremony and reception venue. Picture exposed brick, painted a crisp white, horizontal beams creating a semi-private space, tall ceilings, exposed beams, Ryne is the definition of modern and trendy.
As expected the food and beverage packages are phenomenal with a respectable nod to the French cuisine. You will not go hungry, your guests will be merry, and this will be a wedding to be remembered.
https://www.thepointalbertpark.com.au/weddings/
Address: 9 Aquatic Dr, Albert Park VIC 3206
Guests: Refer to table below
Average cost: From $3000
Albert Park, an amazing a picturesque lakefront venue showing the best of the perfect backdrop of the Melbourne city skyline, lake views and beautiful modern interiors. With 3 wedding ror function spaces to choose from, you are not lacking from choice, nor photo opportunities with this venue.
Guests
Details
Grand Lakes Ballroom
200 guests
Spacious and equipped with state of art AV systems.

Private deck and bar.

Spectacular waterfront views.

Bamboo Hall
100 guests
Possibility to use outdoor balcony for an al fresco break free area.

Panoramic lake views

Outdoor Deck

 

Perfect for a daytime ceremony to take advantage of the outdoor ambience and views.
Food options showcase the best of a fusion of Western and Asian cuisines. Multiple food and beverage packages are available to customise at your disposal to ensure the best food for you and your guests on your special day.
https://www.thealtarelectric.com.au/
Address: 299 Johnston St, Abbotsford VIC 3067
Guests: Up to 70 guests
Average cost: From $850
Do you love neon? Colour? Chic Las Vegas vibes? Zebra print runway rugs? Plush red velvet chairs? Definitely consider The Altar Electric then, even the name says it all. They host the coolest weddings, all on the backstreets of Collingwood in Melbourne. The venue even describes themselves as the "Coolest little wedding chapel this side of Vegas".
Uniquely this venue bases their packages around the type and length of wedding you choose to have.
Shotgun- a quick 15-20 minute ceremony and intimate reception of 10 guests. This definitely has registry style vibes…but make it hip and cool.
A Little More Action- Includes all the legalities and official paperwork, a personalised ceremony with 2 hours of tunes by the resident DJ. Capable of hosting up to 70 guests, and all from $3495.
Viva Las Collingwood- quotes as being "very rock 'n' roll, very cool, very Collingwood". This has all the inclusions similar to A Little More Action but 5 hours of "party time", 3 hours photography, and can also cater up to 70 guests.
The Hooneymooner- this is an all inclusive wedding that even throws in an organised honeymoon, with 2 nights at Kyneton Springs Motel. There is even an Elvis to sing you down the aisle, to fulfil all your Vegas wedding dreams.
This venue is so honest, authentic and fun. It's bright and colourful and most of all highlights the love and commitment you and your partner have for each other. Just the way it should be.
https://www.75reidst.com.au/auditorium
Address: 75 Reid Street Fitzroy North, VIC, 3068
Guests: 200 seated and 300 cocktail
Average cost: Please contact venue
If you are anything like me and have a major interior design crush on exposed red brick, look no further than The Auditorium. Showcasing a modern update to a 1920s warehouse, this industrial piece of art is located in the picturesque area of Fitzroy North.
Towering ceilings, exposed beams, ample amounts of natural light, this space has major architectural sex appeal, and a real versatility to the space. Dress this space up or dress it down, the in house coordination team can also help you to make this space what you want.
http://www.canvashouse.com.au/events
Address: 137 Buckhurst St, South Melbourne VIC 3205
Guests: 200 seated and 380 cocktail
Average cost: From $5000
The epitome of modern warehouse, Canvas House truly is a canvas space for you to dress up for a perfect wedding day. Located in the trendy and convenient area of South Melbourne, the space delivers polished concrete floor, exposed red brick feature wall with city skyline views, white washed walls, almost artfully exposed sculptural black ceiling beams.
The venue is also incredibly flexible interns of decoration, bringing your own caterers whilst still having access to all the furniture, glassware  and styling that you could possibly need.
AV system, and bar area are included to ensure your guests are happy to get down and boogie and be merry. And even better the clean-up after all the partying is included in the cost.
Address: 124 Langford St, North Melbourne VIC 3051
Guests: 240 seated and 300 cocktail
Average cost: Please contact venue
Located in the cool laneways of North Melbourne and conveniently a stone's throw from the Melbourne CBD, Two Ton Max is one of the most sort after wedding spaces of the Victorian state. This venue oozes contemporary warehouse vibes with its polished concrete floors, high ceilings with skylights, white washed walls and festoon or hanging globe lighting. Dress this space up anyway you choose to create your ultimate wedding day.
Two Ton Max also has the added advantage of a flexible catering, styling whilst offering venue and event management. This caters towards all budgets without compromising on style or ambience.
https://noisyritual.com.au/venuehire
Address: 249 Lygon St, Brunswick East VIC 3057
Guests: 100 seated or 100 cocktail
Average cost: From $3000
Located on Brunswick East's Lygon Street, Noisy Ritual is your inner city answer to a winery wedding. Picture wine barrel lined walls, towering ceilings with exposed steel beams dressed up with festoon lighting, red brick floors, and not to mention delicious wines and drinks. This is your perfect winery wedding day, without the trip to the Yarra.
https://rupertonrupert.com.au/weddings/
Address: 73 Rupert St, Collingwood VIC 3066
Guests: 85 seated, 200 cocktail
Average cost: Please contact venue
This moody, plant-filled space promises a whimsical romantic space to tie the knot with your lover. Located in Collingwood, this wedding venue is unlike any other and the team behind it promise a seamless day, and are dedicated to making your day as beautiful and relaxed as you dream it to be.
The space is a converted industrial warehouse with vintage Conservatory atmosphere, it is honestly one of the more unique venues you will get married in. Polished concrete floors, luxurious accents in steel, copper and brass complement the vintage furniture, towering ceilings with skylights and ample amounts of greenery. Tailor this with your own florals and you have a truly magical and romantic space.
Rupert on Rupert generously charges no extra fee for the ceremony and has virtually everything you need to make your day. This really is a testament to the warmth and ingenuity that the Rupert on Rupert Family will provide. 
https://thepanama.com.au/whats-on
Address: level 3/231 Smith St, Fitzroy VIC 3065
Guests:160 seated and 250 standing
Average cost: Please contact venue
With their signature floor to ceiling arch windows which couples frequently use as as a background wedding arbour framed with florals, the Panama Dining Room lends itself very nicely to the chic Melbourne warehouse scene.
Focusing on creating one of a kind weddings, this converted warehouse promises towering ceilings, exposed brick painted white, and a more intimate wedding ceremony and reception location.  Not to mention that the Panama Room is dedicated to excellent food, drinks to make your guests merry, and all-round good vibes for your special day. 
Also offering some really unique photo opportunities in front of colourful street art outside, this venue is for those running after a intimate setting, with quirky and cool ambience. guaranteed to be your unique wedding venue.
http://tatra.com.au/wedding-reception-packages/
Address: 1401 Mount Dandenong Tourist Rd, Mount Dandenong VIC 3767
Guests: 80-250
Average cost: Please contact venue
Tatra reception is your answer to the perfect garden wedding. Set in the ever sought after Dandenong Ranges, this venue has it all. Think 10 acres of rainforest to begin with, multiple romantic ceremony options of either chapel, wrought iron gazebo, chandelier lit ballrooms, manicured gardens, a dedicated wedding co-ordinator, all the facilities for AV requirements, complimentary accomodation and plenty of onsite parking. This venue is so romantic and chic with all the conveniences you could possible need.
https://standrewsconservatory.com.au/wedding/
Address: 128 Nicholson St, Fitzroy VIC 3065
Guests: 122 seated and 160 cocktail
Average cost:$160-175/head
Consistently winners of the best wedding reception venue and function coordinator paired with a stunning location, look no further than St Andrew's Conservatory for your wedding day.
Adjacent Carlton Gardens, there are ample photo opportunities both indoor and outdoor in these surrounds of Fitzroy. The Conservatory itself is overwhelmingly elegant and chic, with wide open windows (including the ceiling), exposed steel beams, with bobbing bamboo lanterns creating that magical atmosphere when the sun starts to set.
One interesting aspect of St Andrews is the food packages. Each guest is able to individually order their own meal, taking the pressure off you to choose some options that would be liked by everyone, avoiding "plate swapping". All in all a real winner of a venue.
https://www.jackalopehotels.com/meetings-events-weddings/
Address: 166 Balnarring Rd, Merricks North VIC 3926
Guests: 60 seated and 80 cocktail
Average cost: Please contact venue
Located on the scenic Mornington Peninsula only an hour's drive form Melbourne CBD, Jackalope is Victoria's answer to a luxurious winery wedding. Sweeping views of the Willow Creek  vineyard are the perfect backdrop to the terrace and infinity pool area. It is guaranteed to be a  stunning wedding veue, with multiple ceremony locations.
Jackalope hotel also conveniently house 45 luxury hotel rooms for you and your guests to stay in style. Not to mention the food experience is to die for. Wine and dine your guests in the artful interiors catered for by a magnificent team. What more could you ask for.