Now that lockdown has well and truly finished, you can start to plan your wedding day with the confidence that it won't be postponed or delayed because of Covid.
If you are located in Adelaide there are plenty of venues you can hire for your dream wedding venue. However you will probably need to book them well in advance of your proposed date, as demand is sure to be high.
To help you decide where to get married, we have taken a look at all of the most popular wedding venues in Adelaide, to come up with this list of the top 12.
Ranging from luxury hotels and well established function centres, to impressive estates and picturesque vineyards this list covers most tastes, styles and budgets.
Choose any of them for your wedding venue, and they will do everything they can to make sure your special day is one to fondly remember for the rest of your life.
Sfera's Park Suites and Convention Centre
Located within the picturesque grounds of Civic Park, Sfera's Park Suites and Convention Centre is a leading wedding venue in Adelaide.
Specialising in wedding ceremonies and receptions that can accommodate between 30 and 600 guests, Sfera's is well set up to deliver wedding occasions that appeal to all budgets and themes.
Offering a wide range of function rooms including an incredible multi-million dollar Grand Ballroom, this stunning venue in Modbury boasts fantastic, landscaped gardens which make an exceptional backdrop for your wedding photos.
The building also features ornate ceilings, a gorgeous travertine marble staircase and an impressive glass atrium. In addition it offers 22 deluxe suites for overnight accommodation which is very convenient for the bridal party, and their closest family and friends.
Address: 191 Reservoir Rd, Modbury SA 5091
Adelaide Pavilion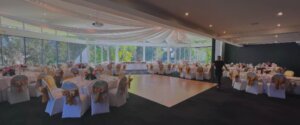 Inspired by the leading public, urban designer gardens of Europe, the Adelaide Pavilion provides a wonderful backdrop for your wedding day.
Replete with beautifully manicured gardens that include a mix of deciduous and evergreen trees, as well as water features, an intriguing sunken road garden and a number of impressive works of art, this pre-eminent wedding venue is a terrific place to host your ceremony.
Its two functions rooms are also great places for your reception. Featuring impressive floor-to-ceilings windows that look out to the stunning grounds, they can accommodate between 30 and 220 guests. 
Specialising in plating up Mediterranean and French inspired cuisine, the food options within the Adelaide Pavilion are particularly noteworthy too.
Address: Veale Gardens, cnr South Terrace & Peacock Road, Adelaide SA 5000
Mount Lofty House
Showcasing jaw-dropping views of the rolling Piccadilly Valley, as well as its spectacular botanical gardens, few wedding venues in Adelaide can compare with Mount Lofty House.
A magnificent estate that is perched high upon the Adelaide Hills, within the charming suburb of Crafers, this impressive 5-star rated property is the ideal location to host your special day.
Possessing an ability to host up to 350 guests, couples can exchange their vows in any one of several stunning garden locations that are perfectly set up for ceremonies. They can also choose to host their reception in a grandiose heritage dining room that is lavished with style and elegance.
In keeping with the quality of the venue, the food offering is exceptional here too, showcasing seasonal produce and an inventive menu that is characterised by incredible consistency.
The estate can also host up to 80 guests in deluxe, beautifully decorated and well appointed accommodation.
Address: 1 Mawson Dr, Crafers SA 5152
Serafino McLaren Vale
Waterside weddings are increasingly popular these days and one of the best destinations in Adelaide to host one is the Serafino McLaren Vale.
Located within the stunning McLaren Vale, this truly unique winery is set upon a tranquil lake. Which makes it the perfect backdrop for a wedding. Radiating a really romantic vibe, it is also nestled amongst gorgeous road gardens and under gum trees that date back over 200 years – which makes for fantastic photography opportunities.
Offering a number of excellent spaces for you to hold a reception, some of the ones you can chose include a delightful courtyard that can accommodate 180 seated guests, or a traditional ballroom that can hold some 220 guests.
In addition to 30 boutique rooms for guests to stay overnight, the venue also offers a dedicated and experienced event co-ordinater who can assist you to organise the wedding of your dreams.
Address: 39 Kangarilla Rd, McLaren Vale SA 5171
AL-RU Farm
Over in the suburb of Sampson Flat, deep within the heart of the Adelaide Hills, the AL-RU Farm strives to provide couples with a romantic and unique wedding venue for their special day.
Set amongst 10 acres of charming woodlands, quaint rose gardens, scenic ponds and a picturesque lake, it boasts plenty of great backdrops for your wedding photos.
Situated just a 30 minute drive from Adelaide, it also has a lovely estate building that features numerous function spaces for any size or style of wedding, which can host between 45 and 250 guests.
It also boasts three stylish and deluxe accommodation suites for those who want to stay here overnight.
Address: 1016 One Tree Hill Rd, Sampson Flat SA 5114
Hotel Richmond Adelaide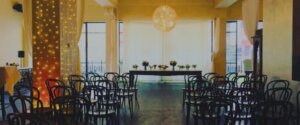 Conveniently located within the Rundle Mall, the Hotel Richmond Adelaide provides you with a complete CBD wedding package. Offering everything from spaces to host a ceremony and reception, and full food and beverage catering facilities to seating and entertainment.
Situated within a stunning 1920s Art Deco building, the venue hosts intimate weddings on its balcony as well as much larger events for up to 400 guests in the lounge and reception hall.
It is also located within easy reach of the Botanic Gardens which makes a beautiful backdrop for your wedding photos.
If you are looking for a highly accomplished and easy-to-get-to venue that is well versed in hosting a formal occasion, this is a very solid option.
Address: 128 Rundle Mall, Adelaide SA 5000
National Wine Centre of Australia
If you love wine, then the National Wine Centre of Australia could well be the wedding venue for you.
Regarded by many as one of the most popular wedding venues in the whole of Adelaide, this outstanding venue is known for its great location, fabulous setting and wonderful food and wine.
Couples can choose from six event spaces. Which can cater for smaller style intimate events for up to 30 guests, as well as bigger receptions for some 300 guests.
Situated on the fringes of the Adelaide Botanic Park, these spaces include rooms that have huge ceilings, no pillars and let in floods of natural light, which all create a fantastic environment to take top quality photographs.
The venue also offers a very experienced wedding coordinator who can create for you the wedding of your dreams.
Address: Corner of Hackney Rd &, Botanic St, Adelaide SA 5000
Festival Function Centre
Located in Findon, just 10 minutes from the Adelaide CBD, the Festival Function Centre offers a flexible premises for weddings of all sizes.
Accommodating small receptions for as little as 10 people, as well as larger scale, extravagant celebrations for upwards of 1500 guests, this award winning venue offers the lot when it comes to weddings. 
This includes professional services, exceptional food and a fabulous network of wedding suppliers including photographers, florists, celebrants and DJs/bands, all at very competitive prices.
The function centre is known for its wonderful ballroom that contains incredible chandeliers, as well as a huge dance floor area, which gives you plenty of room to show off your best moves. It also has a fabulous hideaway cellar which serves as the ultimate spot for an exclusive afterparty!
Address: 292 Findon Rd, Findon SA 5023
Golding Wines
If you are looking for a stylish wedding venue that boasts a real 'wow' factor then Golding Wines is a terrific choice.
Nestled in the heart of the spectacular Adelaide Hills, this charming family-run cellar door and vineyard provides their brides and grooms with an excellent venue to host their special day.
Presenting a breathtaking landscape of rolling hills, gorgeous Mediterranean gardens and 100 year old gum trees, there are plenty of fantastic locations for your photographs. While both your ceremony and reception can take place in a variety of outdoor and indoor spaces available. All of which are furnished with modern facilities and amenities to ensure your wedding day is a very memorable one.
For a truly special entrance to proceedings, brides can even choose to make their grand entrance by helicopter! While the onsite wedding coordinator can arrange any other special touches you may want to include.
Address: 52 Western Branch Rd, Lobethal SA 5241
Glen Ewin Estate
Situated in Houghton, just minutes beyond the Adelaide suburbs, The Glen Ewin Estate is well set up to host your special day.
Boasting a gorgeous garden that looks out to a shimmering lake, gorgeous weeping willows and impressive mature trees, this heritage listed property is perfect for outdoor ceremonies.
They can also host intimate receptions for 20 guests, or lavish soirees for up to 300 seated guests, in their quaint, rustic Pulpshed, or attractive light-filled Gatehouse.
Offering a range of bespoke wedding packages to suit all budgets, themes and tastes, this exceptional venue is known for their meticulous planning and exceptional service.
Address: 43 Lower Hermitage Rd, Houghton SA 5131
Mawson Lakes Hotel & Function Centre
Another Adelaide wedding venue that offers an holistic wedding service, the Mawson Lakes Hotel & Function Centre is a very popular destination for Adelaide couples.
Located in the suburbs of Mawson Lakes, the venue gives couples exclusive access to the whole of the function centre. 
They can do everything from hosting your pre-wedding preparations and your ceremony, to managing your reception and providing accommodation for both you and your guests.
All their wedding packages can be customised to suit your requirements, with a particular focus on organising the little touches that will make your day a truly memorable one. 
For your ceremony and reception they are able to accommodate between 60 and 345 guests, and one of the best things about the venue is that they strive to celebrate your love, and give you what is important to you.
Address: 10 Main St, Mawson Lakes SA 5095
Stamford Grand Adelaide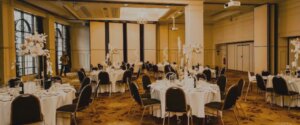 If you are wanting a truly spectacular wedding then the Stamford Grand Adelaide delivers this in spades.
Set along the waterfront at Glenelg, near the CBD in Adelaide, this luxury four star hotel presents couples with the option to marry on the golden sands of Glenelg beach. Once you have both said 'I Do' you can lead your guests to the hotel's magnificent Grand Ballroom, where you can dine, dance and celebrate your union in a space that looks out to the ocean via floor-to-ceiling windows.
If you would prefer, you could alternatively choose to host your reception in one of their other exceptional function rooms, including The Colley Room, The Moseley Room and The Hindmarsh Room. Each of which has their own special ambience.
Also providing the newlyweds with a complimentary overnight stay in their wedding suite, as well as discount accommodation for their guests, this fabulous hotel provides an offering that is very hard to beat.
Address: 2 Jetty Rd, Glenelg SA 5045