Sydney, the city of beautiful harbours, stunning beaches, hipster warehouse conversions, highly rated restaurants, parklands, gardens and heritage sites. When it comes to choosing a potential site for a wedding venue, this city has it all. You will be swept away in what the following venues have to offer for a meaningful, heartfelt and poignant wedding reception and ceremony on your wedding day.
The Mint
https://sydneylivingmuseums.com.au/venues/weddings-the-mint
Address: 10 Macquarie Street, Sydney, NSW, 2000
Guest numbers: 100 seated to 250 standing
Average cost: Ceremony from $2200 dependent on time and location
Reception from $3000 dependent on location. Catering costs dependent on number guests, contact venue for further information
Heritage listed, The Mint showcases historic, romantic sandstone buildings with stainglass windows, curved archways, open verandah and interior contemporary finishes in the heart of Sydney CBD. It offers the perfect marriage of a historical site, with a nod to modern styling for a picture perfect wedding.
The ceremony is highly recommended in their raised lawns of the courtyard, hugged by the rustic sandstone buildings. For the warmer months your reception can continue in this outdoor space.
Alternatively, as an indoor option the Gold Melting Room showcases an undulating curved ceiling with timber panelling and expansive glass windows showoff views of the sandstone courtyard. 
Christine Mansfield celebrated head chef, will delight the tastebuds of you and your guests with their exceptional Pearl Catering. Promising a true culinary experience with a focus on sustainably sourced and high quality ingredients. 
Estate Vaucluse House
https://sydneylivingmuseums.com.au/venues/weddings-vaucluse-house
Address: 69A Wentworth Rd, Vaucluse NSW 2030
Guest numbers: 120 seated and 200 standing
Average cost: Ceremony cost from $1,050. Reception dependent on food and beverage package chosen
Historic venue, Vaucluse House is one of Sydney's oldest stately homes. Measuring 10 hectares of rolling lush lawns stretching down to the waterfront of the harbour, and all within a few minutes of Sydney's CBD. Vaucluse House promises plenty of photo opportunities with expansive gardens and a beautiful sandstone verandah to give that "old-world" feel to your day.
For the reception, the Art Deco Tearooms promise a romantic atmosphere with French windows opening onto the Lone Pine Lawn. Easily dressed up or down, this room comfortably accommodates 120 guests seated, whom are again spoilt by the onsite Pearl Catering for some delicious food options.
The Grounds of Alexandria
https://thegrounds.com.au/weddings/
Address: 7a/2 Huntley St, Alexandria NSW 2015
Guests: See table below for each space
Average cost: Please contact for further details
Already a well visited brunch and weekend market spot for Sydney siders, The Grounds of Alexandria can also host your fairytale wedding. With four spaces to chose from, each offer a romantic, whimsical space that will guarantee magical photos of the day, and all within the heart of Alexandria. Described by the team as an 'urban oasis' with plants and fairy lights abound around the turn of the century industrial red brick, the venue can be easily styled to bring your own aesthetic to the space.
The Grounds also promises a variety of indoor and outdoor options, a team of in house experts to help bring your day to life, as well as well renowned food and drink services.
Linseed House
The Garden
The Atrium
The Patio
Capacity
200-370 seated

250-600 cocktail

100-180 seated

150-350 cocktail

50-110 seated

50-180 cocktail

20-50 seated
Features
Exposed red brick, art-deco styling, herringbone parquetry flooring, mirrored ceilings, private bar
3 separate but cohesive spaces with own outdoor bar area
Parisian cafe or garden parlour styling with an expansive hanging garden and exposed red brick and subway tiling
Alfresco space for an intimate option.

Exposed brickwork, muted vines and greenery
The Boathouse Palm Beach
https://www.theboathousepb.com.au/weddings
Address: Governor Phillip Park, Palm Beach NSW 2108
Guests: 30 seated and 200 cocktail
Average cost: From $3500
Located along the Peninsula of Pittwater in Sydney's Northern Beaches, The Boathouse with its jetty extending out on to the water, delivers sweeping water views, bringing a rustic, nautical feel to your wedding. A variety of picture perfect opportunities are available with the jetty, private gardens and beach next door.
The Boathouse offers both ceremony and reception onsite, with ceremony styling ensuring that your day is as unique and memorable as you and your partner. The Boathouse's chefs render an array of food and beverage packages focused around modern Australian cuisine, giving you the option of sit-down meals as well as canapé cocktail styled events.
Moby Dick's Whale Beach
https://www.mobydicks.com.au/weddings-1
Address: 227 Whale Beach Rd, Whale Beach NSW 2107
Guests: 150 seated to 200 cocktail
Average cost: From $3500
Another gem located on the Northern Beaches of Sydney, Moby Dick's also offers panoramic ocean views as it looks over Whale Beach from it's pretty location on the hill. The space showcases large open windows, white interior styling to give an infinite brightness to the space and expansive ceilings. An array of ceremony, food and beverage packages are available, focusing on delicious food options centred around the modern Australian cuisine. The Boathouse even offers cake services to take the stress out of trying to find an external supplier.
Their courtyard garden area offers an intimate space for the ceremony, with the opportunity to decorate with ample amounts of florals to romanticise the space.
Jonah's Whale Beach
http://www.jonahs.com.au/weddings/
Address: 69 Bynya Rd, Palm Beach NSW 2108
Guest numbers: 24-122
Average cost: From $5568
Situated atop a cliff delivering 180 degree panoramic views of the surrounding Northern Beaches, Jonah's is a breathtaking option that promises a memorable day with picturesque scenery, spectacular views, and a hatted restaurant for delectable food and amazing service. All this an only 60 minutes from Sydney CBD.
Described by the team as "Hamptons meets French Riviera", it is recommended for the ceremony to be married in their tranquil clifftop garden with spectacular ocean views. Undoubtably a picture perfect scene for yourselves and guests for this momentous occasion.
In regards to the reception, for smaller more intimate services the terrace area offers an alfresco option to continue to drink in the amazing panorama. Alternatively you can dine in the restaurant with your guests whilst still enjoying the views behind expansive glass windows.
Jonah's also offers luxury boutique coastal accomodation. A magical space to get ready in or for your guests to fully appreciate the full service that Jonah's has to offer.
St Joseph's Guesthouse
https://www.stjosephsguesthouse.com.au/weddings/
Address: 1029 St Albans Rd, St Albans NSW 2775
Guest numbers: 60 people cocktail
Average cost: From $5500
Originally an 1839 convict built sandstone church, St Joseph's has been lovingly renovated in keeping with the original aesthetic of the church with modern, tasteful comforts. Located in St Albans, roughly 2 hours from the Sydney CBD this venue is perfect for a more intimate, low key or as they describe it a "BYO wedding".
St Joseph's mostly does lunchtime weddings till 7pm, catering to 60 people. To continue the after party they also offer the Settlers Arms Inn (one of Australia's oldest pubs), which they co-own down the road as a reception venue.
St Joseph's offers a very romantic, idyllic space set amongst the beautiful bush of the MacDonald Valley, the perfect country wedding. This is the venue for you if you want history, romance, nature soaked relaxed ambience, and with the complete control over the aesthetic of the day by organising your own catering and alcohol, and styling. However the team of St Joseph's also seems approachable in being able to assist in any way possible.
Sydney Opera House
https://www.sydneyoperahouse.com/general/venue-hire/functions/weddings.html
Address: Bennelong Point, Sydney NSW 2000
Guests: 50-400
Average cost: Dependent on space. Please contact for further information
What would be more iconic that hosting your special day at Sydney Opera House, a unique, modern, waterfront venue. Guaranteed to produce some of the most spectacular wedding day photographs, you cannot go wrong with this waterfront, harbourside, uniquely architectural location.
Operated by Trippas White Group, they promise a variety of choices when it comes to your wedding day, with multiple spaces, fine event management, exceptional food and beverage options.
Yallamundi rooms
Utzon Hall
Guests
50-180 seated

80-400 cocktail

100 seated

200 cocktail

Features
Floor to ceiling glass windows offering full harbour views, private outdoor area
Unique vivid tapestry, high ceilings with exposed concrete beams, floor to ceiling glass windows with views of Sydney harbour and the Botanic gardens
Renowned chef Karen Martini and Kasper Kristensen promise to make your day divine with "composed, contemporary Australian cuisine". Assured to be a big hit with your guests, alongside with the venue, views and magnificence of the day.
Doltone House- Jones Bay Wharf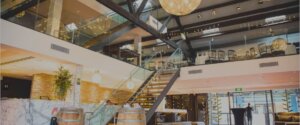 https://www.doltonehouse.com.au/wedding-packages-promotions/
Address: Level 3/26-32 Pirrama Rd, Pyrmont NSW 2009
Guests: 80-550
Average cost: Multiple packages available, please contact venue
Located on the top deck of the Pyrmont Wharves, Doltone House provides a modern, stylish, and polished wedding ceremony and reception area with sweeping views of Sydney Harbour including the Harbour Bridge and Sydney city skyline. Private and unique, your will have access to a versatile space, with 5m high pillarless ceilings, an outer private deck area perfect for canapés and cocktails, professional AV systems to provide exceptional entertainment for your guests and commercial kitchens to cater for larger groups. 
Doltone House can offer two separate spaces, Heritage Wharf and The Loft. The Loft for more intimate events catering for 80-150 guests, and the Heritage Wharf space up to 550 guests for a more elaborate space. Each space is versatile and dynamic in its own right, and can be dressed up or down for your wanted aesthetic.
Doltone House also has an array of wedding food and beverage packages to suit your any need.
Dunbar House
https://dunbarhouse.com.au/wedding-venue/
Address: 9 Marine Parade, Watsons Bay NSW 2030
Guests: Seated 110 and cocktail 120 
Average cost: Contact venue for further information
Dunbar House, a 18302 Georgian mansion located on the waterfront of Watson's Bay assures a romantic, elegant location to tie the knot. Dunbar offers exclusive usage of its grounds and estate to be used for whatever purpose you require. Notably Dunbar provides extensive panoramic harbour and waterfront views, rolling lawns down to the lapping water with a resident Moreton Bay fig tree. A cult favourite for ceremonies.
This two level mansion is able to accomodate easily with an array of wet weather options, including a terrace for canapés. While the reception area delivers a light airy space with French white walls, high ceilings showcasing elegant chandeliers, and French doors and windows looking over the grounds. The upper level exposes a stylish bar area, and dance floor to celebrate the rest of the nights festivities. 
Gunners Barracks
https://gunnersbarracks.com.au/wedding-venue/
Address: End of Suakin Dr, Mosman NSW 2088
Guests: 130 seated and 180 cocktail
Average cost: Contact venue for further details
Located on the waters edge of Georges Heights in Mosman north of Sydney CBD, Gunners Barracks dates back to 1873 where it's primary purpose was for military barracks. Delivering an old world ambience to the location, the barracks flaunts its sandstone structure over the spectacular views of Chowder Bay on Sydney Harbour. 
In absolute versatility, Gunners Barracks gives 3 ceremony options of the Harbour View lawn, the Sandstone Courtyard, and the Harbour Terrace as an alternate wet weather but still romantic and picturesque option.
The reception area is exquisitely styled with palatial chandeliers, lavish wallpaper and extravagant fittings, enough to ensure your day is the definition of elegance and luxury. Paired with dedicated staff, a range of packages, and food and beverage decisions made in discussion with head chef and sommelier, you can truly customise your day to be your dream wedding.
Kittyhawk
https://www.thekittyhawk.com.au/weddings/
Address: 16 Phillip Ln, Sydney New South Wales 2000
Guests: See table below
Average cost: Venue hire from $1,000, packages from $130-220pp
The team of Kittyhawk describe themselves as a "high volume cocktail bar and French restaurant with a focus on guest experiences…bringing together old world charm with modern and delicious food and beverage offerings." With vintage stylings centred around the French liberation of 1944, you can picture a dark and moody yet also vibrant atmosphere to this venue, which photographs beautifully with brass and dark green colours. Th perfect backdrop to your wedding celebrations.
Centred in the convenient location of Sydney CBD, Kittyhawk offers both ceremony and reception packages, with a variety of spaces to hold your special day. An unexpected perfect setting for your wedding venue.
Officer's Mess
The Conservatory
Kittyhawk
Whole venue
Guests
Seated 64

Cocktail 175

Seated 25

Cocktail 100

Seated 110

Cocktail 175

Seated 174

Cocktail 350

Details
Exclusive use of whole floor to ensure privacy. Showcases folding window doors, private bar, dancefloor, bathrooms and staff
Semi-private space with own section of bar.

 

Dappled in sunlight during the day and by night candlelit

Private with complete access to bar, conservatory and lounge spaces
To be expected as a restaurant by trade, the food and drink options are impeccable. Centred around gourmet French cuisine, think Gruyere, oysters, caviar, steak and frites and so much butter everyone's taste buds will be partying too. And we couldn't go too far without a tip of the proverbial hat to their extensive and inspired cocktail list, delicious wines and array of beers and ciders. Nobody could be disappointed with what Kittyhawk has to offer.
With a full AV setup, a dedicated wedding manager for your day and custom food and drink menus, Kittyhawk offers a truly unique, moody and picturesque venue to bring your day to life.
Luna Park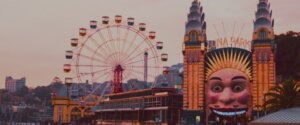 https://lunaparkvenues.com/weddings/
Address: 1 Olympic Dr, Milsons Point NSW 2061
Guests: See below table
Average cost: Please contact venue
Another venue truly iconic to Sydney and even Australia, Luna Park will be unlike any wedding you've been too. Promised to excite and enchant, Luna Park whilst showcasing Sydney Harbour, the city skyline and the beauty of being a waterfront venue, has the added factor of some truly unique photo opportunities. Promising to be an unforgettable wedding. Distinctively Luna Park has their "Brides on Rides" experience to make your day memorable with access to the vintage carousel, Merry-Go-Round and Bumper Cars. Another unexpected but iconic wedding location.
As if the location wasn't enough by itself, Luna Park parades 5 reception venues to choose from.
Guests

 

Details
Grand ballroom
450-950
This space combines the crystal and sunset room.

Waterfront and skyline views and 2 decks for sunset drinks and canapés .

Crystal ballroom
240-600
Beautiful arched windows, towering ceilings, and access to the expansive deck area with views of the harbour and city this is another space destined to impress
Sunset room
140-300
Panning views of Lavender Bay and Balmain, floor to ceiling windows allowing a wonderful lightness to the space. Access to a 15m wide balcony for pre-dinner drinks
Ted Hopkins room
200-350
Arched windows with views of Lavender Bay and Balmain.

Completely private space with dedicated dance floor space

Palais
120-250
Panoramic uninterrupted views of the Harbour, Opera House and city skyline.

Floor to ceiling bi-fold windows, deliver a light romantic and picturesque space.
Sergent's Mess
https://sergeantsmess.com.au/wedding-venue/
Address: Chowder Bay Rd, Mosman NSW 2088
Guests: 50-250 seated, 350 cocktail
Average cost: Please contact venue
Located on the clifftops overlooking Chowder Bay in Mosman, Sergents' Mess boasts a venue of opulence and luxury through contemporary furnishings, with a throwback to 1960s luxury and all with being a waterfront venue.
Capable of holding both ceremonies and fabulous receptions, Sergents' raves about their "harbourside amphitheatre"  for your ceremony. With a dramatic backdrop of the waterfront and surrounds, this is also a private space for you, your partner and guests to shed a tear and get swept up in the emotion of the ceremony.
Head chef Nathan Darling delivers an array of fine food options, with details focusing on premium service to ensure that you feel like you are dining at a fine institution. The dining experience is custom to the wishes of the couple, from whiskey bars, to custom cocktails and European share platters to delectable a la carte options. 
The reception space is dedicated to the views, with floor to ceiling windows paying tribute to the waterfront scenery outside, and wrap around balconies perched over the water for your guests to spill out on to. White exposed beams, chandeliers, studded velvet chairs all lending to the magnificence of the day.
The Royal Automobile Club of Australia
https://www.realweddings.com.au/wedding-venues/royal-automobile-club-australia/
Address: 89 Macquarie St, Sydney NSW 2000
Guests: 20-140 seated and 250 cocktail
Average costs: Please contact venue
A venue that oozes elegance, splendour, and old world grandeur in a historic building promises a sophisticated and elegant wedding, all with the convenience of being located in the city. The Royal Automobile Club, as a heritage building showcases grand spiral staircases, elaborate carpets, Renaissance style pillars, soaring ceilings, an array of glasswork and crystal chandeliers, a spectacular backdrop to hold your wedding in.
Also offering a dedicated wedding coordinator, a selection of wedding packages and an onsite catering team that centres their food ethos around the modern Australian cuisine. This promises your planning and day to be seamless, smooth and flexible.
Guests
Details
Macquarie Room
140 seated

200 cocktail

Expansive room with Renaissance pillars, towering arched windows, French stucco ceilings, warm wooden wall panelling, and luxurious carpets and furnishings
Victoria Room
140 seated

250 cocktail

High stucco ceilings, with lush drapery around old world frosted windows and luxurious decor
The Tea Room QVB
https://thetearoom.com.au/weddings/
Address: 455 George St, Sydney NSW 2000
Guests: 50-220 seated and 300 cocktail
Average cost: Please contact venue
Located in the historic QVB building in the heart of Sydney city, this historic heritage building lends a hand to old world luxury with towering ornate ceilings, Baccarat crystal chandeliers, cathedral style windows, and regal or palatial finishings. This function space will ensure that your day is elegant, opulent and endlessly beautiful.
Already renowned for its fine dining experience, the Tea Rooms is the perfect venue with a dedicated team to ensure the best of food and wine, and a variety of wedding packages to bring your day to life.
William Inglis Hotel
https://www.williaminglis.com.au/weddings-package-wedding-venue/
Address: 155 Gov Macquarie Dr, Warwick Farm NSW 2170
Guests: Seated 700, cocktail 1000
Average cost: From $10,000
40 minutes from Sydney CBD  adjacent to the Warwick Farm racecourse, this 5 star boutique equine themed hotel is one of a kind. Offering 6 different event spaces, rooftop pool, and accomodation for your guests, William Inglis is a flexible location to create a bespoke wedding for your big day.
Offering a quaint gazebo to begin your ceremony nuptials, there are a few different picturesque venues to follow on with your reception.
Guests
Details
The Big Barn
250 seated

400 cocktail 

Rustic design with modern facilities. High barn ceiling with exposed wooden beams, brick flooring and stable like entrances to the sides.

Air-conditioned with a full AV setup

The Garden Pavillion
80 seated

120 cocktail

Open and private function room with floor to ceiling windows, rustic overhead lighting, and opening out into the garden and rose pavilion area, offers a more intimate setting.
The Arena
600 seated

1000 cocktail

Inbuilt stage, lighting, AV and rigging for optimum entertainment
Athol Hall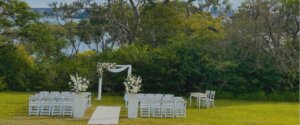 https://atholhallvenue.com.au/weddings/
Address: 2 Athol Wharf Rd, Mosman NSW 2088
Guests:130 seated and 200 cocktail
Average price: Please contact venue
Athol Hall is a heritage venue that has been beautifully restored in Ashton Park of Mosman. A short drive from the centre of Sydney CBD. Offering the privacy and seclusion of the natural world as it neighbours the expansive National Park, whilst also lapping at the shores of Sydney Harbour to deliver views of the Sydney Opera House and Harbour Bridge. Athol House delivers a picturesque venue in an exceptional location. 
Rolling lawns, undercover old world balconies supported by sandstone blocks promise a wonderful option for ceremonies and drinks and games during the intermission of your wedding. The reception would continue inside of Athol Hall, providing rustic ambience through exposed beams, high ceilings, white finishes and luxurious decor.
They also offer custom food and beverage options, and are truly flexible in bringing your day to life.
Epicure at Taronga Centre
https://www.epicure.com.au/event-catering/weddings/weddings-at-taronga-centre/
Address: Bradleys Head Rd, Mosman NSW 2088
Guests: 30 -350 cocktail 
Average price: Please contact venue
Taronga Zoo, Sydney's very own zoo sitting only a few minutes drive from Sydney CBD or ferry over from Circular Quay, offers a unique wedding experience at their event space, Epicure. Photograph opportunities within the zoo are also available to document your one of a kind memorable wedding day. Let alone amazing views over Sydney Harbour, the Botanic Gardens, the Harbour Bridge, you will not be lacking for a picturesque or iconic wedding day.
Epicure prides themselves on delivering amazing food and second to none service to ensure your day flows smoothly, and provides all that you could want for your special day and for your guests to enjoy themselves in every aspect.
There is also a variety of spaces to utilise from ballrooms, rooftop event space, terrace and balcony spaces to gardens. You can completely customise your decoration of the space, however not much is needed to make the most of these spaces as the views never fail to impress.
Centennial Homestead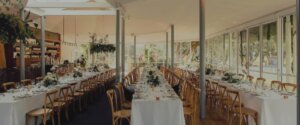 https://www.centennialhomestead.com.au/events/weddings/
Address: 1 Grand Dr, Centennial Park NSW 2021
Guests: 200 seated and 300 cocktail
Average cost: To contact venue
What is a more iconic garden wedding than that in the ultimate parklands of Centennial Park, just a few minutes from Sydney CBD. Centennial Homestead is the resident function space and restaurant for Centennial Park. The parklands is the perfect option for those wanting an outdoor wedding, where you can continue the reception outdoors through hiring a marquee, or alternatively their indoor wedding reception venues of Wisteria room or Centennial Homestead's Kitchen.
Guests
Details
Wisteria Room
180 guests seated

300 cocktail 

Open and light featuring bi-fold floor to ceiling doors that overlook the gardens. Wisteria vines overhang the windows and entrance to the room.

 

Centennial Homestead Kitchen
120 seated

250 cocktail

Also open and light, large space that features bar and dance floor, floor to ceiling windows. A space that can be styled in a variety of ways
For the ceremony there are 10 location choices throughout the park, each as idyllic as the next. Including; Paperbark Grove North, She-Oak Grove, One More Shot Pond, Busbys Promontory, Rose Garden, Column Garden, Between Willow & Duck Ponds, Between Lily & Duck Ponds, Church Grounds and Pine Grove.
Catering is done by Trippas White Group, ensuring some delectable food options to stop your guests from going hungry.
Watson's Bay Boutique Hotel
https://watsonsbayhotel.com.au/weddings/
Address: 1 Military Rd, Watsons Bay NSW 2030
Guests: See below 
Average cost: Dependent on number of guests, please contact venue
Watson's Bay, located in the scenic and well reputed area of Sydney's east and only a short drive from the city, or quick ferry ride over from Circular Quay. This wedding venue breathes waterfront harbour views, seaside romance and all with a nautical feel. 
Capable of large receptions or intimate weddings, Watson's Bay Boutique Hotel offers two stunning options for your reception.
Guests
Details
The Sunset Room
150 seated

350 cocktail

Open, exposed white wooden ceiling beams. French framed windows that keep the room extremely light.

Offers a private bar for maximum merriment

Top Deck
90 people seated

150 cocktail

Located on the upper level with a deck perfectly purchased over-looking the bay. Has a retractable roof to protect your guests from the inclement weather.

Has it's own private bar.
Also a 32 room boutique hotel, Watson's Bay offers the perfect space to get ready on the big day, and conveniently placed accomodation for you and your guests to happily wander off to after the party finally comes to an end. In addition, Watson's Bay Hotel agreeably offers a wedding coordinator to help style your day, but the freedom and flexibility of choosing your own vendors.
Dunes Palm Beach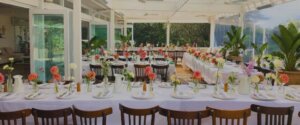 https://www.dunespalmbeach.com.au/weddings/
Address: 1193 Barrenjoey Road located inside Governor Phillip Park, 1193 Barrenjoey Rd, Palm Beach NSW 2108
Guests:140 seated and 200 cocktail
Average cost: Please contact venue
Located in the beautiful setting of the northern aspect of Palm Beach, Dunes oozes a beach or coastal wedding vibe. A short stroll down to the beach, rustic Hampton's beach style inside, and Tuscan like outdoor feel, Dunes promises the ultimate relaxed beachside wedding experience.
Dunes offers both outdoor and indoor options for either ceremony and reception. Interiorly white washed ceilings and walls, that sprawl outdoors onto an al fresco Italian style marquee, and beyond that a white pebble stone courtyard with festoon lighting. This wedding save will make you feel like you are living all of your Italian summer dreams. Choose to tie the knot down at Palm Beach, or more privately on the venue, and you really cannot go wrong.
In house catering has a strong focus on seasonality, delivering fresh, tasty and excellent food options. While their resident complimentary wedding planner will help with the design, style, and timetabling of the day, to ensure everything flows smoothly and seamlessly.
Urban Winery
https://urbanwinerysydney.com.au/event-space/
Address: Building 121, Bent Street The Entertainment Quarter, Moore Park NSW 2044
Guests: 180 seated and 250 cocktail
Average cost: Ceremony from $1,000 and packages from $135/head
Celebrate amongst the wine barrels of Urban Winery, to achieve a rustic and magical feel to your day. Located in the Entertainment Quarter of Sydney's Eastern Suburbs, Urban Winery is a quick drive from the city CBD, and has plenty of onsite parking for the convenience of your guests.
Best known for its intimate and relaxed ambience, the barrel-lined cellars, moody and industrial interiors ensure multiple photo opportunities. As a boutique winery as well, you can be rest assured that the wine on offer for your day will be a cut above the rest, transporting you to the wineries of the colour climates around NSW.
Choose between the two wedding ceremony and reception spaces:
Event space- the primary function space, a large indoor space with high ceilings, polished concrete floors, walls lined with wine barrels, leading to an outdoor courtyard
Cellar Door and Wine Bar- rustic and warmly lit, with high ceilings, wooden bar and polished floors.
Pier One Sydney Harbour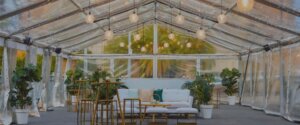 https://www.pieronesydneyharbour.com.au/wedding-venues-sydney/
Address: Walsh Bay, 11 Hickson Rd, Sydney NSW 2000
Guests: 140 rated to 350 standing
Average cost: From $4000 ceremony and from $5000 reception. Please contact for more information on costs.
Iconic Sydney Harbour, and Sydney Harbour Bridge views, Pier One sits on Walsh Bay offering three different and versatile ceremony and reception spaces to celebrate in. Showcasing floor to ceiling windows allowing plenty of natural light, illuminates a blank canvas to dress up as much as you need or like.
Guests
Details
Dawes Point Room
140 seated

200 standing

World class waterfront venue with impressive Harbour bridge, Luna Park and harbour views.

Adjustable bi-fold doors to reduce space of room.

Outdoor decking accessible by glass doors

Bridge Marquee
100 seated

150 standing

Large clear marquee based adjacent to the foundations of the Sydney Harbour Bridge for a more outdoor al fresco option.

Removable side panels for cross ventilation.

Water Room
180 seated

350 standing

Glass wall overlooking Walsh Bay, sitting alongside the Harbour Bridge.

Modern, contemporary space, with bold patterned carpets.

Direct access to pier.

Multiple room configurations.
Choosing to have your ceremony at Pier One as well? They offer a picturesque ceremony on the Pier surrounded by the magic of the Harbour, or alternatively choose the marquee to promise your vows, a perfect wet weather alternative. 
Professional wedding planning and styling services are available to decorate your dining room space and wedding ceremony. In addition to 5 star catering from the in-house restaurant, The Gantry offering delicious morsels and meals to keep your guests satisfied, and to help you celebrate in style and have the perfect wedding.
Bell's at Killcare
https://www.bellsatkillcare.com.au/central-coast-weddings/
Address: 107 The Scenic Rd, Killcare Heights NSW 2251
Guests: 120 seated and 220 cocktail
Average cost: Ceremony from $950, reception from $1400, food packages from $110/person
90 minutes drive from Sydney CBD on the NSW Bouddi Peninsula, the manicured gardens of Bell's promise the perfect setting for a romantic garden wedding. Alongside the bespoke and custom meals which are planned by the exceptional culinary team of Bell's. The team focuses on sustainability and seasonality of dishes from the own Bell's gardens. Bell's will not compromise on any aspect of your day, food, ambience, or service.
25 designer Hamptons style cottages also offer the perfect accomodation solution to your guests, and boutique spa promising a relaxing start and finish to your nuptials.
Whilst the stately, manicured gardens deliver the perfect space to tie the knot amongst your family and friends, the Conservatory is Bell's answer to a gorgeous reception space. Soft and subtle wallpaper, polished floor boards, large windows surveying the gardens and pool whilst also allowing the space to be dappled in natural light. The Conservatory is a wonderful space that can be decorated in any manner to create your desired aesthetic. It also has an adjoining deck area that opens out into a private bar, courtyard and main lawn area.
The private spa also boasts a fabulous makeup team to get you and your bridesmaids and special family members ready for the day. Everything is taken care of in this venue to ensure that you don't need to worry about anything on the day.
Three Blue Ducks
https://www.threeblueducks.com/functions-and-weddings/
Address: Rosebery or Bronte options, both within close vicinity to Sydney CBD
Guests: 150 seated and 250 cocktail
Average cost: Dependent on number of guests and food packages
Choose between a seaside escape in Bronte, or converted industrial warehouse in Rosebery. Both Three Blue Ducks offer amazingly rustic and unique wedding venues for both ceremony and reception.
All Three Blue Ducks centre their ethos around the best food experiences that are "ethical and interesting". They pride themselves on being less about fine dining, and more about being honest and authentic about the food they deliver.
Rosebery's TBDs is located in the converted Cannery building in the industrial complex of Rosebery. Promising some seriously rustic and industrial vibes, think high ceilings, exposed beams and red brick, concrete floors and some greenery thrown in the mix. This space allows exclusive use of the restaurant, deck and garden area.
The courtyard is your picture perfect spot to have your ceremony. Vine laden trellis', olive trees, exposed brick, brings the garden to your ceremony. 
Bronte offers a coastal alternative to the industrial Rosebery, and a more intimate reception by catering to up to 80 guests. Spread over two spaces and an alleyway, Bronte showcases a more relaxed and casual affair. Not without the same delicious food options though!
Curzon Hall

 
https://navarravenues.com.au/venues/curzon-hall/
Address: 53 Agincourt Rd, Marsfield NSW 2122
Guests: See below
Average cost: Please contact venue
Noted as an iconic sandstone castle in the picturesque suburb of Marsfield in the northern aspects of Sydney. Showcasing 3 acres of gardens with 5 outdoor garden ceremony sites, this could be the answer to your garden wedding dreams. Garden Chateau and Eternal Garden have the capacity to host garden weddings of 100 plus guests, for those of you who might have a more extensive guest list.
Impressively there are 8 function spaces inside this heritage sandstone castle, delivering charming and unique spaces that oozes elegance and sophistication. Curzon Hall also boasts a Grand Foyer with cedar staircases, garden terraces, marble fireplaces, impressive chandeliers, Victorian style columns with circular arches, impressive outdoor water features, underground cellar, and ample onsite parking.
Reception spaces include:
Banquet Room (150-300 pax seated)
Agincourt Room (80-160 pax seated)
The Cellars (50-150 pax seated)
Sir Phillip Lounge (140-280 pax seated)
Curzon Room (30-80 pax seated)
Balaclava Room (10-30 pax seated)