When it comes to Australian weddings, no other state can compare to Tasmania.
Blessed with landscapes of incredible natural beauty, as well as some of the best local produce and wines in the country, Tassie has a number of fantastic places to get married.
From charming mountain lodges, in World Heritage-listed locations, and grandiose estates on historic homesteads, to stunning wineries and spectacular waterfront settings, there really are some amazing wedding venues in Tasmania to get married.
If you are hoping to tie the knot in the Apple Isle and are currently on the hunt for somewhere to host your special day, you can't go wrong with any of these wonderful places.
Villa Howden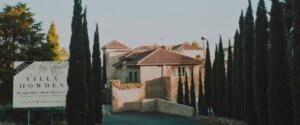 Overlooking the picturesque Northwest Bay, Villa Howden is a popular all-in-one venue for those who want to remain in the one location.
Situated in Howden, the upscale venue presents couples with the opportunity to host their ceremony, reception and photoshoot within the confines of their enchanting French inspired property.
Offering ten luxury guest suites, and a number of indoor and outdoor function spaces to host the large, or intimate wedding of your dreams, there is also a fantastic heated indoor swimming pool here to relax pre- or post-wedding.
Address: 77 Howden Rd, Howden TAS 7054
Quamby Estate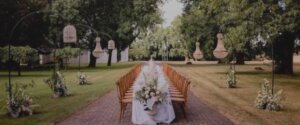 Set on over 150 acres of beautifully maintained and curated grounds, the magnificent Quamby Estate is one of the most romantic wedding venues in Tasmania.
Located in Hagley, near Launceston, the property features a fabulous tree-lined driveway, sweeping Instagram worthy views and grand historic homestead that stands imperiously on the landscape.
There are a gaggle of function spaces to choose from, which can accommodate ceremonies of between 10 and 150 guests. While their dedicated team of wedding specialists will do everything in their power to ensure your wedding is truly special.
The venue also boasts a 9-hole golf course, a number of picturesque lakes, and several scenic hiking trails, that collectively provide plenty of excellent wedding photo opportunities too.
Address: 1145 Westwood Rd, Hagley TAS 7292
Tailrace Centre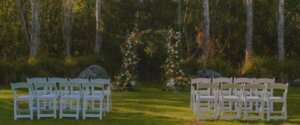 For over 10 years the Tailrace Centre has hosted more than 400 fantastic wedding ceremonies for between 30 and 200 guests.
A modern and fresh venue that is situated in Riverside, about 10 minutes from the Launceston CBD, they pride themselves on turning the vision of your dream into the reality of a successful and happy night – the memories of which will stay with you for the rest of your life.
Experts in creating bespoke ceremonies that feature incredible styling and exquisite menus, the venue provides 3 beautiful reception rooms, some of which boast fabulous floor-to-ceiling windows. It also has a stunning lawn which is perfect for an outdoor wedding.
Address: 1 Waterfront Dr, Riverside TAS 7250
The Old Woolstore Apartment Hotel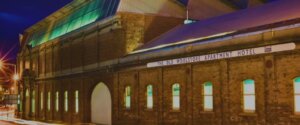 Fusing a timeless charm with contemporary facilities, the Old Woolstore Apartment Hotel is a very popular wedding venue in Tasmania on account of it its central Hobart location.
Just 2km from the Royal Tasmanian Botanical Gardens, which serves as an excellent backdrop for your photos, this hotel is well known for its fantastic service, carefully thought out and perfectly delivered wedding packages, and varied food menu options.
Set up to host weddings with up to 120 guests, there is also plenty of very good accommodation at the venue for your bridal party or guests to stay for a night or two.
Address: 1 Macquarie St, Hobart TAS 7000
Peppers Cradle Mountain Lodge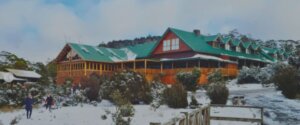 If you are looking for a Tasmanian wedding venue with a bit of a 'wow' factor, then look no further than the Peppers Cradle Mountain Lodge.
Nestled within the heart of the World Heritage-listed Cradle Mountain, this stunning venue showcases breathtaking scenery of the surrounding peaks, wonderful trickling streams and stately ancient pines.
Aside from the obvious photo opportunities, the amatory vibes the venue radiates are really quite special and will add a little something to your wedding ceremony, that few other places could deliver.
Another place where you can host the ceremony, reception and stay overnight in the one location, the Peppers Cradle Mountain lodge can accommodate up to 90 guests.
It also features four function spaces including the Cradle Room, The Highland Restaurant, the Pencil Pine Room and the Wine Cellar, that can host any size or style of wedding.
Address: 4038 Cradle Mountain Rd, Cradle Mountain TAS 7306
Hobart Function and Conference Centre
If you have always dreamed of a waterfront wedding, then the Hobart Function and Conference Centre is somewhere you should seriously consider.
Presenting jaw-dropping waterfront views from the historic Hobart wharf and world-class, award-winning chefs, the centre offers you two elements that few other venues can compete with.
Hosting a highly skilled team of event planners and 6 fantastic reception spaces, this is one of the largest venues in town, as it can easily accommodate up to 330 guests.
The food on offer is renowned for being exquisite too, whilst their wedding packages are comprehensive and varied.
Address: 1 Elizabeth Street Pier, Hobart TAS 7000
Josef Chromy Wines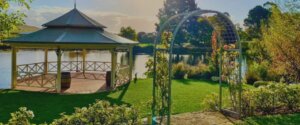 Josef Chromy Wines is the perfect choice for those who want to get married in a winery.
Looking out to 150 splendid acres of vineyard, as well as a gorgeous, shimmering lake, this breathtaking venue is another all-in-one option. Providing couples with the opportunity to hold their wedding ceremony, photoshoot and reception onsite.
The accomplished venue, which is situated in Relbia, can accommodate 150 seated guests and 300 cocktail guests. As well as being served with award-winning wines, they will be fed with award-winning gastronomy from a hatted restaurant too.
As stylish and intimate receptions go, few other venues can compete with this place.
Address: 370 Relbia Rd, Relbia TAS 7258
Motor Yacht Club Tasmania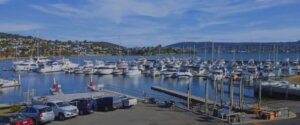 Another excellent option for a water-based wedding is the Motor Yacht Club Tasmania.
Showcasing outstanding views of both the River Derwent, and the Marina, this stunning venue at the entrance of Lindisfarne Bay is perfectly suited to waterfront weddings.
A relaxed, yet refined venue that can host between 80 to 150 people for a cocktail style event, this is an excellent option for those who want a classy, yet affordable wedding.
Address: 1 Ford Parade, Lindisfarne TAS 7015
Peppermint Bay Hotel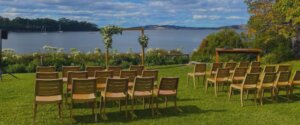 Over in Woodbridge, the Peppermint Bay Hotel offers up one of the more breathtaking wedding venues in Tasmania.
Set within four-acres of manicured lawns and spectacular waterfront headland, the hotel showcases 270-degree views of the water, and surrounding mountains, as a scenic background to your special day.
Located about a half and hour drive south of Hobart, this charming venue has 3 function spaces that can host up to 300 guests. For something truly unique they can even transport up to 160 guests at a time from Hobart to your reception on a fabulous luxury catamaran.
The interior of the hotel is elegant and upscale, whilst the quality of the food and the service from the staff is first rate.
Address: 3435 Channel Hwy, Woodbridge TAS 7162
The Stone House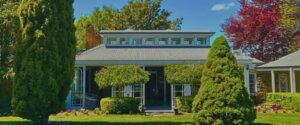 Situated in Perth, The Stone House is undoubtedly one of the most amazing wedding venues in Tasmania.
Constructed in 1825, this enchanting luxury Georgian building enjoys a fabulous position within a traditional English garden that overlooks the wonderful South Esk River.
Perfect for those who want an intimate, low key and romantic wedding, with just a handful of your closest loved ones, this property is only a 15-minute drive from Launceston.
Classified by the National Trust of Tasmania, the accommodation here is also 5-star AAA rated. The function space is charming and ornately decorated, whilst there is also a lovely swimming pool here too.
Address: 18 William St, Perth, Tasmania 7300
Hadley's Orient Hotel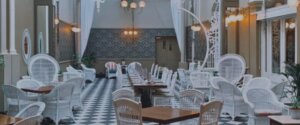 Dating back to 1834, Hadley's Orient Hotel is one of Hobarts's oldest and most iconic hotels. It is also one of the most amazing wedding venues in Tasmania as well.
Overflowing with history and showcasing stunning heritage features, the property serves as a delightful setting for your wedding reception.
Situated directly opposite St David's Cathedral within the heart of central Hobart, the hotel offers a range of lavish receptions rooms, as well as a light-filled atrium which is perfect for wedding ceremonies. 
It also provides guests with deluxe Victorian-era accommodation in which to stay. While the bride and groom are treated to a complimentary spa suite.
The dedicated events team are considered to be amongst the best in the business and can organise any style of wedding you want for between 10 and 140 guests.
Address: 34 Murray St, Hobart TAS 7000
Rydges Hobart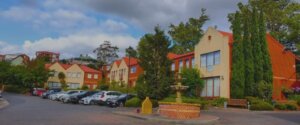 After recent renovation, Rydges Hobart is now perfectly set up for elegant, vintage weddings.
Located within a heritage-listed building that is just 2km from the CBD, the multiple function spaces here can host weddings of all budgets, sizes and themes.
Renowned for its antique suite accommodation, the property presents sweeping views of the cityscape as well as Mount Wellington.
It also has an excellent bar and restaurant onsite that champions the best of Tasmania produce in its food and drink offerings.
Address: 393 Argyle St, North Hobart TAS 7000 
Barilla Bay Oysters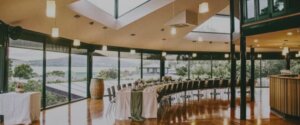 Cambridge is a beautiful region of Tasmania and over at Barilla Bay Oysters they run a very popular wedding venue that conveys some of the best parts of it.
Flanked by scenic water views and breathtaking Tasmanian flora, which is accentuated by their floor-to-ceiling windows, this stylish establishment offers a number of function rooms.
With the potential to be decorated in any fashion you want; they can host ceremonies and receptions for up to 250 guests.
So, whether you are planning an understated, intimate gathering or a vivacious, opulent bash, the team here will be able to host your special day with flair and aplomb.
Oh, and in case you are wondering, the oysters here are sensational and are a must addition to any wedding function.
1388 Tasman Highway, Cambridge, TAS 7170
The Tramsheds Function Centre
The Tramsheds Function Centre may not sound like the most glamorous of locations but don't let the name mislead you.
Located in Invermay, it is considered by many to be one of the most amazing wedding venues in Tasmania on account of its wonderful function space, highly skilled events teams and superb audio/visual capacity.
Providing a number of packages for all budgets and sizes of weddings, the centre is renowned for the fantastic wedding receptions it co-ordinates and delivers.
Lauded as a five-star supplier on Easy Weddings, this versatile and flexible venue offers four distinct menu styles to suit all tastes. This includes alternate drop, a la carte, pre-ordered or a main buffet – all of which present the most amazing food.
Address: 4 Invermay Rd, Launceston TAS 7248
RACV Hobart Apartment Hotel
Having got to this point, if you already have a venue in mind then the RACV Hobart Apartment Hotel could seriously challenge it.
Located within the heart of the CBD, this fabulous venue is elegant, refined and lavish. Combining old world charm and new, modern technology to present an 1800s sandstone stable, a fabulous contemporary ballroom, and an ornate and airy reception area, that could all host the wedding of your dreams.
Set up for 220 guests to enjoy your wedding reception, and up to 125 guests to stay overnight in its comfortable accommodation, this venue also presents you with some unique photo opportunities within the grounds of the property.
Address: 154-156 Collins St, Hobart TAS 7000
The Red Feather Inn
For those wanting a quiet wedding the Red Feather Inn could be just the ticket. Quietly tucked away in Hadspen, about 8km southwest of Launceston, this intimate luxury retreat is perfect for small weddings.
Offering a wonderful English garden setting, the venue is a Tasmanian Heritage Treasure that enables guests to host the ceremony, photoshoot and reception in its beguiling location.
Capable of hosting up to 120 guests, the professional team here will tailor wedding packages to your specific needs to ensure you enjoy the special day you have always wanted.
Address: 42 Main St, Hadspen TAS 7290