When it comes to wedding destinations, the Dandenong Ranges is right up there as one of Australia's premier locations.
Blessed with a fabulous landscape of stunning vineyards and rolling hillsides, this beautiful part of Victoria also features a number of stately buildings, and other venues which are perfect for weddings.
Located about 40 miles west of Melbourne, many of these premises showcase stunning backdrops of impressive mountains, picturesque national park or spectacular, curated gardens. All of which are perfect for weddings.
If you like the idea of getting married in this region, check out this list of 10 stylish Dandenong Ranges Wedding Venues to consider for your special day!
Choose to tie the knot at any of them, and you will be in for the most wonderful of occasions, which you will remember fondly for the rest of your married life.
Marybrooke Manor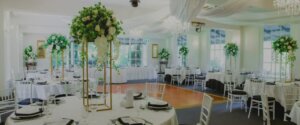 Highly recommended by many happy couples who enjoyed their special day there, Marybrooke Manor is renowned for being one of the best of all Dandenong Ranges wedding venues.
Set within a stunning 1940s National Trust building, the property is a wonderful place to host an upscale reception for between 30 and 110 guests. Whether you chose to wed in one of the elegant function rooms, or have the ceremony outside amongst its spectacular, manicured gardens, the Tudor style manor will certainly add a touch of class to your special day.
Located in the town of Sherbrooke, there are countless photo opportunities here too. While the four-star accommodation should provide you with an excellent level of comfort for your wedding night.
They even give you a lovely accommodation gift, where you can come back and spend your first-year anniversary at the manor as well.
Address: 10 Sherbrooke Rd, Sherbrooke VIC 3789
Tatra Receptions
Offering delightful views of the Dandenong Ranges Forest, Tatra Receptions is a fabulous Melbourne wedding destination in which to get married.
Nestled within ten acres of beautifully curated gardens, the Mount Dandenong property is well set up for your special day with both a chapel and gazebo onsite.
With a number of function spaces that can accommodate between 80 and 250 people, and plenty of parking this place can host large events, this venue is well suited to larger scale events.
They even offer free accommodation for the bride and groom as part of their wedding packages too.
Address: 1401-1403 Mount Dandenong Tourist Rd, Mount Dandenong VIC 3767
Inglewood Estate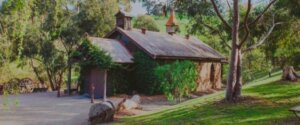 With rolling hillsides, picturesque vineyards, gorgeous gardens and lots of scenic photoshoot locations dotted around the premises, the Inglewood Estate is one of the more delightful wedding venues in the Dandenong Ranges.
Quietly tucked away in a scenic Kangaroo Ground valley, this idyllic spot is great for rustic weddings for between 60 and 120 guests.
The friendly, professional and dedicated team here are very experienced at laying on events. They have a network of excellent suppliers, and will work tirelessly with you to turn the vision you have for your wedding, into a reality you will be absolutely delighted with.
Address: 130 Eltham-Yarra Glen Rd, Kangaroo Ground VIC 3097
Avalon Castle
Ever dreamed of getting married in a castle? Well, that is exactly what you can do at Avalon Castle.
Taking up a stately position within the town of Cockatoo, this all-in-one destination for weddings has previously been voted as the 'Best Wedding Ceremony Venue in Victoria'.
A hopelessly romantic emplacement, it features breathtaking gardens, as well as a striking gazebo which is a fabulous setting for a garden wedding. There is also a magnificent chapel onsite too with stunning stained-glass windows, as well as elegant dining room that looks out to the gardens.
Unlike other venues ​Avalon Castle can cater to smaller weddings of no more than 30 people, in addition to larger gatherings of up to 120 guests.
They even have a recently refurbished cottage which serves as a wonderful honeymoon suite as well.
Address: Enter from, 1 Flora Close, Waratah Way, Cockatoo VIC 3781
Poet's Lane
If you want a venue with a real touch of class, then Poet's Lane is somewhere you should seriously consider.
Replete with charming laneways, a quaint bridge and elegant waters features. As well as a chapel with ornate stained-glass windows, a gazebo in the gardens and high ceiling rooms with chandeliers. This is one of the most romantic and upscale wedding venues in the whole of the Dandenong Ranges.
Framed by the bosky backdrop of the Dandenong Forest, you will find it in Sherbrooke, not far from Marybrooke Manor. 
The perfect setting for the wedding of your dreams, this venue can accommodate between 80 and 170 guests.
Address: 13 Sherbrooke Rd, Sherbrooke VIC 3789
Chateau Wyuna
Located in the foothills of the Dandenong Ranges, Chateau Wyuna has to be one of the best of all Dandenong Ranges Wedding Venues.
Twice voted Australia's best reception centre, this multi award-winning destination in Mount Evelyn offers couples an holistic wedding experience.
This includes a 1909 heritage listed chapel in which to get married in, as well as a gorgeous gardens and even a waterfall, which provides a lovely backdrop for photos, or indeed an outdoor ceremony.
The team here have been running weddings and other events for over 40 years. The venue can comfortably host between 40 and 150 guests across several function spaces and there is also accommodation next door to the property for those who want to stay a night or two.
Address: 170 Swansea Rd, Mount Evelyn VIC 3140
Riverstone Estate
Over in Coldstream, the Riverstone Estate is a lovely spot for those who want to get married in a winery.
Set on 75 acres, this stunning property offers spectacular 360-degree views of vineyards and countryside, and also accommodates a delightful French-style provincial homestead, that was constructed from Bluestone and Oregon timber aged over 100 years old.
Offering a number of outdoor locations for your ceremony, this fabulous Yarra Valley wedding venue has you well and truly covered when it comes to photograph opportunities.
Established in 1995, the venue produces some fabulous wines, which your wedding party of between 20 and 120 guests are sure to love.
Address: 105 Skye Rd, Coldstream VIC 3770
Lyrebird Falls Receptions
Set in Kallista, within the forested area of the Dandenong Ranges, Lyrebird Falls is an ideal setting for rustic weddings.
An award-winning wedding reception venue that is only about 35 minutes from the Melbourne CBD, the property is accented by a wonderful forest setting.
It also features a brand new and stylish dining room that can accommodate up to 120 guests as well as a chapel and ornate gardens.
One of the more intimate of all Dandenong Ranges Wedding Venues, the onsite team of dedicated wedding coordinators are friendly, easy to work with and passionate about giving you the wedding of your dreams.
Address: 175 Monbulk Rd, Kallista VIC 3791
Woods Sherbrooke
Another celebrated wedding reception venue in Sherbrooke is the charming Woods Sherbrooke.
Oozing with character, this splendid property is nestled within beautiful century-old English gardens, which gives it a distinctly romantic ambience.
Ideal for weddings of between 30 and 100 guests, one of the big drawcards here is the food they offer. This includes a mouth-watering range of award-winning Asian fusion dishes, as well as a number of different menu styles.
Situated on the fringes of the Sherbrooke Forest, this venue also features stunning art deco architecture, replete with big cedar oval windows, that look out to the gardens.
There is also accommodation here if you want to stay a night or two, and for weddings in the colder months the dining room has a lovely wood fire to warm it up.
Address: 21 Sherbrooke Rd, Sherbrooke VIC 3789
Immerse Winery
Another excellent wedding venue in the Yarra Valley is the Immerse Winery.
Ideally set up for a lavish vineyard celebration this venue offers guests a complete wedding experience. This includes everything from ceremonies and receptions to locations for photographs and even bride and groom accommodation.
Situated in Dixons Creek, the venue boasts an ornate chapel with quaint stone flooring and soaring ceilings. Tucked away amongst the vineyards it showcases panoramic views of the surrounds via its magnificent floor to ceiling windows.
The wonderful Garden Chapel is adjacent to a big ornamental lake and an eye-catching rose garden which is a lovely photoshoot location.
Renowned for its award-winning wines, the venue also offers a restaurant which has continuously been in the Good Food Guide since 2008. So, you can rest assured the food options here will be top notch.
Hosting between 70 and 220 guests, their function space is well set up for larger groups. They also offer 20 boutique rooms onsite, which is perfect for the bridal party to stay, the night before the wedding.
In addition, their luxury bridal suite is widely recognised as being one of the best in the whole of the Yarra Valley.
Address: 1548 Melba Hwy, Dixons Creek VIC 3775