Australians love rustic and outdoor vibes for their wedding, and rank among the top 10 most popular wedding themes according to Australian couples. Queensland's sub-tropical, humid climate can make outdoor weddings a nightmare but don't fret, you can still find great outdoor venues in locations like Brisbane if you're looking for a natural ceremony. Brisbane is home to wineries, beautiful botanical gardens and local rainforests sure to be excellent places for you to tie the knot, and we've handpicked a list of our favourites for your special day.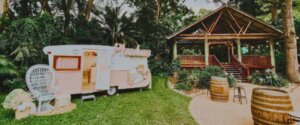 Who wouldn't want their wedding to be surrounded by the tranquil sounds of nature and lush tropical gardens. Running streams, birds calling and the slight hum of the rainforest breathing life into your new future. The picturesque Bundaleer Rainforest Gardens are located in Brookfield, QLD and offer you the best rainforest wedding experience. Whether you would like to swing in from a vine, tie the knot in a marquee or climb up to one of their treetop rooms, the service they provide is exceptional.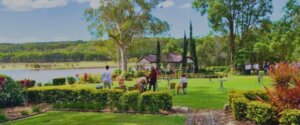 Cherbon Waters is an idyllic and luxurious venue that provides couples with gorgeous spaces including the option for waterfront ceremonies. You can enjoy the stunning views of the panoramic waters and bushland if you host your ceremony here with the option of a grand entrance for the bride through a beautiful hibiscus entryway.
Wine won't be the only thing flowing at this divine vineyard with stunning views over their glistening lake. Ocean View Estates is a prime location for you and your loved one to start your new lives together with hope and happiness. Onsite cottages are available which means that you will be taken care of completely, from morning to evening.
If you want a combination of oasis and elegance for a day or weekend filled with romance, Boulevard Gardens is the location for you. Just minutes from Brisbane's CBD, its stunning open reception space and manicured gardens adorned with blooming flowers and decorative water features will leave you swooning. However you envision your rustic wedding day, the dedicated events team will ensure that it is serene and magical in every way.
Have you ever wanted to preach your love from the mountain tops? Tambourine Mountain's Cedar Creek Lodges give you the opportunity to host your wedding ceremony under the canopy of the rainforest with magnificent views and the sunshine illuminating your next steps in life. After your day in the sun, your reception can be held in the "Island Glade" amongst the waterfall and palm trees for a unique rustic feel.
Overlooking Enoggera Reservoir, Walkabout Creek offers a picturesque landscape which is perfect for your rustic wedding. This location will offer you and your partner the opportunity to share your vows in a beautiful and tranquil setting away from the CBD. Walkabout Creek is a venue for nature lovers, and offers an experience that few others can match.
Wanting your romantic day to unfold amongst the trees? The crisp countryside air and Australian bushland behind you is a great, rustic location. What makes this venue even better is it's 35 minute drive distance from Brisbane's CBD. All the ceremony and reception packages available were created for the purpose for magical sparks to fly.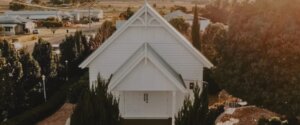 For anyone planning a rustic wedding in Brisbane, The White Chapel and the Black Hall are well worth a look at. A little schoolhouse turned chapel has been transformed into a stunning rustic venue with twinkling fairy lights, timber tables, oak chairs and a raging fireplace to give off cozy and homely vibes. This venue is perfect for a dreamy, rustic country wedding for you and your future spouse.
Only a brief 30 minutes away from Brisbane, this sustainable winery in Mount Cotton is able to host the rustic wedding that you've always dreamed of. Sirromet Wines is award-winning in sharing their gorgeous expanses of vineyard with their guests and bride and groom to be wed. The mountainous landscape is the perfect backdrop for a couple tying the knot.