Once 2023's MAFS (Married At First Sight kicks off, the main location will be, as usual, the legendary table, as it's where all the drama happens. 
However, before the grooms and brides change partners or wine is thrown, couples must tie the knot first.  
Even though the MAFS is renowned for its theatrics, there's no argument that there'\is beauty to the wedding ceremonies, with the couples getting hitched in beautiful; locations across the country. 
From Rooty Hill to Byron Bay, read on to find out all of 2023's MAFS wedding locations. 
Cameron and Lyndall 
Cameron and Lyndall got hitched at the stunning Villa Rustica, situated at Byron Bay. The site features a charming yet rustic aesthetic with a swimming pool, beautiful gardens, and a Moorish courtyard. Unfortunately, according to the site, the Villa no longer hosts weddings; it's only available for photoshoots.  
Harrison and Bronte
This couple said I do at the Sydney Colosseum, which features stunning interiors and architecture. The Venue boasts numerous entertainment spots, a rehearsal room, a VIP room, seven bars, three foyers, and a 2000-seat auditorium.  
Sandy and Dan
Sunday and Dan's wedding ceremony was held at the Miramare Gardens, which consists of 4 acres of picturesque landscape gardens. Even though this venue has various function rooms, the one that stands out is the Luxury Grand Ballroom, which has floor-to-ceiling windows overlooking the striking landscape.  
Jesse and Claire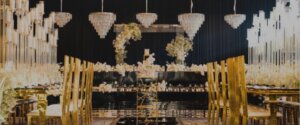 Jesse and Claire had their ceremony in Sydney at Novella Park. The venue has seven luxurious function rooms. The location caters for various special events, including weddings and offers a diverse menu.  
Tahnee and Ollie
Tahnee and Olie tied the knot in Sydney at Carriage Works. Located in the heritage of the re-modelled Eveleigh Railway Workshops, the site prides itself as one of Aussie's most distinct cultural precincts. The venue has hosted iconic events like Sydney Modern Art Fir, Sydney Festival, and the Sydney Writers Festival.
Caitlin and Shannon
Caitlin and Shannon said I do at the Braeside Gin House, located on two acres with stunning gardens and a romantic chapel. It's the ideal spot for wedding ceremonies. 
Duncan and Alyssa and Duncan
Duncan and Alyssa got married at Tides Byron, tucked in a macadamia orchard. The venue has a hall that can host up to 140 guests.