Now that confidence has returned, post-Covid, that your wedding won't be postponed or subject to restrictions, it's time to get cracking with the planning!
One of the first places on your list should be bridal stores, after all you've got to secure that perfect wedding dress!
Thankfully there are a number of excellent bridal stores all over Sydney.
From Leichhardt to Parramatta, Ryde to Wetherill Park here is some of the best Sydney bridal stores you should check out.
Brides of Sydney
Located in both Miranda, Sydney city and Parramatta, Brides of Sydney is an acclaimed destination for bridal wear.
Offering everything from wedding dresses, bridal gowns and bridal dresses to wedding gowns, bridesmaid dresses and debutante dresses, their gowns are created by Australian and international designers.
The friendly staff work every step of the way here to help you decide on your dream wedding dress. They also offer alteration services if required too.
Ferrari Formalwear & Bridal
Boasting over 20 stores across Australia and drawing upon more than 20 years of industry experience, Ferrari Formalwear & Bridal is now the country's largest formal wear company.
Showcasing a fabulous display of bridal collections and bridesmaid dresses, they also offer formal wear for men to hire or purchase as well. Which means they can take care of all your wedding attire needs in the one venue.
Their stylish collection incorporates a wide range of fabrics and colours to suit any theme of wedding you might be having.
Amarige Bridal
Regarded by many happy customers as being one of the best of all Sydney Bridal Stores, Amarige Bridal specialises in wedding attire for women that is made from top quality French lace and Italian silks.
Operating by appointment only, they are committed to making for their clients, outstanding made-to-measure couture gowns that have a real 'wow' factor about them.
Designed to suit bride's personality, as well as their body shape and own unique style, these gowns are guaranteed to be the perfect fit.
Based in Leichhardt, all gowns are created and made by hand onsite. Custom made to measure, the team here are highly skilled at bringing the vision you have for your dress into a reality you will be proud to walk down the aisle in.
Luv Bridal & Formal
For over 40 years Luv Bridal & Formal has been providing their clients with incredible international designer gowns at designer direct prices that are affordable to a wider range of people.
Operating out of nine showrooms in Australia and three in the USA, their range includes exclusive selections of gowns that are produced by world-renowned designers.
Available in sizes 2-28, their expert stylists work tirelessly with every bride to ensure they have every chance to find their dream wedding dress.
Perfect Day Bridal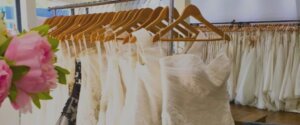 Located in Willoughby Perfect Day Bridal is one of the more popular Sydney bridal stores you might want to visit.
Known for its five-star customer service, the team here are committed to ensure all their brides enjoy a relaxed, memorable and informative experience when deciding upon their perfect gown.
Offering a wide range of fantastic designer gowns, their portfolio of bridal wear includes items from Ella Rosa, Lillian West, Kenneth Winston, Pronovias, Nicole Spose, Brides Desire by Wendy Sullivan, Mori Lee, Vatherine R Couture and Chic Nostalgia.
All of which exude high quality that will make you look like a million dollars.
Brides of Beecroft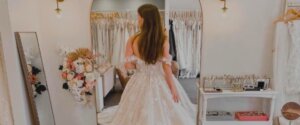 Over in Epping, Brides of Beecroft is a multi, award-winning boutique that hosts a lovely showroom.
Full of a delightful range of bridal wear sourced from the very best designers in Australia and abroad, their range spans from size 2 to size 24, and begin at just $380. 
An institution in Sydney's Northwest, they pride themselves on being Sydney's friendliest bridal shop, they promise your experience with them will be characterised by love, beauty and laughter. 
They also offer a gorgeous selection of veils, jewellery, shoes and other wedding accessories, which means everything you will need for your special day is in their one store.
Since We Met Bridal
Who says the words 'contemporary' and 'wedding dress' cannot be mutually inclusive? Certainly not the team at Since We Met Bridal!
Located on George Street within the CBD, the company is a boutique bridal service that has been created by a group of ambitious and young fashion enthusiasts who are committed to help brides find their dream dress.
Presenting a collection of dresses which use the finest quality laces, fabrics and intricate embroidery, their magnificent range of gowns include pieces from internationally acclaimed designers that are elegant, timeless and will make you feel amazing.
Gallery Serpentine 
Situated in Lismore, Gallery Serpentine is the bridal store for those who are looking for a non-traditional wedding dress.
Launched over 20 years ago, this notable bridal store specialises in Victorian, gothic and steampunk corseted wedding dresses. So, they are perfect for those who want something a little bit more 'out there'.
Their website stocks both Australian and internationally made labels, with custom made to measure corsetry and in particular gothic corset bridal gowns being their speciality.
Sweethearts Bridal Boutique
A real favourite in Blacktown, Sweethearts Bridal Boutique showcases a huge range of dresses and gowns for brides and bridesmaids.
Established almost 35 years ago, this fantastic retailer has won numerous awards for their top-notch service, and they really know their stuff when it comes to wedding. So, a visit here puts you in very good stead when it comes to finding your perfect wedding dress.
As they also offer a wide range of suits for men and boys, you will be able to pick up all of your wedding attire here too.
WeddingOutlet.com.au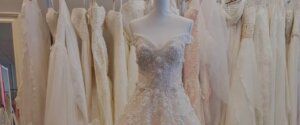 If you are looking to secure a good quality dress but your budget is limited, then WeddingOutlet.com.au is the store for you.
Priding itself on being Australia's largest online wedding retailer, they offer bridal gowns as well as bridesmaid and flower girl dresses for up to 70% off retail prices.
This is because they have exclusive relationships with tailers and manufacturers around the world which allows them to offer bridal wear at a fraction of the price other bricks and mortar Sydney bridal stores charge.
As well as selling a wide range of bonbonniere they also give their clients the opportunity to design their own gowns too.
Idora Bridal
When searching for your ideal wedding dress in Sydney, it is definitely worth popping over to Leichhardt to check Idora Bridal out.
An award-winning boutique that has been in business for over 35 years, they offer gowns for brides to suit all sizes, shapes and budgets.
This includes a wide range of fully customised and made to measure wedding gowns that will suit any style of wedding theme from traditional and formal to bohemian and beach.
Louise Alvarez Couture Bridal & Evening Wear
Based out of Roseville, Louise Alvarez is a very talented designer who has been providing her clients with the wedding dress of their dreams for almost 30 years.
Widely regarded as one of Sydney's leading wedding gown designers, she specialises in creating pieces that are made from luxurious silks, satins and laces and also have fluid lines and hand beading.
All her designs are cut to flatter every woman's individual style, while her stunning collection of demi couture pieces and associated accessories will blow your mind. 
Emerald Bridal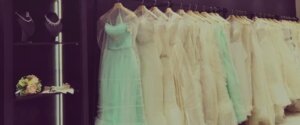 Based in Ryde, Emerald Bridal is a stylish boutique that showcases a fabulous assortment of ready to wear designer wedding dresses.
Known for their exquisite French-style wedding dresses that are created with only the best of fabrics and also feature gowns beaded by hand, their items are very much targeted to the modern Australian bride.
Hosting a collection of couture-like bridal gowns at prices that won't break the bank, some of the styles they offer include a-line, sheath, ball gown, trumpet and mermaid silhouettes.
They even offer bridesmaid dresses by Alabaster The Label too, while their highly skilled stylists offer hour long personalised fittings and are very adept at alterations.
Bridal Secrets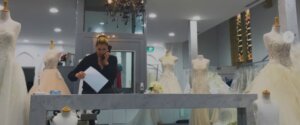 Let's face it, Bridal Secrets isn't really a secret, its one of the best known for all Sydney bridal stores.
Situated in Parramatta, this bridal boutique prides itself on being a premier destination in Sydney for bridal wear.
Specialising in perfectly fitted gowns that feature couture finishing, they offer an exclusive bridal collection that comes from some of Australia's finest designers. They also run their own signature Marilyn Couture line too.
Their sensational custom-made designer gowns incorporate deluxe materials, whilst their expert alterations and design team can personalise your wedding dress to exactly how you want it, to ensure you look and feel amazing on your wedding day.
Rhonda Hemmingway Couture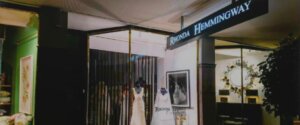 Those wanting to adorn a truly incredible dress as they walk down the aisle should make a point of visiting Rhonda Hemmingway Couture.
Located in Paddington, this incredibly talented designer specialises in show stopping couture gowns that will perfectly fit you.
Blessed with a passion for creating custom made wedding dresses that are ideally suited to her client's personality, size and body shape, Rhonda involves her clients, in the entire couture process to produce for them the wedding gown of their dreams.
A & E Bridal House
A & E Bridal House can definitely be considered as one of Sydney's best bridal stores.
What sets them apart from other wedding boutiques is that their dedicated team of consultants really take the time to get to know what their bride's need and want in a wedding dress.
Once they have established this, the five-star boutique, which is located in Burwood, sets about making the made to measure gowns.
This process takes between two to four months to complete, so its important to plan ahead, but if you do you will be presented with an elegant and glamourous dress that a price that represents outstanding value for money.
A Brides Blessing
For almost 30 years, A Brides Blessing has enjoyed a reputation for being one of the best of all Sydney bridal stores.
Situated in Wetherill Park, within the Home & Building Centre, this fantastic bridal store showcases the dresses of a range of acclaimed designers. This includes the likes of Airs & Graces, French Collection by Wendy Makin, Mori Lee, Peter Trends and Jack Sullivan. So, a purchase from here is guaranteed to provide you with a quality outfit.
They also sell a wide range of bridesmaid and flower girl dresses, as well as pageboy outfits too. While there is also a quality selection of jewellery pieces that will impress you.
Mori Lee
If you are looking for a gown that will make you feel really beautiful then Mori Lee is a great option.
One of the most acclaimed wedding dress designers in Australia, Mori Lee knows that every woman wants to feel radiant and flawless on their wedding day which is why they offer exceptional dresses at an affordable price.
Never sacrificing quality for price, their collection incorporates a range of styles that will suite any theme of wedding you are having.
Lilli Marcs
For over 20 years Lilli Marcs has been delighting Aussie brides with the quality of the dresses their provide for their wedding.
Backed by a highly accomplished team which includes designers, dressmakers and bridal consultations, they ensure all their brides find 'the one' when it comes to their wedding dress.
Based in Paddington, they create custom made dresses that are just right for you, incorporating the style, fabric and adornments you are most comfortable with.
ANAESSIA
If you are on the hunt for a non-traditional bridal design, then ANAESSIA is the place to go.
Launched in 2005, this CBD bridal store specialises in unique wedding dresses that brides will absolutely love to walk down the aisle in. 
Typically, vintage-inspired gowns, they are created from fine silks, delicate laces, and other top-quality materials, to ensure you are given a wedding dress that will not only fit fantastically, but also have a timeless look too.