Step into the lavish world of the Ivy Ballroom by Merivale, where grandeur meets modern elegance to create an unforgettable wedding experience. Nestled in the heart of Sydney's CBD, this opulent ballroom exudes sophistication and class, making it the perfect choice for the most discerning of couples.
The Ivy Ballroom's expansive space is a sublime blank canvas that can be artfully transformed to your exact specifications, ensuring that your wedding day is a true reflection of your unique style and personality. With its impeccable contemporary design and state-of-the-art amenities, this luxurious venue offers a seamless blend of modern comfort and classic elegance.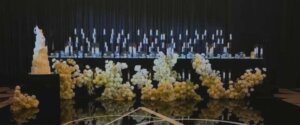 From the moment you set foot in the Ivy Ballroom, you'll be swept away by the sublime ambiance and breathtakingly beautiful surroundings. Whether you're planning an intimate gathering or a grand affair, this exceptional wedding location promises to deliver an unforgettable experience that you and your guests will cherish for a lifetime.
So indulge in the ultimate in luxury and sophistication at the Ivy Ballroom by Merivale, where dreams really do come true.
So how much does it cost per person ?
The total cost is anywhere from 175-190 per person with a minimum of 200 so expect to spend $40,000 plus.
We suggest you contact the venue is your are looking for an updated hire cost.