Who would have thought finding a good tuxedo suit for plus-sized women could be this hard? It is a shame that plus size women still find it challenging to find clothes that can fit their style and body shape in this modern era. There might be many market choices for simple and casual wear, such as blazers and jumpsuits, but tuxes are near impossible to find. 
This article is written to help you sample the best shops for women's tuxedos to help. Whatever the occasion is, you'll look dashing in these plus-sized tuxedos.  
Things to Consider When Shopping for a Women's Tuxedo
Patterns
Are you looking for a plain coloured tuxedo or a patterned one? Do you want the more traditional plain black or plain white tuxedo, or are you willing to get more creative? Does patterned clothing make you uncomfortable? Whatever your preference, you should try and decide beforehand to make your search for the perfect tuxedo a little easier. 
The style
Some Tuxedos have a more masculine style, while others look feminine.
 Are you going for a butch style look, or perhaps a more tomboy suit? Do you want an androgynous suit or a frilly one? You should know what makes you comfortable, so show it with your tuxedo. 
The fit
A fitting Tuxedo will make you look more refined and elegant. Ensure your Tuxedo fits your body shape. Try tailoring your suit. Get a professional tailor who can personalise your tuxedo to fit your body shape perfectly. 
Watch out for how different lengths, fits and styles work differently on your body and adapt to make them work perfectly for your class. 
The colour
Are you hosting a gay or lesbian wedding? If so, you can go for the more standard white and black Tuxedos. However, you can also try to be more flashy and flamboyant and go for more unique colours if they fit your taste. Simply get your wedding planner to plan the decor and design the wedding to revolve around the desired colour of your tuxedos. 
With that out of the way, it's time to explore the best places to shop for women's tuxedos.
6 Places to Find the Perfect Plus-Size Women's Tuxedo Suit for Your Wedding
Like any other suit, the Tuxedo that is the best fit for you is tailored to your taste. It is pretty challenging to find a perfectly fitting tuxedo off the racks. With that in mind, here are the best places to look: 
1. Little Black Tux
This shop is one of the best women's Tuxedo shops. Their tuxedos have a wide variety of styles, colours and fits and are meant to be the perfect tuxedo for any woman, regardless of the body type. They have both masculine and feminine tuxedos. They also have waistcoats that range in style. Their clothes are of good quality and will last a long time. 
2. Haute Butch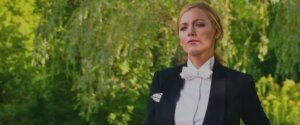 This is a shop with a stunning collection of Tuxedos. They focus primarily on tomboy-style tuxedos perfect for gay and lesbian weddings. Their timeless tuxedos have an androgynous look mastered, giving you a dashing look. 
3. Bindle & Keep
This is the preferred shop for many. Most women will opt to shop here for their tuxedos, regardless of the occasion. Their range in style, quirk and pattern are limitless. Bindle $ Keep tuxedos have a gorgeous fit for women of all body types. 
They also sell gorgeous shoes to match your tuxedo and complete that elegant look. 
4. Wildfang
With the motto that women should wear what they want, Wildfang has already established itself as the perfect shop for women to explore and redefine their styles. Their tuxedos have a unique style that is perfect for a uniquely designed wedding. They have a wide variety of colours perfect for bold personal types. They also have the more classic tuxedos in black.  
5. The Groomsman Suit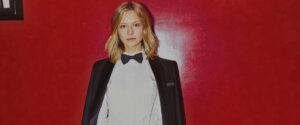 The shop has a fantastic collection of tuxedos that can also be tailored to fit your body shape and personal style. They are more popular for men's suits and have women's tuxedos and just as gorgeous suits. Check the shop out, and you might just find your dream suit. 
6. Etsy
Their online store feels so magical as it allows you to explore a wide range of Tuxedo and suit options in the comfort of your home. Individuals and small businesses sell suits and Tuxedos. This will enable you to acquire unique suits from creative individuals who hand make them and simultaneously support individuals and small businesses. They also tailor the suits to fit your style and body shape. 
Always remember to wear what makes you feel comfortable. Explore these shops, find what suits you best and remember to be creative. Find your style and get your suits tailored to fit it to get that unique and elegant look.