Kombi Cart hires mobile party bars made from real VW Kombis and fitted with quality commercial bar fridges. You hire the mobile bar and choose how you celebrate your special day!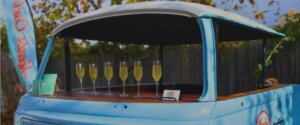 Melbourne-based Kombi Cart offers a totally unique mobile bar for your wedding day. The team at Kombi Cart collaborate with you and your venue to personalise your experience. Their mobile bars are compact enough for many indoor venues and gorgeous for outdoor gardens and winery settings.   
A favourite for couples is to utilise the Kombi Cart for serving drinks and canapés between their wedding ceremony and reception. The roof lifts and opens for bar service from within the trailer and drinks can be ready for guests on the timber bar following the ceremony or for a toast to the bride and groom. The great appeal of the Kombi Cart is that it provides such a stunning photo piece for the bridal party and for all guests to enjoy. Couples can climb inside for an intimate photo framed by the iconic VW front.  And the bridal party or family members can gather around with the bride and groom inside or in front of the Kombi as the stars of the photo.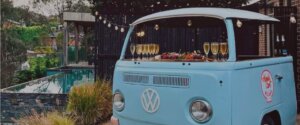 Kombi Carts are a perfect way to enhance your event in a unique way. Whatever your occasion, Kombi Cart will tailor a solution to suit you. So, if you are getting married Kombi Cart can provide a perfect plan for DIY weddings, engagement parties, bucks and hens parties too. You can also hire a Kombi Cart for corporate events and parties. And whilst planning to get married can be a costly exercise engaging Kombi Cart won't break the bank. With short session hire starting at under $500 and full day hire starting at under $1000 there is a very affordable plan for every wedding. The business is based in Warrandyte and their workshop is in Bayswater in Melbourne's east, so favourite locations for Kombi Cart include the Yarra Valley, the Dandenong Ranges and of course in and around Warrandtye itself.  But Kombi Cart trailers are light and mobile so any location around Melbourne and Victoria can be achieved.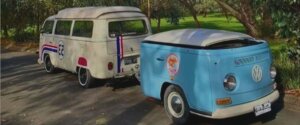 Kombi Cart mobile bars are hand-fabricated trailers using recycled classic VW Kombis. And for any Kombi and classic car enthusiasts don't worry, the team do not ruin any Kombis to make our trailer bars. They are made from salvaging wrecks that are truly beyond repair, So, the team gives the vintage VW icon a whole new life. There are more Kombi Carts being fabricated as we speak with a range of colours coming as well as different fit-outs including beer taps and a gelati cart in the planning.
Contact Kombi Cart today to see how they can help add some extra fun to your wedding plan! 
Phone – 1300 566 242  
Website – www.kombicart.com.au