Buying an engagement or wedding ring could be difficult, tedious, and costly at the same time. Throughout the procedure, you could wonder how much you need to spend.  
You won't have to search any more, as this post will provide all the answers to your inquiries. This section provides you with an engagement ring price calculator for your use. 
You'll get to know the typical cost of a wedding band and some extra pointers and suggestions for locating the ideal ring without blowing your budget! So promptly, let's dive in.
What Is the Average Cost of Wedding Bands
In 2019, the average cost of a wedding band for a male was $510, while for a woman was $1,100. The price of the couple's wedding band represents three per cent, on average, of the total amount spent on their wedding. The ring's price was equivalent to fourteen per cent of the entire amount spent on the wedding.
What Should the Price of a Wedding Ring Be?
There is a significant price range for wedding bands, going from $180 to $2,000 and even more. 
The price depends on several aspects, such as the metal quality, the collection style, the total amount of diamonds, and the retail establishment where the engagement rings are acquired. 
For example, a classic ring constructed of white gold containing 14 karats could sell for $240, whereas a micro-pave diamond ring could sell for $1,080.
What Should Be Your Budget for a Wedding Ring?
The amount you need to spend depends on a few factors, one of which is the overall cost of the ceremony. Other factors include the kind of band that you choose. 
Pick a wedding band that is within your price range, one that you and your loved one will love wearing for a long time, and one that speaks to your style.
Here are other factors that should determine your choice of a wedding ring;
Complementary Rings
Many couples planning to marry typically want their rings to be identical. Consider the possibility that you and your spouse could opt for rings crafted from rose gold. Besides, you could select rings with the same design, for instance, the Princess Cut channel.
There are some relationships in which neither party hoots about coordination. They may acquire a yellow and white gold ring with unique designs.
You should discuss with your partner if you'd like the design of your rings to be comparable, as it will be more essential when choosing the style and determining the amount you'd be ready to spend.
Durability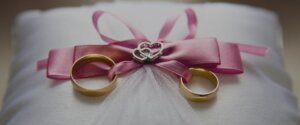 Because it will be worn every day after the ceremony, the ring you pick for your wedding must be long-lasting. GTold or Platinum with a karat rating of 14 or 18 is the most common material for wedding bands. 
14-karat gold offers the best combination of price and durability of any gold available. Even though it has a greater tendency to get scratched owing to its high gold content, 18K gold remains sturdy enough to be worn daily. Platinum has a longer lifespan than gold but requires much more maintenance to stay in good condition.
A Matching Wedding and Engagement Ring
An engagement ring is often selected first; therefore, looking for a band complementing the engagement ring is critical. For ladies, the cost of a wedding ring might vary from $1,000 to $2,000. When looking for a wedding band, you should find one that would harmonise with the event's overall theme.
For instance, if the metal of your chosen ring is white gold, that of the band needs to be white gold as well. Consider the width of the band to ensure it won't detract from the focus placed on your ring. 
Choose a simple ring decorated with diamonds; if you want it to sparkle even brighter. With a tool like the Wedding Ring Matcher, you can select the ideal band to complement your ring and complete your look for the big day.
Some couples prefer to keep their engagement rings separate, while others prefer to join them using solder. Your preference and how well the rings look when worn individually will influence the response. Keeping the rings in one place might prevent them from spinning in different directions and falling out of sync. 
Style
One of the most essential factors in selecting a ring should be how comfortable it an individual feels while on the finger. Cute and classic are the exact words to describe rings with milgrain decoration. If you want something unique for your wedding day, a ring with braided micropavé might be an excellent option. 
A wedding ring signifies a couple's love and commitment after they have tied the knot. In addition, it gives a glimpse into a sense of style. The most popular material for wedding rings worn by women is white gold, whilst tungsten is for males.
Total Budget for the Wedding
The amount of money you'll spend on an engagement band will be determined by your budget. There is no industry norm regarding the cost of wedding bands. The cost of the rings accounts for 3% of the overall expenditures. If you spent $25,000 on the big day, 3% would amount to $750.
If you put five percent of your budget into rings, you should invest less in other things, like dessert and music.
The two of you, as a couple, should discuss the proportion of your budget that might be allocated to the purchase of rings. It is up to you to decide how to accommodate everything into your budget.
Existing Tradition
In every wedding ceremony, the bride and the groom wear a wedding ring after they exchange vows, likewise to individuals getting married to the same gender. Although it's common for the wedding rings of different couples to go well together, this could sometimes be different.
At the beginning of Egyptian civilization, bracelets and rings made of papyrus were donned as emblems of a couple's devotion to one another. These earliest pieces of wedding jewellery served as the model for subsequent designs. The traditional materials for wedding rings, such as ivory, wood and bone, have given way over time to more durable options like gold and silver.
Titanium and platinum are common materials that today are substitutes for silver and gold as well-established options. In olden times, a man would give his future wife an engagement ring to signify that she would be considered his property. Nowadays, a wedding band symbolises a couple's unending love and devotion to one another.
What Does a Wedding Ring Signify?
A school of thought contends that due to the ring's circular nature, it must always represent the fusion of souls. Many often compare the opening in the centre of a ring to a door that leads to unexplored territories of possibility.
Engagement rings have traditionally been worn on the left-hand ring finger. It was formerly believed that the vein that ran through the finger in question led straight to the heart; however, this notion has been debunked in recent times, yet, the ancient custom it represents continues to be practised.
What Are the Costs of a Wedding Ring?
The amount you allocate to your wedding rings depends entirely on you and how well it suits your tastes. The wedding ring is meant to symbolise the couple's undying love rather than as a form of investment. There are a variety of expensive rings accessible that may help you create a significant fashion statement if that's what you're going for.
How Can Your Metal Selection Affect the Cost of Your Wedding Rings?
Platinum was considered the most expensive and valuable metal choice for rings because of its rarity, lustre, and durability. Today, gold is the most costly and practical metal wedding ring, yet, you could still choose palladium as the third option. This year has seen a meteoric rise in the price of palladium, pushing it into a position where it is now more costly than gold and platinum.
Like other commodities, metal prices may move up or down based on supply and demand at any given time. However, the cost of wedding rings has remained virtually unchanged over the past decades; hence, you can anticipate paying the same amount any time before the wedding ceremony.
Contrary to what is often believed, the cost of wedding bands will remain the same regardless of the type of metal. However, white gold needs frequent replacing as the rhodium ultimately fades off, exposing the vibrant buttery-yellow hue.
What Are the Prices of Diamond Wedding Rings?
Because they are considered the most expensive commodities and are in such great demand, the market value of your engagement band will rise if you choose to include a diamond in its design. The size of a wedding band and the amount of diamonds it contains impact the ring's cost.
Several alternatives exist, such as an eternity ring with diamonds around the band. Because they have a lower quantity of diamonds, wedding bands that contain 60%, 50%, or 40% diamonds are sold at a lower price. The number represents the percentage of the ring that is embellished with diamonds. A wedding band with 40–60% diamonds will seem like a typical everlasting ring from the outside. The underside of the ring will remain unadorned.
When it comes to diamond engagement rings, what is the most affordable option? An engagement ring with a width of 1.6 millimetres and a diamond content of sixty per cent would cost around $1,120. Buying a smaller size would cost nearly $1,000, while a larger size would cost approximately $1,200.
What Are the Prices of Simple Wedding Rings?
Plain rings are often the less costly choice since they have little design complexity and don't include any valuable commodity in their construction. The amount of metal that must be used to create an ordinary ring is the primary factor in determining its ultimate price. For instance, a wedding ring with a broader band and circumference will have a much greater price tag.
A basic, lightweight band made of gold or platinum, of about 2 millimetres in width, will run you around $320 for women's size M and about $350 for men's T size. However, a better version, 5 mm thick, would cost around $760 for a woman and $870 for a man. 
Wedding bands are generally more understated in appearance than engagement rings. Because they include a bigger centrepiece stone, they are often associated with extravagant demonstrations of riches.
This is the primary factor contributing to the higher price of engagement rings than wedding bands. This raises concerns about how much money you should spend and the design type to choose.
Why Does an Engagement Ring Cost More?
The average cost of an engagement ring is equivalent to approximately three months' salary of a spouse's wage. The total amount many individuals spend on an engagement ring is above $5,600, as shown by data collected from actual weddings and posted on The Knot, 2018. 
But what if you have significant debt, such as credit card and school loans, and can't meet your annual obligations? In this case, assess the bottom line regarding how much money you ought to allocate to a wedding ring.
In general, you should only purchase an affordable ring. Alternatively, you can get an antique ring with emotional significance, such as an heirloom passed down through your lineage, or choose a bespoke design with fewer stones of a lesser carat weight. 
The Price of an Engagement Ring Is Not an Accurate Measure of How Deeply Someone Loves
One consideration to determine how much you may spend on a wedding ring is the cost of the ring itself. Check to see if the ring has personal significance for the two of you.
Your decision need to have some symbolic value and demonstrate the connection you both have. Because the ring shows the commitment to the relationship, it must be relatively inexpensive; instead, it should demonstrate that you have considered it one of your best options. As a result, it will forever signify a promise to your unity. 
Engagement rings are significantly more costly than wedding bands as they represent your love and investment in your loved one before marriage. Your spouse will only expect you to give them a presence within your budget if they accurately perceive your financial circumstances. 
On the other hand, they may be hoping you'll present them with a ring that represents your commitment to your future with them.
Budget Engagement Rings Verse Wedding Bands 
The wedding ring is the most cost-effective. In most cases, they are constructed of metal and do not include any precious stones. The bride's wedding band is typically intended to complement her engagement ring perfectly.
The bride and groom traditionally interchange wedding rings, often choosing identical bands for themselves. However, the simple fact that the rings reflect the traits of the two individuals wearing them is the essential aspect.
What Is the Appropriate Amount To Spend on Wedding Bands?
There needs to be a correct response to this inquiry due to the heterogeneity of people's preferences and available resources. A wedding ring may be as simple as a single diamond or as elaborate as dozens of pricey gems set into the band.
In addition, many couples choose wedding rings with an engraved initial or made of a particular metal with some significant meaning. One area where you can save costs is the purchase of wedding bands. You may get beautiful bands for a maximum of $100.
Display Your Love While Managing Your Financial Situation
If you've got your mind set on an elegant wedding ring yet do not have enough finances to purchase it, you can acquire a more affordable one and save the flashy one for your anniversary. It is valid for the big day's budget and gives you an ideal present you may provide.
The purchasing price of the two rings is determined by several factors, including your financial status, the individual's style, and the traditions followed.
Conclusion
Your unique relationship tale and the shared future you are building together is the most important thing to consider when selecting a wedding band or engagement ring. 
You don't need to stress about the metallic ring type, but it's more important to recognise your love and devotion to one another. Acquiring such significant items may be pretty stressful. But by going through this post, you are ready to make the best choices.
FAQs About Wedding Ring
What Influences The Average Cost Of A Wedding Ring?
The average costs are strongly influenced by various characteristics, including type of relationship, individual's personality, financial ability, and place of residence. When you use a ring calculator, determining the average cost of a wedding ring becomes a straightforward and practical process.
First, you'll need to establish an acceptable price range. The next stage is to decide on the colour of the stone, as well as its cut, clarity, and weight. The larger the carat weight of the stone, the higher the price of the engagement ring, and the greater the weight of the stone.
Why Are Platinum Wedding Rings So Expensive?
It is essential to pay careful attention to the kind of metal employed in making the wedding ring. A ring made of ordinary gold, as opposed to one carved from platinum, has a lower price tag.
Platinum is denser than gold, meaning a greater quantity of metal is needed to produce a ring out of platinum, hence more expensive.
What Is The Significance Of A Wedding Ring?
The giving and receiving of wedding rings is a sign of undying love and commitment. The outward expression of a strong connection ties two souls in an unbreakable bond of love that lasts forever. 
You present your spouse a ring on this big day as a token of the affection you have and the deep commitment to spend the remaining years of your life spiritually and emotionally united.
While some believe exchanging wedding rings is a treasured memento showing a couple's steadfast commitment, others do not. Some couples see this act as compared to ceremonies like tossing the bouquet or slicing the cake.
Why Do We Wear The Wedding Ring On The Left Hand?
The custom of wearing a wedding ring on the left ring finger began in16th century and originated under the Tudor monarchy of England. Ancient Romans believed a vein, "Vena Amoris", travelled straight from the left-had finger to the heart. 
Consequently, this practice, regarded as a link between the couple's hearts, eventually became customary.
What Is The Symbolic Meaning Of A Circle Ring?
The importance of a wedding ring is inextricably connected with the symbolism of its form, which is customarily a circle. For a long time, the circle has represented various abstract ideas and concepts, including wholeness, perfection, fullness, timelessness, infinity, eternity, and many more.