Few things in life are as precious as engagement rings, the promise of a lifetime spent together. That is why finding the perfect engagement ring for your partner can feel like a daunting task to anyone, even if they have listed out the exact style, cut, and band material.
Fortunately, we can get you started on your journey to that dream engagement ring by providing a list of the top 10 best engagement ring stores in Sydney. Whether you are looking to browse unique engagement rings that have already been made or to commission your idea of the best engagement ring, you will surely find your answer on this list.
When it comes to selecting the best engagement rings in Sydney, you cannot go wrong with the following options. Each boasts its own unique selling points, including specialisations in diamond engagement rings, one-of-a-kind ring styles, or a huge range of coloured gemstones:
Larsen Jewellery

Temple & Grace

Natalie Marie Jewellery

Grew & Co

Baby Anything

Midas Jewellery

Armans Fine Jewellery

Natalie Barney

Raffini Jewellers

Hearts on Fire
1. Larsen Jewellery
Founded by the hard work of the Larsen husband and wife team, Larsen Jewellery places the quality and ethics of their work above everything else. Their dedication to creating engagement rings that are not just exceptional in design, but also use only ethically-sourced diamonds and gemstones, leaves them at the forefront of Sydney's engagement ring store scene.
All engagement and wedding rings made by Larsen Jewellery are inspired by the cutting-edge of the jewellery industry, creating dazzling displays of the finest diamonds and intricate band designs. Get started by looking at their top 10 most popular engagement ring designs, or bring in your own concepts to create custom pieces you can be proud to propose with.
Larsen Jewellery also aims to make the search for that dream engagement ring as convenient as possible, which is why they offer customers the chance to buy engagement rings online and add their own personal touch to the existing designs. Otherwise, you can also head in-store to discuss with their expert craftsmen about creating your own unique engagement ring design.
2. Temple & Grace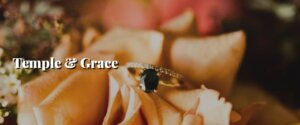 If you are looking to incorporate bold design choices into your special occasion, you cannot go wrong with engagement rings offered by Temple & Grace. The jewellery designers' passion is evident in every ring, with each aspect carefully chosen and woven together to create a masterpiece. If you are somehow not satisfied with your new engagement ring, they also offer a 100% free returns guarantee, the only jewellers in Australia to do so.
Although you are more than welcome to head to their Sydney store to try on engagement rings and discuss designs in person, Temple & Grace also offers at-home trial services. Try on a few of your favourite pieces from their collection from the comfort of your own home and take that next step towards your special day.
3. Natalie Marie Jewellery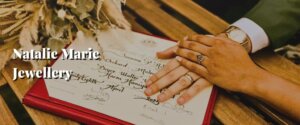 As a contemporary jewellery designer that believes in the art of engagement rings, Natalie Marie Jewellery commits itself to creating each piece to order. Pairing their fantastic customer service with the efforts of their jewellery makers allows each client to enjoy sustainable yet exquisite craftsmanship that is personally made for them.
Traditional styles feature heavily in the Natalie Marie catalogue, particularly when it comes to their diamond engagement rings, which are customer favourites for their minimal styling yet complex embellishments. The jewellery store's expertise as a classically-trained goldsmith is also evident in their work as an engagement and wedding ring staple that is sure to catch the eye of those looking for the class above everything else.
4. Grew & Co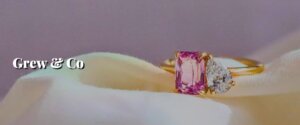 Stray off of the beaten engagement ring path by seeking out Grew & Co, best known for its asymmetrical ring designs and uniquely cut gemstones. While some may believe the best diamond engagement rings are those that stick with classic solitaire or halo design, Grew & Co actively challenge those perceptions.
While you are more than welcome to pick out a diamond ring in one of their many personalised cuts, Grew & Co also encourages Sydney buyers to step out of their comfort zone with brilliantly coloured gemstones and multi-ring sets. You are more than capable to buy your engagement ring online, but seeing their designs in person will showcase their skills as a master jeweller.
5. Baby Anything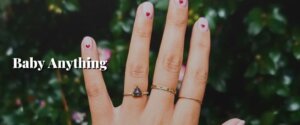 Do not let the name fool you, Baby Anything is not actually a store where you can buy anything and everything you need for your precious little one. Rather, Baby Anything is a petite Sydney boutique owned and run by Lucie Ferguson, who custom designs engagement rings with the motto "Baby, I'll do anything for you".
Not only can you commission your dream engagement ring from Baby Anything, but Lucie is also happy to work with existing heirloom jewellery to heighten its natural beauty into your own vision. Only the finest materials are used in Baby Anything's work, whether it is from scratch or a reworking of a beloved engagement ring that has been handed down for generations. Enjoy imprinting your own hopes and dreams into your engagement ring using 100% Australian gold and silver, and ethically-sourced stones of all shapes and colours.
6. Midas Jewellery
If it is experience and personalised service you are seeking out for your engagement ring, then Midas Jewellery is an excellent choice within the Sydney area. The business is family-run and offers a luxurious collection of jewellery, specialising in diamond engagement rings that are as glamorous as they are timeless. While the original creator of the business, Sait Altundag, has since passed, his four sons have taken up the luxury jewellers mantle and continue to offer Sydney lovebirds the engagement rings of their dream.
Browse the store's range of engagement and wedding bands to find the perfect match for your and your partner's love. You can take your pick from engagement ring shapes, settings, band material, and even gemstone types. If you cannot find that perfect diamond engagement ring from Midas Jewellery's extensive catalogue, then their diamond experts are more than capable of crafting an engagement ring of your own design.
7. Armans Fine Jewellery
Another example of how family-run businesses can find significant success in the engagement ring industry, Armans Fine Jewellery consistently delivers glamorous pieces that are hand-made to reflect their wearer's natural beauty. While the father of the business, Arman Arsumanian, has been in the jewellery industry since 12 years of age and has the international reputation that comes with this experience, his son Levon is no slouch either. Being the youngest designer in Australia to win the Diamond Guild award, it is clear that any engagement ring made by their hands will be one of the best in Sydney.
You can enjoy browsing their astonishingly grand collection of classic diamond engagement rings, or try something more in line with modern sensibility by choosing lab-grown diamonds as your centrepiece. These pieces look no different from natural diamonds and are just as hardy against the wear and tear of time. Armans Fine Jewellery also offers bespoke designs for their lab-grown diamonds, allowing you the chance to breathe life into your very own design.
8. Natalie Barney
In the heart of Sydney, you can enjoy the delicate designs of France at the hands of experienced jewellery designer Natalie Barney. Her work brings a kind of spirituality with it as she focuses on highlighting the natural beauty of gemstones and matching it to the wearer's own appearance.
The Amour collection displays this attention to detail best as it combines coloured gems with GIA-certified diamonds in unique cuts and settings. For those looking for boldness beyond the classic diamond engagement ring, these kinds of glittering gems may be the best engagement ring for you.
Natalie Barney is also always ready and willing to take on the challenge of creating an engagement ring from scratch that summarises the promise of a lifetime spent together. She is always ready to meet in person to talk gemstones, and is happy to create your new ring with all manner of precious metals beyond gold and silver, such as rose, white or yellow gold.
9. Raffini Jewellers
Popping the question requires an engagement ring that is sure to dazzle your partner and have them saying "YES!" on the spot. Raffini Jewellers has over two decades of experience in granting Sydney residents the perfect ring to propose with, in a range of timeless designs at affordable prices.
Take your pick from ready-made engagement rings, loose diamonds, and coloured gemstones, or dive directly into commissioning the custom engagement ring you have always wanted. No matter the path you wish to take towards finally getting down on one knee, Raffini Jewellers absolutely has the ring that can get you there.
10. Hearts on Fire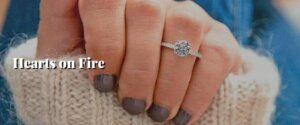 Considered to be one of Sydney's best purveyors of fine diamonds, Hearts on Fire aims to maximise the sparkle and shine of your dream engagement ring. They are all about finding the perfect ring for your perfect match, which is why all of their diamonds are polished at 100x magnification and shaped to perfection in their own signature diamond cut.
Let your love shine through your engagement and wedding rings by shopping Heart on Fire's extensive range. Every diamond is designed to let in as much light as possible, while also being sourced conflict-free, making them pure in every sense of the word. Take your pick of setting and band designs to set your beloved diamonds into, before letting others marvel at your glamorous symbol of devotion.
Pop the Question Today!
In the dazzling world of engagement ring shopping, Sydney sparkles as a treasure trove of possibilities. From the careful consideration of Larsen Jewellers to the diamond finish of Hearts on Fire, the city boasts a constellation of top-notch jewellers ready to turn your dreams into reality. There is no need to hesitate over where to start your journey to finding that perfect engagement ring, get started by making your way down our list and fall in love with the designs on offer – just like you fell in love with your beloved partner.