Wearing a wedding band is a socially significant gesture that shows others your legal, religious, or cultural commitment to another person.
You don't have to announce your availability because everyone can see your ring and know you're free. Some people refuse to wear their wedding bands, leaving others to speculate (incorrectly) about their love status.
Contrast Between a Wedding Ring and an Engagement Ring
There is a significant difference between an engagement ring and a wedding band; we need a handle on that. The terms are frequently used interchangeably, although the rings mean different things. After a man proposes to a woman, he usually gives her an engagement ring, and after they get married, they exchange wedding bands.
The two models differ in price, design, and location. An engagement ring with a larger diamond in the centre will be more expensive than a wedding band with a smaller diamond or no diamonds.
Even though each of these clauses is a complete thought, you will commonly hear them used together. The time the ring is presented is the primary distinction between an engagement ring and a wedding band. This contrast is reflected in various factors, including cost, location, and aesthetics.
An engagement ring is typically given to the bride-to-be when the proposal is made, but a wedding band is typically handed to the bride and groom during the wedding ceremony. Many couples planning to be married eventually end up purchasing wedding bands that are designed to be completely compatible with one another.
In the past, it was customary for married couples to select wedding bands that matched one another. However, it is normal for each person to choose their ring.
Proper Ring Etiquette: A Guide for the Engagement, Wedding, and Beyond
When a person is married, the piece of jewellery they wear is their wedding band. On the left hand, this appears to be the wedding band hidden behind the engagement ring. Before the wedding, many brides switch their engagement ring to their right hand so their wedding band can easily be placed on the left.
When the wedding ends, the band and the engagement ring can be switched places. After the wedding, some brides combine their engagement and wedding rings into one ring by having their rings merged.
Adding more annual bands to your collection without worrying about how they will fit with your bridal set makes it much easier to keep track of how your bridal set will look. It's common for women who do manual labour to desire to wear nothing more than their wedding bands.
Because of this, they only wear the ring at important ceremonies such as marriages and other ceremonial occasions. When people are anxious about losing or ruining their expensive engagement ring when travelling or in other situations, a common response is to remove the ring completely. How you choose to wear your rings is entirely up to you.
A time-honoured tradition that has yet to be abandoned: the ring finger on the left hand.
In Western cultures, a wedding band is traditionally worn on the ring finger of the left hand (the left hand being the dominant hand). The practice can be traced back to the ancient Egyptians as its progenitors. It was believed by those who followed this religion that the left fourth digit was connected to the heart by a "vein of love," which was considered to be holy.
The "ring of love" not only had symbolic importance due to its positioning but also due to the shape that it took. A circle that goes on forever, representing the limitless capacity for love. The space on the ring is meant to symbolise the beginning of a new connection between the two people, which will take them on a trip into the unknown.
How Wedding Rings Have Changed Over Time Changes in Wedding Bands Across Time
Even though wedding rings have evolved greatly since antiquity, they are no longer worn as a symbol of marriage. Commonplace substances like wood or leather were used in their construction. Iron and other metals weren't widely used until much later on. The Romans were among the earliest known to use wedding bands to signify marital commitment.
The appearance of wedding rings has changed over time, as has the meaning associated with them and even the finger on which they are worn. At one point, it was a fashion accessory to wear on the thumb as decoration. It makes use of a wide range of aesthetics in its design.
The symbol of two hands clasping is widely used in art. Furthermore, engravings became commonplace, appearing only on the ring's outside but later spreading to the interior. There have been cases where the engagement ring and wedding band have been combined into a single ring.
It's also fascinating to know that up until the 20th century, only women wore wedding rings. Because of this, a guy wearing a wedding band may be interpreted as expressing the time's progressive views on gender roles.
One significant change that occurred during World War I was the mandated wearing of wedding rings by married service members to remind them of their loved ones back home.
Which Hand to Use, the Right Hand or the Left One?
We've finally reached the meat of the issue at hand, the question of which hand one uses to wear one's wedding ring. We need to consider the entire world to find the solution. There are a plethora of choices even in the old continent of Europe.
Fascinatingly, only women wore wedding rings before the twenty-first century. Since this is the case, the progressive attitudes of the time on sexuality may be read into a man wearing a wedding band.
The Jewish wedding ring is traditionally worn on the bride's right index finger. But now, after the ceremony, she invariably moves it to her left ring finger.
Most Muslim nations do not exchange wedding rings except for Jordan and Iran. Traditionally, women wear engagement rings on their left hand and men on their right. India and this situation share a lot of similarities.
What's the Big Deal About Showing Off One's Engagement Ring?
To Show Devotion
The exchange of wedding bands symbolises a couple's eternal commitment to one another. Wedding rings have represented fidelity since the Middle Ages when the groom would present the bride and her family with an elegant ring to mark his commitment to the marriage. 
Keeping the ring on your finger demonstrates that you are secure in your relationship and are not embarrassed to show others you are in a committed partnership. Your promise to your significant other is represented by the ring you give them. 
Your ring can be a daily reminder to your partner of how much they mean to you and of your commitment to spend the rest of your life with them by showing them that you are committed to spending those years with them.
Fondness
Wearing a wedding ring is another indication of commitment, love, and care. Wearing a wedding ring demonstrates your commitment to your spouse and their significance in your life, even if marriage is not always recognised as the result of love in some situations or countries. Indeed, this is true even if you're already married.
When you feel particularly lonely, the ring might be a poignant reminder of the happy times you've spent together. The ring symbolises more than just your marriage; it also represents the great memories you and your spouse have shared.
To Show High Regard To Your Partner
Putting on your wedding band could make you think about how you and your partner make decisions. Once you put that wedding ring on your finger, you have a greater responsibility to honour your spouse's dignity. You need to accept that you are no longer unmarried and that the consequences of your behaviour may extend to someone you care about.
Before making any rush decisions, consider your spouse's sentiments and requirements. It is necessary for both parties in a relationship, especially in a marriage, to respect one another. Keeping your relationship or marriage healthy while caring about the other person is a subtle yet meaningful method to show how much they matter to you.
Unfaithfulness
Just put on your wedding band if you want to avoid or deflect stares. One spouse commonly suspects the other of cheating, even if they don't discuss it openly.
Not wearing a wedding band after being married can have unintended consequences. The people you spend the most time with will learn with certainty that you are taken. One of the most common reasons people cheat is because they feel emotionally disconnected from or undervalued and unwanted in their relationship.
No pair is exempt from these fluctuating emotions. Therefore it's common to experience frustration, rage, or sadness at various points during a marriage. 
Wearing your wedding ring in town is a great way to show your spouse how much you care.
For Your Kids
Showing off a person's wedding band is a role model for the individual's children regarding how a healthy marriage should function. 
Suppose your children witness you wearing your wedding ring daily from the time they are old enough to do so themselves. In that case, this will help them comprehend the significance of a marriage and a stable relationship.
In other words, if your children see how you and your spouse interact with one other, they will be far more likely to have a favourable view of marriage in their own lives.
Steadfastness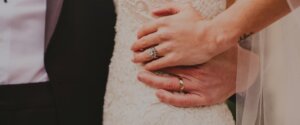 Wedding bands can be interpreted as demonstrations of concern and compassion and represent marital commitment. Even while marriage isn't always viewed as the natural outcome of love in some situations or cultures, wearing a wedding band marks your commitment to the person you married and an acknowledgment of the importance they represent in your life.
When you feel homesick, the rings can remind you of the joyful occasions you shared with your partner. This is an efficient use of the rings when feeling particularly lonely. The ring symbolises more than just your marriage; it also symbolises all of the happy moments you've shared with your partner throughout your relationship.
Courtesy
The mere fact of wearing your wedding band will serve as a reminder to keep your significant other front and centre in all you do. When you put a wedding band on your finger, you take on the added responsibility of always remembering to show the most significant amount of affection to the one you love.
You must acknowledge that your choices could impact the person you love and yourself. You should always ask yourself if you are respecting your spouse n whatever you do just before you start acting on it.
Any relationship, especially a marriage, requires the utmost respect for your spouse. Keeping your spouse constantly in your thoughts helps keep your marriage intact and is an inconspicuous means to demonstrate the extent to which you adore them.
Dedication
Always wearing your wedding band is a good idea to avoid or deflect unwanted attention. This will let people know that you are already taken.
This goal can be reached by proceeding in this manner. Many currently married people constantly worry that their partner is engaging in sexual activity with another person. This is because adultery is one of the most typical reasons couples end their marriage.
Wearing an engagement ring does away with worrying about any of those things. If this is the case, then everybody you routinely interact with will know you are in a committed relationship. According to one idea, unhappy relationships can be a factor in infidelity.
It's acceptable to feel this way, considering each attachment has ups and downs. Putting on your rings from your wedding daily is a great way to show your spouse and the world how much you value them and show your commitment to them, as we've seen before. 
Having this much regard for the person you intend to spend the rest of your life with is a wonderful gesture.
Exemplary Role Model
Your children will gain a sense of security and continuity from seeing your wedding ring daily. 
As your kids get older and can understand the concept of a committed partnership and the importance of a loving marriage, they will learn the significance of the wedding band by watching you wear it.
After all these years, they will learn why their parents still wear their wedding bands. That is to say, the perspective of marriage will likely improve among your offspring if you and the other person give an excellent role model to learn from.
Wearing a Wedding Ring Is More Important Than You May Think
A Showcase Of Commitment And Availability
If you're married and don't wear a wedding band, people will presume much about your accessibility and doubt your devotion to your spouse.
Wearing your wedding band, despite its diminutive size, shows others that you are dedicated to your marriage and that it is significant to you.
You must show your spouse that you're still dedicated to being with them even while you're apart. This helps establish mutual trust between the partners and dispels any doubts that others may have held.
It is much more important to your partner to show commitment to them even while you are away. This strengthens the bond between partners and dispels any confusion amongst the general public.
Shows Responsibility To Your Partner
A wedding is a celebration that draws people together in many different ways; when you and your partner exchange wedding vows, one of the promises you make to each other is to prioritise meeting the other person's requirements above your own.
Your engagement jewellery will be a perpetual remembrance; your decisions will influence others as we advance.
This will serve as a subtle reminder to think about your significant other and how your decisions will impact them whenever you find yourself in a situation where you must pick between two or more options.
Symbolises Respect Toward Your Partner
When it comes to a happy marriage, respect is essential. The commonplace actions we carry out speak more eloquently than the words we usually say.
A marriage is a connection that is designed to endure a lifetime. Because of this, there are a variety of approaches that can be taken while demonstrating respect. One of the most straightforward yet crucial methods to show respect to your rival is acknowledging their accomplishments.
If your spouse believes you must always wear your wedding ring, you will honour their decision and continue to do so even when they are not around because you value their opinion.
Defends From Infidelity
Wearing a wedding ring communicates to the world that you are devoted to your partner and do not want anybody else to become too physically connected to you romantically.
Protecting yourself from potential suitors by ensuring you are always adorned with a ra prudent action while looking for a partner. When people see you wearing a wedding band, they automatically believe you are committed to your relationship and leave you alone.
People who don't believe in marriage may try to convince you not to wear your wedding ring; however, if you are truly dedicated to your partner, you will wear it proudly and not only to escape temptation. People who don't believe in marriage may try to persuade you not to wear your wedding band.
Gives Children A Secure Impression Of Marriage
If you are a parent who wants to teach your children the meaning of marriage, one thing you can do is always wear your wedding band. This is one thing you can do. If you are a parent who wants to teach your children the significance of marriage, this is one thing you can do.
Suppose parents demonstrate to their children that getting married can be an enjoyable experience. In that case, it will motivate their children to put in more effort in the future to create secure and appealing partnerships. It is in children's best interest to get a representation that strikes a healthy balance between a married pair's public and private lives.
Even if there are many other things at play, many people consider the presence of a wedding band to be a sign that their marriage is successful. The children will have a wonderful opportunity to share their ideas and feelings about the significance of the wedding through this activity.
Reasons to Not Wear a Wedding Ring Are Never Good for Marriage
However, some options are where putting on wedding bands is strictly forbidden, and others could be more practical. They could be allergic to metals, for instance.
The other reasons for not wearing an engagement ring could be individual choices or objections to the marriage. There is no disadvantage to wearing a wedding band if you are fully devoted to your spouse and consider them in all you do.
Putting on your engagement ring is one of the most secure and straightforward techniques to achieve it if you are prepared to go beyond and for the union's peace of mind, your connection, and your other person's confidence.
Suppose you are willing to go the extra mile to secure your marriage's durability, that case, the strength of your connection and the dependability of your partner. The simplest and safest way to achieve this is always your wedding band. This is one way you can ensure your relationship's reliability.
Do you believe it is important to have a wedding ring to have a successful marriage? What are your feelings on the matter, and if you are married, what is your preference regarding the subject matter? Send this to some of your married friends and see what they say.
What Do Wedding Rings Represent?
The Importance Of The Circle
The fact that a circle has only one start and no end lends credence to the notion that it represents infinity. It is perfect in every manner, endures for all of the time, and cannot perish under any circumstances. In the past, wedding bands were put on the finger that held the ring (sometimes known as the number four finger) on the left wrist. 
Throughout history, people have erroneously believed that the vein in this finger led directly to the wearer's heart. As a result, they have associated this finger with the circulatory system. On the other hand, the tradition in other regions of Europe dictates that people should put their wedding bands on their right wrist.
Since the time of the ancient Egyptians, people have been exchanging wedding rings. In those days, the rings were made from plants along the Nile. 
Later, giving the bride a ring as a part of the wedding ceremony moved from the Jews to the Christians and eventually became universal. Because of this, the bride and groom both anticipate being presented with a wedding ring on their big day.
Wedding Ring Metal Type
For millennia, people have displayed their social standing by wearing jewellery that featured precious metals or stones of exceptional quality. It was usual practice to affix royal seals to documents using the king's wedding ring, which was understood to represent royal authority.
Platinum also is a well-liked option because it is both exclusive and prestigious. Because it is naturally non-allergenic, it does not cause any kind of allergic response when it comes into contact with the skin.
Gold wedding rings often take the form of thin bands in either yellow or white gold. These rings immediately acquired popularity due to the ease with which they could be used and their practicality. On the other hand, they continue to be popular among people who require a ring that can be cleaned quickly and easily, such as those who lead active lifestyles.
Because of its lengthy and rich history, rose gold is a material frequently selected for use in rings for marriage. Rose gold symbolises romance, white gold represents companionship, and yellow gold represents loyalty.
Diamond Wedding Rings
Rose gold has a rich and storied past, which may be one reason why it's such a popular option for engagement rings. Gold in rose hues is reserved for romantic partners, white gold for close companions, and yellow gold for devoted fans.
Diamonds have been commonly associated with the seemingly unbreakable quality of love for quite a while. This is likely because diamonds are so resilient and consistent. As a result, they make a wonderful gemstone to use to celebrate a marriage milestone. 
Diamonds aren't the only possible valuable stone that may be set into wedding bands. Each unique precious stone bears its one-of-a-kind importance.
Personalised Engraving
Putting a special, heartfelt, or passionate engraving within the wedding ring is a great way to make it an exclusive keepsake. 
Carving one's initials or a meaningful message onto the ring is gaining popularity. It is an excellent opportunity for the two pairs to have an intimate yet personal conversation. Sometimes married individuals sign their rings with personal confessions of affection, whereas others go with their surname and the particular day of their weddings.
Even though engravings can be customised to meet your requirements precisely, you should keep them brief and uncomplicated to make the most of the available area. There are also wedding ring forms and styles that lend themselves poorly to engraving.
When Is It Okay Not To Wear A Wedding Ring?
One of the partners will likely choose to stop donning the wedding ring at some point in the not-too-distant future.
There is an undeniable significance attached to the natural system.
A lady who normally wears a ring composed of expensive metals and gemstones may opt to stop doing so if she experiences a specific life event. This shields the engagement ring from the wearer's surroundings, which would otherwise threaten its integrity and cause it to decay.
It is impossible to exaggerate how important the location you are in currently is. Volunteering to work in a food pantry is a good illustration of a harsh instance.
Why Do We Exchange Wedding Bands?
Traditional marriage jewellery continues to be used as a representation of unending affection throughout a period that far predates the lives of any of us today. At the same time, there is now a greater choice of contemporary forms available for marriage rings and the same over time.
The giving and receiving of wedding rings is a public demonstration of a couple's commitment to love and care for one another without end for the rest of their life together. A wedding ring's meaning extends beyond the circle's shape, which is also symbolic.
Circular significance
Infinite is often represented as a circular shape as a representation since a loop has no starting point and no conclusion. It is how affection should be: consistent, unchanging, and unquenchable. Traditionally, wedding bands are put on the fourth finger of the left hand (the ring finger).
The ring finger was selected because its circulation was traditionally believed to lead directly to the core of the chest, the heart. Nevertheless, the side of the right finger is the preferred location for a marriage ring in many European countries. The ancient Egyptians utilised plants that grew abundantly along the Nile to manufacture rings for marriage.
It hadn't been a while before giving the bride a ring as part of the weddings also entered Jewish and Christian traditions. In recent decades, there has been a rise in the number of marriages that include the tradition of bride and groom receiving their wedding rings.
The concept of infinity and eternity was supposed to be conveyed by the circle, which, by definition, has an infinite number of loops inside its boundaries. In place of the common line, "until death does us part," this symbol declared, "in the afterlife, alliance, this link, and this love, even in death."
Even though the bands wore out rapidly and required frequent replacement due to the low durability of the available materials, the idea caught on and became popular. They gradually learned how to construct these rings so that they would last for a more extended period. In addition to being more durable and accessible financially, the material has become more malleable.
The Romans started using it a significant amount of time had passed, by which point the connotation shifted to ownership rather than affection. When the man proposed to the woman by giving her a ring, and she accepted it, he was legally considered her husband. 
Iron rings were traditionally given to the engaged couple in ancient Rome. These rings were meant to symbolise the couple's unbreakable bond.
At this time, engraving was practised on rings for the first time. Consequently, married Christians publicly displayed their commitment to one another by wearing wedding bands. It is customary for Christians to place their wedding rings on the fourth finger of their left hand; however, other religions and cultures have alternative practices.
The index finger is the customary location on a Jewish person's hand. On the other hand, the exchange of wedding rings or bands represents a pledge of boundless and eternal love independent of geography, culture, and religion.
Ring Metal Preference for a Wedding
For countless generations, the valuable and rare metal or gemstone set in a ring has been interpreted to represent the wearer's position in society. 
Attaching a copy of the king's wedding ring was customary when an official document needed to be authenticated. This served as a visual representation of the document's authority.
Platinum, a rare and noble metal, is frequently selected for use in today's wedding bands. Even the most sensitive skin won't be irritated by it because of the hypoallergenic properties that are inherent to it.
Usually, a marriage ceremony ring is a plain yellow or white gold band. These rings shot to fame thanks to their simplistic yet eye-catching design. They continue to be popular among people who lead active lifestyles or require a ring that is easy to maintain a clean appearance.
As a result of the sentimental value it embodies, rose gold is frequently selected for use in the creation of wedding bands. The colour rose gold is associated with admiration, white gold with companionship, and yellow gold with dedication.
Wedding Rings with Diamonds
Decorating wedding bands with jewels dates back several centuries beyond the introduction of wedding rings. Diamond engagement rings and wedding bands are timelessly romantic and everlasting tokens of love and commitment. 
Because of their resiliency and tenacity, diamonds have come to be regarded as a symbol of infinite love and unending commitment.
This makes them the perfect gem to symbolise the everlasting bond between a husband and wife. Not only diamonds but other gems of equal or more excellent value can serve as embellishments for wedding bands. There is a more profound, more meaningful significance to every dazzling gem.
Uniquely Engraved
Having a significant symbol or message engraved on the interior of a wedding band is a wonderful way to give the ring a more personal touch. The engraving of wedding bands is becoming increasingly popular amongst younger couples.
You have the option of making your message both personal and concise. Others prefer elaborate designs, including their names and wedding date, but some just want to say, "I love you."
Although engravings can convey any message, it is best to keep things brief and simple due to the medium's limitations. Depending on the ornamentation of the band on your wedding day, inscription might or might not be practicable.
FAQs About Wedding
Should You Wear A Ring On Your Wedding Day?
People of high moral standing typically avoid a potentially embarrassing scenario when the phone rings. They will conduct themselves in a trustworthy and respectful manner toward you and your spouse, ensuring not to violate any boundaries in the process. 
It eliminates the possibility of falling prey to temptation in your life and conveys to others the significance that you place on your marriage.
Does A Wedding Ring Make You More Married Than You Already Are?
There is no correlation between wearing wedding jewellery and a strengthened partnership. The person who doesn't hoot about wedding rings is the audience the sign is intended for. There is just one such person on the earth. 
Don't misunderstand; we want them to wear the wedding band. Please don't misinterpret. You believe you are one of those who always wear it. On the other hand, she has no slightest concern about them.
What Finger Do You Wear An Engagement Ring On At A Wedding?
One stunning ring that serves as both an engagement and wedding ring. It can be worn in various ways to suit your style. The engagement ring is typically worn on the third finger of the right hand. As a result, the wedding band can be worn on the same hand but on the ring finger instead.
Should You Take Off Your Wedding Ring?
Before partaking in these activities that are socially acceptable in other contexts, you need to remove the ring from your finger. Please be sure to put it on whenever you get the chance. When putting a theory into action, wisdom and reason are always necessary. 
In addition to being worn as a public proclamation of a private event, the wedding ring is traditionally seen as a symbol of undying love and loyalty. The practice of exchanging wedding bands is not nearly as archaic as conventional wisdom would have you believe, even though rings symbolise ownership.
Should You Get An Engagement Ring Or A Wedding Ring?
Consequently, selecting a marriage band with a single band rather than multiple bands might be very intelligent for some partners. The only thing that should matter to you when choosing a wedding band is finding one you adore and will be thrilled to wear, no matter the occasion.
For this reason, some couples may find that having only one wedding band is the best option. The only thing that should be important when selecting a wedding band is to find one you enjoy and are happy to wear for the rest of your life.
Content Summary
People of practically every culture have practised the custom of exchanging wedding rings for countless years.

It's crucial to consider how the wedding band will appear and feel on your finger, as there is no "correct" way to wear it.

The difference between an engagement ring and a wedding band is the first thing we need to establish.

When the ring is given is the primary determinant of whether it is an engagement or wedding ring.

In many cases, the bride and groom will match their wedding bands in design.

"Closest to the heart" refers to the wedding band married people wear.

This would mimic the wedding band on the left hand by resting below the engagement ring.

After the ceremony, the bride can swap her engagement ring for her wedding band.

In Western societies, wedding rings are traditionally worn on the left ring finger.

Design, presentation, meaning, and even finger placement for wedding rings have all changed over the centuries.

It's also worth noting that before the nineteenth century, women only wore wedding rings.

In most Muslim nations, including Iran and Jordan, it is not traditional to exchange wedding rings.

Engagement rings are worn on males' right hand and women's left hand.

Wedding bands and other symbols of commitment have been used since the Middle Ages.

Wearing a wedding band is another way to express your commitment, love, and care for another person.

Putting on your wedding band can be a visual reminder to think about your partner whenever possible.

You promise to treat your partner with the utmost respect and dignity at all times when you exchange wedding rings.

Just put on your wedding band, and people will stop staring.

You should constantly wear your wedding band to demonstrate to your children that your marriage is robust.

For much longer than we have been alive, the simple wedding ring has stood as a symbol of everlasting love.

Although wedding rings now come in a wider variety of modern styles, the meaning and custom they represent remain unchanged from years past.

A wedding ring's symbolic significance goes beyond its symbolic circle shape.

Traditionally, wedding bands are worn on the left hand's ring finger.

However, the right hand is the preferred location for a wedding ring in many European countries.

In ancient Egypt, wedding bands were crafted from various plants found in the Nile Valley.

The practice of exchanging wedding rings between the bride and husband has gained popularity in recent decades.

The limitless looping feature of a circle was chosen to represent infinity and eternity.

Christian wedding bands are traditionally worn on the fourth finger. However, other religions and civilisations have various ring-wearing customs.

But the promise of infinite, eternal love symbolised by wedding rings or bands transcends language, geography, and culture.

It was usual practice to affix the king's wedding ring to an official document as a symbol of its legitimacy.

The traditional wedding ring is a simple gold or platinum band.

Rose gold is often used for wedding bands due to its sentimental value.

Love is represented by rose gold, friendship by white gold, and loyalty by yellow gold.

Almost as old as the custom of exchanging wedding rings is the practice of adorning them with jewellery.

Diamond wedding and engagement bands always stay in style.

You can make your wedding band one-of-a-kind by having a personal inscription or symbol engraved on the inside.

The ability to engrave your wedding band depends on its design.

Wearing an engagement ring about town is a public statement of your commitment to your partner.

Even though marriage is not considered the natural result of love in some situations or cultures, wearing a wedding band is a mark of devotion to the person you married and acknowledging the value they represent in your life.

Putting on your wedding ring may be a gentle reminder to always keep your spouse in mind.