Your proposal is going to be the beginning of you and your significant other's forever, so you want it to be romantic, special, unique and a testament to your love. When looking for ideas on proposing there is no harm in drawing inspiration from posts like these, and adapting them to your own love story. From tried and tested to distinctive, these are our top recommended ideas.
1. Sunset picnic
There is something timelessly romantic about picnics in general. Throw in a sunset or a beautiful view, some delicious delicacies and bubbles, and you have a keeper. There are even some businesses who hire out their services to get the picnic together for you to pick up, or arrive early and set it up and give it that "something extra".
2. Romantic dinner at a special restaurant
Definitely a tried and tested proposal idea, it's important to get a restaurant that has the right ambiance and can make this occasion truely special. It's always worthwhile calling the restaurant ahead to see if they can do anything to help make it extra special, even if that is putting you in a prime or secluded location within the restaurant, or bringing out a meal with those words written on the plate "Will You Marry Me?". Make sure you get the staff to take a photo of you lovebirds afterwards.
3. Family gathering/celebration
This is a proposal idea that could really be tailored to be as big or as little as you like, but has the advantage of having all of the special people around you already to celebrate your love. Have a think about getting family members involved, to being a complete surprise, to the location…a restaurant, a backyard party. Something to consider though is try not to attach it on to another family member's special event as it could not be taken well from that person. Make sure you have ample sparkling wine to celebrate with everyone afterwards.
4. Destination proposal
This idea always works well as a surprise proposal as usually your significant other is distracted by the excitement of exploring a new place. It also creates a really special memory surrounding that holiday. You may need to put in a bit more research however to what would make a great proposal for that area, but is always well worth the effort.
5. Repeating your first date location
What could be more fairy tale than repeating your first date idea, especially if this was somewhere already really special. Make sure you book in a romantic dinner nearby somewhere afterwards, or have a special event with the family to pop some bubbles with them to celebrate the happy news.
6. Incorporating your favourite hobbies to do together
Do you both love ice skating, maybe fishing is more of your thing, or bowling, mountain biking, horse riding? You know you can't fail if you're doing an activity that you both love to do together.
7. Get your pets involved
What better way to pop the question than getting your fur baby involved in the proposal. From getting a jacket or special collar with "Will You Marry Me?" for your pet to wear and come running over to your significant other. Elevate this proposal and have a handwritten love letter also attached to your pet.
8. A romantic walk
It's just you two and the world. Choose from a favourite walk that you have both done before, a new destination with some amazing views like a waterfall, a clifftop looking out to the horizon, or a classic beach walk at sunset. A great option to let the beauty of the world and your significant other take both of your breath's away. 
9. A photo album of your photos together and photo at the end popping the question
This is a great idea if you're feeling a little bit nervous about physically asking your loved one to marry you. Let a really creative photo do the talking for you at the end of the album. This also makes a beautiful keepsake, as well as documenting your relationship together so far. Be prepared to have everyone asking to look at your photo album though!
10. Make a love story video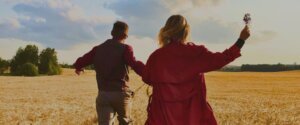 This is another great creative option for those visually romantic people out there, and again is a great way to document your relationship whilst also providing a great keepsake to show your loved ones later on down the track. Don't forget to add some moving music, or you and your loved one's song.  
11. Candlelit dinner at home

Who doesn't love a special, intimate dinner over candles. Make your significant other's favourite meal and dessert, play those Barry White tunes and pop that question! This world wonderfully if you want to keep your proposal really private and intimate.
12. Sunset boat ride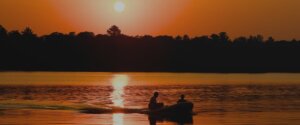 As you can tell we love a good sunset, but how about optimising that sunset with a gentle private cruise on a boat. This is a wonderful option if you both love being on the water, and has the potential to be extremely romantic. Don't forget to organise a little charcuterie board and some bubbles as you sail into that sunset.
13. Take to the air- skydiving, hang gliding, hot air balloon ride
Thrive off being an adrenaline junkie these may be the options for you. Just make sure that your significant other would enjoy these ideas first, as they may not be for everyone. This is another one where you may need to let the company know beforehand that you are going to pop the question, and may help you organise the "Will you Marry Me" question on ground for maximum impact.
Still need some help with ideas, here are some people who will do all the ground work for your proposal to make it truly unique. Then it's just up to you to "pop the question".
While the location and activity is the backdrop to your proposal, don't forget that how you phrase your proposal is the way to maximise the romance and impact. Need some tips on what to say, have a look at…