So the big question was asked, and the proposal was accepted. Congratulations on your engagement!
Whilst this is undoubtedly one of the happiest times in your life, it also represents the start of what is also one of the most stressful times too.
Planning a wedding is not easy. From finding the perfect wedding dress and locking in a venue, to sourcing a great photographer and  sourcing a truly show-stopping cake, there is so much to organise. Not to mention pay for as well.
With so much to consider it can seem daunting at first. But don't worry, with this list of 17 things to budget for your wedding, we have got you well and truly covered.
Creating your wedding budget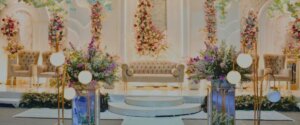 Apparently the average Australian couple is believed to spend over $30,000 on their wedding.
Whilst the cost of your wedding will depend very much on factors like your individual taste, the location of your ceremony and reception, the number of guests you will invite, and your own finances, it is a very good idea to put a budget together for all the elements you will require.
When creating your budget, you will need to prioritise which elements of the wedding are most important to you, and therefore allocate more of your budget to them accordingly.
To help you decide, here is an overview of some of the more popular services couples utilise for their special day, as well as a reasonable guide to how much you can expect to pay for each of them.
Wedding Venues
For most people the wedding venue is the first thing they will try and secure.
Clearly the venue size will depend on how many people you intend to invite and where you intend to host it. But if you want to invite between 80-100 guests to an indoor function, you can expect to pay between $13,000 to $15,000.
The good thing about securing the venue is that it allows you to officially set a date, which therefore gives your overseas guests more notice. Typically the cost of the venue for your ceremony and reception is between 40-50% of your total wedding cost.
However, you can save a bit of money by hosting both of them at the same place.
Wedding Dress
For many women, their wedding dress will be the most expensive clothing item they will ever purchase in their life.
The outlay is contingent upon a range of factors including the style of the dress, who makes it, whether it is custom made and what detailing you would like to feature on it. But on average you can expect to pay between $2,300 and $2,500 for your chosen gown.
Whilst hiring a wedding dress is an option, apparently over 75% of Australian brides buy theirs brand new, and outright. Enabling them to cherish the dress for many years to come, and even hand it down to their daughters to get married in.
Bridesmaids Dresses
Once the bride has bought their own dress, attention will naturally turn to organising dresses for her bridesmaids.
This cost obviously depends on how many bridesmaids there will be, and what material and style of dress you want for them.
But as a general rule around $700 should cover the cost of procuring all of them.
Formal Wear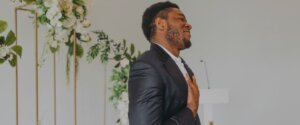 With the women in the bridal party sorted, you will also need to organise the men's attire too.
Like with the bridesmaids dresses, the cost of the men's formal wear will depend on how many people make up the bridal party.
Most couples tend to have eight people in total, including 3 bridesmaids and 3 groomsmen. Typically they tend to allocate between $1300 and $1500 for the hire of men's suits, including the groom.
Marriage Celebrants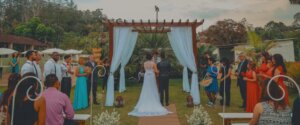 After you've secured your venue and organised what you will all wear, you will need someone to marry you.
Celebrants are a very important, yet under-rated part of your wedding day. Not only do they set the tone for your ceremony, they also will create a wonderfully emotive script that will celebrate your unique love story.
When it comes to celebrants, not all of them are created equal. So it is worth taking the time to find someone you not only really connect with, but who will also inject some personality into your special day.
As you are also paying for their time, the cost of a marriage celebrant will depend on how long you want your ceremony to last. However you should budget between $750 and $1000 for a really good one.
Photography
For many couples their special day is a whirlwind of emotions that flies at breakneck speed. Which is why it is important for them to hire a professional photographer to capture all of its wonderful moments.
Over 90% of couples do this, with many of them preferring more natural and candid images, to the traditional posed style of photographs. 
Photographers offer a wide range of packages, so the amount you spend on their service will vary. But most people tend to outlay about $3000 for photos that come in a number of different formats.
Videography
Along with a photographer, almost 80% of couples choose to hire a videographer as well, to capture all the emotional scenes of their wedding day.
To save on costs, many service providers offer a video and photography package, which you might consider booking.
If you do want to hire a dedicated, experienced and professional wedding videographer though, it will set you back around $2800.
Wedding Transport
Every bride wants to make a stylish entrance to their wedding, which is why transportation has become a very important wedding service.
There are a number of ways you can do this, including by limousine, horse and carriage or even a boat – the cost associated with which will depend on which one you choose.
Most brides tend to choose a car, which can cost anywhere from $800 to $1200, depending on the make or model.
Wedding Flowers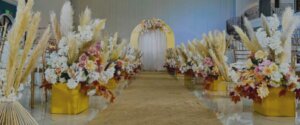 Wedding flowers are an integral part of your special day.
From the bouquet you carry with you down the aisle, to spectacular arrangements that will brighten up your venue, floral arrangements undoubtedly enhance the look and feel of the occasion.
The cost of your flowers will be contingent on the type and volume you order. But generally around $1500 to $1750 should cover you.
Wedding Music
When it comes to your reception, atmosphere is everything and in this respect your choice of wedding music is very important.
Whether you choose a DJ or band, having good music that appeals to all of your guests is a critical ingredient for an enjoyable night of fun and dancing.
Clearly you'll want the dance floor to be packed all night, so you will need to decide on the best way to do that. Most couples tend to hire a DJ, or even a combination of a band and DJ, at a cost of anywhere between $1500 to $2500.
Catering
Aside from the wedding venue, catering is an element of your wedding that will take up a big chunk of your budget.
It is important to make sure your guests are fed with delicious, and beautifully plated food, that caters to their dietary requirements.
Traditionally couples have opted for an alternate-drop menu, however in recent times grazing tables, food trucks, buffets, feasting platters and roving finger foods have all gained traction in popularity too.
When it comes to food, you definitely get what you pay for. Though it's not unreasonable to budget somewhere in the region of $80 to $100 per guest.
Wedding Hire
Many couples choose to hire wedding furniture like marquees, outdoor heaters and ceremonial chairs, or styling props like ice sculptures for their special day.
If you plan to do this it's advisable to book early to avoid disappointment. It is also a good idea to budget on the high side, as these costs can tend to add up quickly.
Decorations
As distinct from wedding hire, many couples choose to incorporate specific decorations into their ceremony and reception.
This includes the likes of specialty napkins and linens, as well as bespoke arbour, or specially created banners and signs that welcome guests.
The cost of these items will depend on factors like your overall vision. As well as whether or not you are engaging a designer or stylist.
Invitations
Wedding invitations are very important because you obviously need to know who will be attending your special day!
When costing them, be mindful also to include the cost of postage into your budgeting, especially if you plan to invite people from overseas.
It's not uncommon for couples to spend around $1000 on their invitations, including postage, depending on the design of them.
Cakes
Wedding cakes are always the centrepiece of every occasion and for most couples it will be one of the most expensive and sumptuous desserts they will ever buy.
Most cakes will set you back about $500 – $600, though you could save some costs overall by serving it straight after dinner as your desert course. Which therefore means you will not have to fork out more for extra sweets.
Hair and Makeup
When it comes to hair and makeup, it's important to source a stylist who will create exactly the look you are after. 
In this respect it is worth paying for a makeup trial to ensure you get it done exactly to your liking – which is an extra cost in itself. But once you have decided on who you will engage, the total cost of hair and make up for your entire bridal party, should be somewhere in the region of $700 to $1000.
Bombonieres
Wedding favours, or bombonieres, are an important part of your wedding preparations.
Representing the gift you give to your guests to thank them for attending your special day, traditionally 5 Jordan almonds were given to symbolise health, wealth, happiness, fertility and long life.
Nowadays bombonieres can take many forms including everything from chocolate, cookies and scented candles to mini liqueur bottles, olive oils and perfume/aftershave. With couples tending to spend between $5 and $50 per guest on them.