As you make plans for the wedding day, you ensure that every detail is perfect. Your hairstyle of choice is a big part of your look as it complements the dress and jewellery you wear. 
If your hair is naturally sleek, there is a wide range of hairstyles you can go for to complement your stunning look. Here is a compiled list of hairstyles for brides whose hair is straight. 
Wedding Hairstyles for Long, Straight Hair
Embrace the beauty of straight hair by getting hairstyles that perfectly fit your texture, hair colour, length and thickness. 
1. Straight Hair With A Centre Part: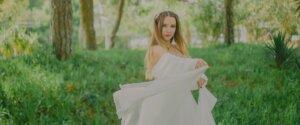 This hairstyle is the perfect choice for brides with healthy textured straight hair. It looks very natural. 
2. Straight And Down: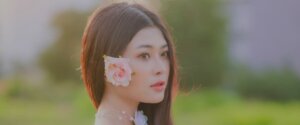 Letting your straight hair fall on your back on your special day. You should pull the fronts back and have beautiful accessories added to match the wedding gown. 
3. Loose Braid:
The braid is completely messy and loose. Accessories that match the bride's hair colour are placed on her hair to complete a classy and carefree look. 
4. Crown Braid:
Also referred to as the milkmaid, the braiding style is the go-to traditional style for many brides worldwide. 
5. Long, Straight Braids:
If you have very long hair, make a fishtail. The braid is perfect for straight hair and looks gorgeous. 
 6. Loose Curls: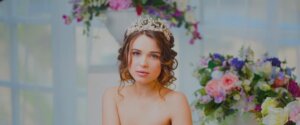 This is the perfect hairstyle if you have your wedding ceremony at the bridge.
7. Fancy Updo For Long Straight Hair:
This hairstyle is perfect for straight hair that is straight and long. A hairstyling expert should style the hair-do. Try adding accessories to your hair for a glamorous look. 
8. Half Up-Half Down: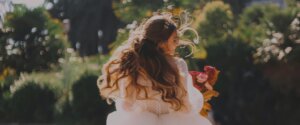 The bride's long hair is pulled back, and the top half of her hair is tied up. Its bottom is then curled loosely to give an elegant look. 
9. Wedding Hairstyles For Coloured Hair
Different hairstyles match different hair colours. Dying your hair is trendy in modern weddings and can give you more variety of hairstyles to choose from. Choose the style that best suits your hair and makes you look the most beautiful. 
10. Messy Buns
This is a straightforward yet gorgeous look for your special day. 
11. Ponytail/ classy pony
This hairstyling option is exquisite. Ponytails are best known as casual hairstyles for everydayConsiderlook extremely beautiful for formal events for a perfectly done-yet-undone at your wedding. Make sure your hair looks smooth and elegant for this style. Secure the ponytail and create soft waves using a curler. 
12. Low Bun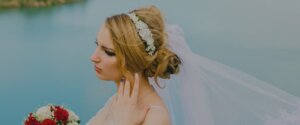 This hairstyle looks done and undone at the same time. The style looks messy and very gorgeous. Attach floral pins and bands. 
13. High Bun: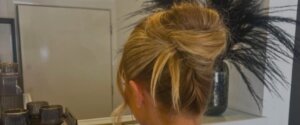 The bride can give this hairstyle a sleek look by adding floral pins, bands and a tiara. 
14. Straight Hairstyle For Long Hair
A bun and braid combination is a perfect hairstyle for brides with straight, long black hair. The bride should wear traditional hairpieces or floral pins and bands on her hair to complete the gorgeous look. 
15. Natural Curls: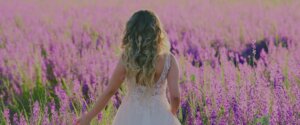 Natural hairstyles always give the bride a classy look. 
There are many hairstyle options for brides whose hair is medium length and straight. Naturally curling the bride's hair will give her a classy and gorgeous look. 
16. Classic Bun; A Hairstyle For Pakistani And Indian Brides With Long, Straight Hair
The bun is classic and has side or centre partitions in the hair. The hairstyle is traditional and very every day in countries like Pakistan and India, where the brides add flowers and jewellery to their hair to enhance its beauty. 
Wedding Hairstyles for Medium Straight Hair
It is possible to make the hair of medium length look very elegant by styling it differently. Brides can also add hair extensions to their hair for increased versatility. 
1. Side Part:
This hairstyle is meant for straight hair of medium length and gives the bride a simple yet very classy look. 
2. Wavy Hairstyle:
This beautiful hairstyle makes the bride's hair look light and wavy. It is perfect for beach weddings. 
3. Soft Curls:
The hairstyle makes the bride look sophisticated. She can also place a crown on her head to look more beautiful. 
4. Chignon Hairstyle:
This hairstyle is very well known amongst brides. It gives them an elegant look and is perfect for brides whose hair is straight. It is straightforward to style. 
5. Hair With Jewellery:
Add delicate jewellery such as floral pins, tiara and crowns to your hair for enhanced beauty. You can also simply place a flower on your hair. 
6. Ponytail Thin Straight Hair:
This effortless hairstyle is perfect for the bride whose hair is thin and straight. The bride should add a hairpiece to enhance the beauty of the hairstyle. 
7. Side Braid:
The hairstyle is perfect for straight hair of medium length. It makes the bride look very elegant. 
8. Bun With Front:
This is an elegant hairstyle for medium length hair. The bangs can also be at the side. 
9. Tucked Bun Hairstyle:
This hairstyle makes medium length straight hair look gorgeous. It is straightforward to style. Adding hair accessories such as floral pins spices up the hairstyle. 
10. Front Bangs:
The hairstyle can also have a high bun. It gives the bride a gorgeous look. 
11. Fringes:
The hairstyle can have a bun or lose braids. Placing ornaments such as floral pins, tiaras and crowns on the bride's head enhance the style's beauty. Flowers can also be placed instead. 
12. Bow Hairstyle:
This hairstyle is amusing and unique. It gives the bride an adorable and gorgeous look. 
13. French Knot:
The hairstyle looks very elegant on straight hair of medium length. You can also pair the hairstyle with side bangs, fringes and simple backcombing. 
14. Twists With Straight Or Curled Hair:
The bride's hair can be twisted at the front and paired with curls. The hairstyle is effortless and classy. 
Wedding Hairstyles For Short Hair:
If the bride's hair is short, there are many hairstyles, but she doesn't want to add hair extensions to help style her hair. Here is a list of gorgeous hairstyles for short and straight hair:
1. Soft, wavy hairstyle:
You can pair the hairstyle with small woven braids for a cute look. It gives the bride a very romantic and beautiful appearance. 
2. Straight Bob:
The collarbone glazing on the side-parted deeply makes this hairstyle look unique. The bride should try and add ornaments that match her outfit. 
3. Undercut Pixie Long Fringe:
This hairstyle is very modern, elegant and easy to style. 
4. Bob Highlights:
This trendy style is perfect for short length hair and leaves the bride looking gorgeous. 
5. Side Swept Short Hair:
This hairstyle is perfect for short and straight hair. You should pair it with hair ornaments such as crowns and tiaras. 
6. Short Hair With Accessories:
A simple hairstyle accompanied by a hair accessory such as a tiara or a crown for an enhanced look. 
7. Princess Diana Hairstyle:
This hairstyle is unique and is perfect for short and straight hair. It makes the bride look gorgeous. 
8. Front Bangs:
This hairstyle is perfect for short hair. It is beautiful and effortless to style. 
9. Soft, Waves Hairstyle:
You can wear this hairstyle in both informal and formal ceremonies. Styling the hairstyle is very easy. It is perfect for short straight hair and will make the bride look very dashing. 
10. Bridal Bob with Barrettes:
The hairstyle looks very beautiful and elegant, with short hair. Wear some classy barrettes for an enhanced look. 
Tips to Know About Styling Straight Hair
People that have naturally straight hair should avoid using a gel, hairs straightener and hair spray that can ruin the texture of their hair. The following valuable tips will help you style your straight hair better. 
Always pick the hair products that suit you best. Base this on the texture of your hair. 

Always use lukewarm water when washing your hair. 

When using a hair conditioner, don't massage it to the roots of your hair.

Always thoroughly rinse shampoo after washing.

Always let your hair air dry. Avoid heat drying as this can damage your hair. 

 If you comb your hair when it's still wet, always use wide-toothed combs. 

Ensure to trim your hair to make it easy to manage regularly. 

Ensure your hair is always well nourished by using hair masks and oils. 

Do not tie your hair when it is still wet. 

Remember to use your hair straightener and hairdryer on low or medium heat.
Frequency Asked Questions
Is Straight Hair Out Of Style?
No. There might be many hairstyling choices, but straight hairstyles remain the number one choice for most women.  
Can You Get Waves On Straight Hair?
Yes, you can. Hair curlers, hair gels, and hair spray can give straight hair a wavy texture. You can also watch tutorials and other DIYs to avoid using potentially harmful chemicals on your hair. 
How Do You Wear Straight Hair To A Wedding?
Straight hairstyles are best achieved using a light to medium hold hairspray that allows your hair to move with you. Firm finishing spray is only required for straight up-dos. Before you go down the aisle, spritz your hair with a light shine spray to ensure that they have just the proper amount of sheen.
Is Long Straight Hair Attractive?
Long hair is lovely and seductive, and it gives a woman an extra feminine touch. It also appears sexy against a white cushion. Long, strong hair is a biological trait typically associated with feminine characteristics in a woman, and a heterosexual guy may frequently find himself naturally and unconsciously wanting such a spouse.
Does A Durag Work On Straight Hair?
Yes, it does. The durag ties down hair and helps in keeping the hair straight. It, therefore, maintains the excellent condition of the hair for a long time. 
Should Straight Hair Be Layered?
Yes, straight hair should be layered. Adding layers to straight hair gives the hair more volume and helps create movement. 
What Is A Waterfall Braid?
It is a half-French braid. Only a portion of the hair is braided while the rest is left to fall, hence the name waterfall. 
Is Straight Hair Dull?
No, straight-haired women think that straight hair is dull, while women with curly hair disagree. It, therefore, depends from person to person. The hair is hard to tame and manipulate due to the little texture that demands hours of maintenance for straight hair.
Are Braids Good For Straight Hair?
Yes, braiding can be good. Straight hair is brandable, but a lot of care has to be taken. Women with straight hair need to build up the texture of their hair before braiding. This can be achieved using specific hair products. Otherwise, the braids will look thin and not as beautiful. 
What Type Of Hair Is Most Attractive?
People consider thin hair more attractive than the rest of straight hair types. For wavy hair types, thick hair is considered more beautiful than the rest of straight hair types. It also goes with hair colour and length. 
What Hair Colour Is The Rarest?
Red hair colour is the rarest naturally occurring hair colour worldwide. Only 1 – 2% of people in the world have red hair. This is because the gene that carries the colour is recessive, meaning that both the father and the mother should have red hair to give birth to a child with red hair. 
Do Braids Damage Caucasian Hair?
Yes. Box braids can ruin your hair. They can also cause damage to other hair types. The tension created between the extensions and your natural hair can break your hair. Your hairstylist, therefore, needs to be skilled. 
What Is A Viking Braid?
It is a braided hairstyle inspired by the show 'Vikings' characters. It is a combination of french braids and two other braids. Try it out. 
Bottom Line
Straight haired women have several hairstyle options to choose from on their wedding day. Choose any of the above hairstyles to match your wedding dress for a gorgeous and classy look. Remember to take care of your hair.