A wedding in the city is the epitome of style and sophistication. The city of Sydney is surrounded by the scenic scenery of its harbour, botanical gardens, stunning beaches, nature reserves, unique architecture, and contemporary design. 
These beauties make Sydney a veritable treasure trove of locations ideal for holding everything from traditional wedding festivities to modern marriages.
Sydney offers many well-known locations for weddings, but it also has a wealth of less conventional but no less beautiful and convenient sites. Keep reading for Sydney's best (and trendiest) wedding settings, including pool balconies to basement bars, traditional heritage residences to fire-side parties, and modern private dining areas.
How To Choose a Wedding Venue
If you've already begun wedding preparations, you know how important it is to choose the proper location. It's a major, major deal. Here is a comprehensive guide to help you select the perfect spot.
1. Consider What You Both Want
Your wedding site should be as unique as the two of you are on your special day. Collaborate to pick a location that speaks to both of you. Check with one another to ensure a stylish loft, seaside event, or magnificent country estate is what you both want for your big day.
2. Stick to the Budget
Even with a limited budget, you can discover a stunning location. It's important to brainstorm your budget for the venue with your sweetheart as soon as possible. You can use the Budget Calculator in the Bridebook to determine how much money you have to spend on the reception in seconds.
3. Consider the Locations that Work Best
The location of the wedding is a crucial decision. You and your spouse probably have people who care about you scattered around the county (and maybe the world!). 
Selecting an accessible venue is crucial for inviting a large audience. If you have guests coming from far away, remember to arrange for their transportation. Consider how far your older relatives can journey if you want them to attend.
4. Think of the Space you Need
Choosing the right location requires contemplation of the expected turnout and the program for the day. You wouldn't want to hire a ten-piece orchestra for an event where hundreds of people would be packed into a location that couldn't accommodate everyone. Nevertheless, you also would want to avoid scattering 15-20 people over a large room.
5. Consider Lighting  
The lighting at a wedding is among the most underrated but crucial parts of the event. And besides, if no one attends, there is little use in blowing money on a stunning location. 
Check to see if the lighting services provided by the venue are a good fit for the room and your wedding's overall aesthetic. Never, ever use fluorescent or UV lighting (unless it's a glow-in-the-dark ceremony). And if that doesn't work, look into making your light.
 6. Consider Recommendations
You want your special day to go off without a hitch from morning to night. Learn as much as you can. Ensure you get 5-star service by reading reviews of suitable places.
7. Create a Must-Haves List
Take some time to make an absolutes list with your mate. You and your future spouse can't possibly get married without these essentials. If the venue you're interested in doesn't allow the caterer of your choice, you can rule them out. Alternatively, you may have discovered the perfect location if an origami crane is what you're looking for, and they're ready to accommodate you.
8. Have an Open Mind 
Only some locations will be perfect for you, but sometimes the place you least expect it surprises you the most. Have an open mind, even when you are confident with what you are doing, and consider other possibilities. 
9. Visit the Location Regularly  
You cannot emphasise this point enough. You should always visit your top three venue selections multiple times before settling on one. You are under no time constraints to put pen to paper. Your venue decision will have far-reaching repercussions, so take your time.
10. Trust your guts 
You can only know this once you experience it for yourself. It's similar to experiencing butterflies when you enter the front door of a location, and you just know it's right. You can practically envision yourself stepping down the aisle on the wedding day, escorted by your friends and family.  
Top 50 Wedding Estates Near Sydney
1. The Lodge Jamberoo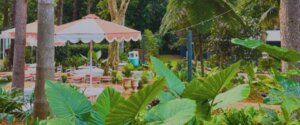 The Lodge is one of Australia's most distinctive private wedding venues. The rental of this vast resort includes 43 hotel rooms surrounding a large outdoor swimming pool. Guests can access a bar, restaurant, courtyards, gardens, and before and after wedding facilities.
There's a beautiful Pine Forest Cathedral for your wedding, with a small open-air chapel that is entirely paved (no heels getting caught in the grass!). 
They may also host receptions in various outside locations, and an all-weather alternative is a vast blank canvas auditorium. The Lodge makes weddings incredibly inexpensive by providing guests with an online accommodation payment method.
2. Coorabell Estate
The newly contemporary Coorabell Estate is a beautiful five-bedroom home built on 28 acres of rolling grounds approximately 20 minutes drive from Byron Bay. The exquisite country setting, bordered by gorgeous rainforest, provides a private and isolated three or more-day venue where you can host your wedding, reception, or any other event.
The house features an enclosed balcony perfect for small weddings. It has a seating capacity of up to 40 attendees at a single long table, with breathtaking views of the surrounding environment. 
In addition to the vast meadows, where you can pitch tipis or marquee tents, there is a pool space perfect for champagne receptions of over 50 guests. The venue rental fee usually includes the services of a wedding coordinator.
3. Greystone Estate
The Hunter Valley's Greystone Estate is a private mansion reminiscent of the Hamptons that may be rented out for a weekend ceremony. The five stars' self-contained property is perfect for intimate weddings with about 30 guests or larger gatherings of up to 110.
Greystone is a top-appointed wedding estate in Australia with its 10 acres of resort-style gardens and lawns, pool and Barbeque area, playroom, and separate butler's pantry. There is a new, all-white pavilion available for outdoor wedding receptions.
Small wedding receptions and other gatherings can be held in the Main House's open floor design, offering views over the breathtaking sunset grounds. Private food is part of Greystone Estate's five-star wedding concierge service.
4. Ravensthorpe Guesthouse
The Georgian-style Ravensthorpe Guesthouse can accommodate the bridal party and up to 14 additional guests for the night. The wedding reception hall, conservatory, big tent, and adjacent courtyard are all separate spaces you can use in any combination.
The wedding estate boasts three acres of beautiful grounds and a breathtaking ceremony rotunda with panoramas of the surrounding countryside. You can take wedding photos in various scenic locations on the property, such as by the pool or tennis courts.
5. Figbird Cottage
This property is among the few reasonably priced wedding estates you can get in Sydney. You may rent the property for a day for $4,500 or three days and two nights for $7,500, which includes lodging for eight people in two on-site cottages. During your wedding ceremony and reception, you receive all the furniture and tableware, such as arbours, silverware, lights, etc.
The picture-perfect environment of Figbird Cottage's stunning English-style gardens and the nearby dairy farm make it the perfect location for casual, traditional, or modern weddings. The setting for the property's reception is an opulent European marquee next to well-kept gardens.
You can put up outside tables on-site, invite food trucks, install festoon lighting, or build up a "backyard" wedding scene as a festival. The photo options at Figbird are limitless, thanks to a beautiful blank canvas to get you started.
6. St Joseph's Guesthouse
What now serves as a guesthouse suite was once a church. The St Joseph's Guesthouse, the main structure built over 160-year years ago, is a renowned guesthouse throughout Australia and has won many awards for its exceptional services. 
Five guestrooms are on the upper two floors of the non-denominational wedding location, and a function area is on the first floor. The Guesthouse, grounds, and lodging can be hired out exclusively for three or more days at a flat rate of $5,500.
You can have a small, private daytime wedding at St. Joseph's Guesthouse for up to a hundred people if you bring your wedding vendors. After 7 p.m., guests may move the party to the private reception area at the adjacent, similarly-owned Settlers Arms Hotel.
7. The Woods Farm
The Woods Farm is a 40-acre property perfect for weddings site that can accommodate all your guests. The estate's vintage tractors and other furnishings make it ideal for a rustic or retro-themed wedding.
The farm is well known in the area for its one-of-a-kind church. The garden arbour walk takes guests from the parking lot to the altar under the glow of hanging chandeliers and opulent rustic wood finishes.
The reception shed and attached tent may accommodate as many as 200 guests. There are eight three-bedroom cottages and eighteen glamping tents available for guests.
8. The Cove Jervis Bay
The Cove is your exclusive resort, with a private beach, party garden spaces, and a sleek, contemporary banquet hall. This oceanfront home boasts three acres of lush landscaping and is available for your wedding weekend's exclusive usage. You may host pre- and post-wedding activities in the indoor and outdoor garden spaces, and your guests can remain on-site.
The Cove has a funhouse, kayaks, paddleboards, a community kitchen, and restrooms. Also, there is a grooming room, a games garden, a village green with an outdoor bar and festoon lights, an outdoor pavilion, a chandelier tree grove, cabins, a glamping village, and a set of cottages.
9. Fig Tree Park
The newest wedding estate on the South Coast of New South Wales is Fig Tree Park. Fig Tree Park is ideally situated for a romantic wedding and honeymoon, only two minutes from the beach and the charming tourist resort of Tilba Tilba.
The estate has a separate barn for the newlyweds to spend their first night in and a luxurious country mansion where guests can get dressed. The site is framed by towering fig trees, providing a picturesque backdrop for oceanside weddings and festivities. The grassy fields at Fig Tree Park are perfect for camping, so bring your tent and set it up at night.
10. Mali Brae Farm
The Mali estate sits on a private 90-acre farm in the heart of the Southern Highlands. And its impeccable site makes it a boutique wedding venue. You can choose six ceremony sites on the property, including beautifully groomed gardens, authentic ruins, and weeping willows beside the dam.
On the estate, two reception locations may accommodate weddings of various sizes. One is a sizable, rustic hay shed that can accommodate 110 guests, while the other is a brand-new, opulent location for smaller weddings with between 30 and 55 attendees. 
11. Willow Farm
The Willow Farm estate stretches on about 160 acres and is conveniently near Seven Mile Beach. The farm, perennially associated with carefree, rural weddings, offers a variety of versatile event venues for the bridal party to decorate as they see fit.
A private marquee lawn, an outside area with enough space to put up tables on the grass and a dance floor, and a rustic entertainment shed are all interconnected reception venues. Many venues are available for wedding ceremonies. Tucked-away areas can be found beside the private creek's babbling waters, in the lush gardens, or among the towering trees of the paddocks.
12. Dryridge Estate
The high location of Dryridge Estate's wedding and reception venues provides breathtaking views of the surrounding mountains and valleys. A permanently built clear-roofed tent with spectacular sunset views will serve as the reception site.
The wedding package includes two nights stay in two separate, self-contained homesteads. Dryridge Farm is perfect for laid-back, country weddings where guests may do their thing and bring alcohol.
13. Seclusions Blue Mountains
Seclusions is a 20-acre rural house in the Blue Mountains perfect for a quiet, intimate wedding. Six spacious and high-end spa cottages are ideal for a couple's weekend getaway.
The estate's grounds have a magnificent circular theatre, from which one may take in panoramic vistas of the surrounding Alps. A separate paved area and rustic barn pavilion are available for dancing beneath the stars or serving beverages and canapés.
14. Chapel Hill Retreat
The rural estate and wedding location, Chapel Hill Retreat, is in the scenic Hawkesbury region near Sydney. The estate's natural bush cathedral, vast lawns, and brand-new verandah with breathtaking views of the Blue Mountains are all popular wedding locations.
This retreat is available for private ceremonies and elopements, and the estate also offers reception packages that include catering and bar service. There are seven cottages for guests, and one of them is a beautiful honeymoon suite.
15. Berry Hill Estate
The Hawkesbury is home to the brand-new rural estate Berry Hill, perfect for all-inclusive weddings. The unusual estate, set on 75 acres of pristine forest, is ideal for intimate tent weddings in the great outdoors.
The weddings on the estate are more of a do-it-yourself event, with the option of setting up a glamping village and using marquees or tipis for the reception. The two kilometres of river frontage that guests may explore on foot or by canoe are a big draw for newlyweds.
16. Somersby Gardens Estate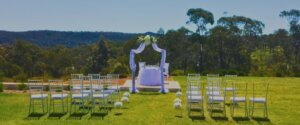 The Somersby Gardens Estate is a tranquil 50-acre property in the middle of the woods. In addition to the transparent roof tent and outdoor arena, the wedding package includes exclusive use of the beautifully landscaped grounds.
The wedding estate is approximately 20 minutes from Gosford, and accessing Sydney and Newcastle airports is simple. A beautiful seven-bedroom house with a swimming pool is included on the grounds.
17. Paradise Botanical Gardens
The Paradise Gardens is just a 20-minute drive from the Central Coast. The property's historic buildings, such as the Monet Bridge, create an enchanting ambience for wedding ceremonies.
You may have the entire estate to yourself for three or more days, complete with a farmhouse and a glamping tent. A garden marquee reception may be on the well-kept ceremony lawn bordered by picturesque rural gardens.
18. Hollydene Estate
Wollemi National Park and the gorgeous vineyards of Hollydene Estate provide the perfect backdrop for a wedding. The estate's restaurant, which features a panoramic outdoor terrace ideal for canapés and cocktails before dinner, will host the reception.
Wedding packages with everything included start at $180 per guest. Hollydene Estate is a fantastic spot to begin your search for a wedding venue with short notice.
19. Woolshed Hill Estate
The Woolshed Hill property offers a laid-back and reasonably priced wedding location that you and your future spouse can rent for the wedding reception and ceremony. Moreover, you're welcome to bring your wedding caterer and bartender of choice.
There is ample space for large tents, and the main house can host about 30 people during the wedding reception. To save money on your reception location, consider using the function room or setting up a marquee on the tennis field instead of renting expensive hardwood floors.
20. Pokolbin Village Estate
You may find the 100-acre Pokolbin Village Estate in the middle of the Hunter Valley. The estate features a reception hall with up to 60 people for more intimate ceremonies and many outside tent settings.
Bring your food, tent, and service providers. The facility can accommodate up to 54 people in its on-site hotel and self-contained accommodations.
21. Bimbadgen Estate
There are two Hunter Valley wedding locations at Bimbadgen Estate. Palmers Lane and McDonald's Road may be found on different streets. Palmers Lane was explicitly constructed as a reception hall with an outside eating area. Esca Restaurant on Mcdonalds Road is an excellent option for a low-key wedding celebration.
Both ceremony sites provide spectacular regional views of the mountains and vineyards in the area. You may host your wedding on a mountaintop with panoramic views, along the lake at a pontoon, or even amid beautiful vines. Bimbadgen features three self-contained cottages that can accommodate 20 people, and their wedding packages start at $155 per person during off-peak times. 
22. Adams Peak Country Estate
If you're looking for the most picturesque wedding site, go as far as Adams Peak Country Estate. The property is one of New South Wales's most sought-after wedding estates for festivities with a rustic theme because of the beautiful scenery from the ceremony and reception areas. The property is conveniently located a short drive from Sydney and near the wines of the Hunter Valley.
The private property hire for a wedding starts at $12,000. This includes two nights in a luxury house and a separate farmstead for 24 guests. The grounds are large enough to accommodate weddings and reception locations. If you need catering, choose one of the establishment's recommended companies.
23. Wallalong House
Regarding NSW wedding estates, Wallalong House is among the most memorable. A beautiful Indian Tent, complete with stone flooring, marble bars, and a luxury poolside setting, can be found on the property's grounds.
The 200-year-old fig tree on the estate provides a picturesque setting for the ceremony, and the celebration may continue into the night thanks to the poolside lighting.
24. Goosewing Cottage
Goosewing Cottage is an excellent place for a small wedding or elopement. The beautiful tiny covered arbour is ideal for little wedding celebrations, holding up to twenty people.
The cottage has a beautiful selection of tiny wedding packages covering everything you need. They go beyond the typical "all-inclusive" wedding package, including planning services, celebrants, and photographers.
There is a cabin, a homestead, and an event space before and after the wedding. Prices for elopement packages start at $2,290 Monday through Thursday.
25. RidgeView Estate
The Ridgeview property is a family-run vineyard with breathtaking vistas of the surrounding woodlands and streams. Up to 12 wedding guests can be accommodated in the rural estate's four private cottages, and you can adjust more in glamping tents.
Wedding ceremonies and receptions can occur in various locations, including the vineyard, restaurant, and covered verandah area. The all-inclusive wedding packages include weekend-long use of the entire venue, which starts at roughly $145 per guest.
26. Estate Tuscany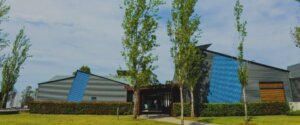 All wedding guests can remain on-site at Estate Tuscany for the whole celebration. Stay in one of the 80 Tuscan-style guestrooms, and enjoy meals served in one of the hotel's two reception halls.
Estate Tuscany's weddings, with the Brokenback Mountains as a background, are among the most picturesque in the Hunter Valley. Packages for weddings start at about $150 per guest.
27. Horsley Homestead
The private estate of Horsley Homestead is available for weddings and related events. It is unusual among NSW wedding estates because neither a reception hall nor overnight accommodations are open. 
But, with the mountains as a background, the Homestead and its adjacent heritage-listed cottages and stables provide a picture-perfect setting for wedding celebrations.
Horsley Homestead is only licensed for ceremonies, so you'll need to find another location for the reception.
28. Seacliff House
Seacliff House, a favourite wedding estate, sits on the Gerringong headlands, facing the Pacific Ocean. The location is only two hours from Sydney, making it one of the most sought-after locations in New South Wales for weddings.
You may get married on the grounds outdoors while gazing out over the luscious dairy fields and coastline, or you can have the celebration in the barn that was created just for that reason. On-site lodging, including a brand-new deluxe farmhouse, is offered for groups of 20 or more.
29. Greyleigh Estate
Located in the heart of the Illawarra, the newly renovated Greyleigh Estate was formerly a working farm. There are views of the Pacific Ocean from the private estate's 200 acres of lush green hills and orchards.
Greyleigh Estate is yours to utilise exclusively, and it features luxurious accommodations for a party of 16. From then on, you can do whatever you want inside the Estate. The Gables can host a reception, and the orchard is a great place to set up long tables for an al fresco meal. 
30. Valhalla at The Spruce Estate
The Valhalla Restaurant and Bar, located near Nelson Bay, is a casual establishment run by a family famous for the pizzas and home-grown tomatoes they use. You can reserve the whole establishment for your exclusive usage for the evening, giving you complete control over the dining experience.
There are a variety of settings available for wedding ceremonies, including a wooded area, a country lane, and farmland, and you are welcome to take photographs with the friendly cows that live on the property.
31. Stanley Park
A three-story Victorian mansion with eight magnificent bedrooms, the Stanley Park wedding estate is set on 28 acres of landscaped grounds. You may rent the seaside villa for the day or the weekend and have it yourself.
The entire property may serve as a wedding destination, from the ceremony site to the reception hall to the photo ops on the coastline. Guests can unwind in the farmhouse after a night of partying on the lawns or in the barn.
32. Yurali House
The 65-acre Yurali House estate is ideal for a private wedding or family celebration over a long weekend. Views of Mount Frome may be seen from the property's gorgeous orchard, surrounded by native Australian gardens and towering gum trees.
Yurali House may be rented out for private usage so that you can invite the vendors of your choice to your wedding. 
33. Riverside Ranch
The Riverside Ranch in Northern New South Wales is a 50-acre wedding estate with 800 meters of scenic river frontage. The property, which you can rent for a weekend or longer, provides a secluded, idyllic backdrop for wedding ceremonies and receptions and is only six kilometres from the beach.
There are four ceremony sites, three reception sites on the premises, and a one-of-a-kind rustic bar. The site is lovely for wedding ceremonies and celebrations that may be held outside beneath the sky. Prices for a three-day wedding package start at $6,600.
34. Summergrove Estate
Set atop the rolling hills of Carool in Northern New South Wales, Summergrove Estate is a complete wedding destination. Summergrove is one of New South Wales's most picture-perfect wedding estates, thanks to its breathtaking countryside and water vistas.
The property has beautiful grounds, a chapel, a chic welcome barn, and five luxurious king villas. You may take advantage of this location's private pool and tennis court for a wedding weekend escape within an hour from Byron Bay. Whether you want only the ceremony or the ceremony plus reception, prices start at $2,500 and $170 per guest, respectively.
35. Forget Me Not Weddings
Just outside of Byron Bay, on a working cattle farm, you'll find the exclusive wedding estate Forget Me Not Weddings. The scenic dam and award-winning landscaping make this a popular spot for outdoor weddings in marquees.
There are four deluxe cottages and one modest house available for guests. The grounds and the covered deck area around the swimming pool are perfect for intimate wedding receptions with about 36 guests.
36. Kullindi Homestead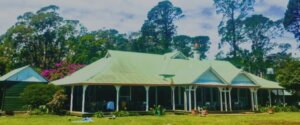 Located on the edge of Sussex Inlet, less than an hour's drive from Jervis Bay, the picturesque Kullindi Homestead is a beachfront estate with expansive lawns. The grounds on the private property are perfect for marquee and teepee arrangements, making it an excellent location for an outdoor wedding.
Five separate cabins are available, so there's plenty of room for glamping if you have a large group.
37. Wildwood Kangaroo Valley
You may have eco-friendly nuptials in a picture-perfect rainforest at the exclusive Wildwood Kangaroo Valley estate. The breathtaking cliff-top ceremony terrace at Wildwood is one of the most excellent parts of the resort.
The Wildwood wedding pavilion is a tent you may use for indoor receptions. Guests may enjoy beverages and canapés on the adjacent picnic grass while taking in the natural beauty of the property's 100 acres. Wildwood House has a full kitchen and an outdoor pizza oven, which can sleep up to eight people.
38. The Jackson Ranch
The Jackson Ranch is located on the South Coast, a 37-acre seaside estate hidden amid original woodland. Private wedding ceremonies may be held on the estate's grounds, with sandy beaches, lawns, and forest settings. The rustic Jackson Room, which has a patio outside, is another option for wedding celebrations.
It's no surprise that some of Australia's top wedding photographers have chosen to get married at The Jackson Ranch, given the abundance of stunning settings and hidden corners ideal for wedding photography. You and up to 30 wedding guests are welcome to stay at the manor house during your reservation.
39. Growwild Wildflower Farm
Growwild Wildflower Farm is a beautiful garden estate with several options for wedding ceremonies and receptions on its 25 acres of landscaped grounds. Growwild, which supplies the Sydney Flower Markets with native wildflower plantings, is a scenic area teeming with native birds and other species.
When you book a venue, you get exclusive use of the grounds, so you may pick out the exact spot in the garden or on the lawn where you want to exchange your vows. Both a rustic barn and a permanent marquee with sweeping views of the grounds are available for receptions of any size.
40. Sylvan Glen Estate
The 60-acre Sylvan Glen Estate features wineries and environmentally protected forests, making it an ideal location for a traditional wedding. A private golf course, a spacious country guesthouse, and a second cottage provide plenty of space for the couple to get ready in their own time and play at the estate.
Sylvan Glen Estate in the Southern Highlands is a beautiful venue that can accommodate 62 overnight guests for a wedding weekend. There are numerous outdoor locations for the ceremony and a reception hall and bar for the reception and other events leading up to and following the wedding.
41. Bendooley Estate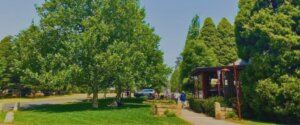 Bendooley Estate is among the most sought-after wedding locations in the Southern Highlands. Located on this sprawling farm-style estate is the Book Barn, which doubles as the HQ of Berkalouw Books.
The other option for receptions at Bendooley is a custom-built "barn" with soaring ceilings and cathedral-style windows that frame the scenery outside. The property is centred on a picturesque lake, and guests can stay in one of the many luxurious cottages, all offering views of the surrounding countryside.
42. Laurelbank Estate
Laurelbank occupies a prime spot on the North Shore of Sydney, an important historical site. The farmhouse from the 1800s has been repaired nicely, yet the outside still looks how it did back then. Laurelbank is a small and delightfully charming site for contemporary garden weddings, situated on an acre of beautiful gardens filled with camellias, magnolias, and Japanese Maple.
The most excellent aspect of this peaceful site is the flat reception grounds. At the same time, the inside dining room of this beautiful old structure gives an attractive wedding venue evocative of a bygone period. It's the perfect spot for an outside garden party, framed by the lovely verandah and the ambient old trees, and it's only a few minutes from the heart of Sydney.
43. Cropley House
Cropley House is another famous Sydney landmark. Today's grand estate, a boarding school, hosts wedding ceremonies and receptions for small and large events. The estate features six indoor reception halls with five acres of lush grass and gardens.
The site can host about 160 guests in the main event rooms and over 300 celebrating with cocktails. The smaller rooms on the second floor can host 70 seated attendees or up to 150 standing. The gazebo in the yard is where most of the wedding ceremonies take place.
44. Burnham Grove Estate
Burnham Grove is a 45-acre estate in South West Sydney's calm setting. The historic homestead is perfect for small garden weddings since it can host up to six guests and offers on-site lodging.
The nineteenth-century mansion is ideal for outdoor marquee weddings because its famously beautiful grounds feature fountains, ponds, and wrought-iron gates. Even while enjoying cocktails and canapés, you may play a game of croquet on the Croquet Lawn.
45. Loxley on Bellbird Hill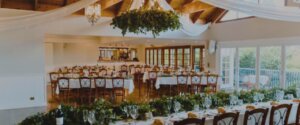 Loxley on Bellbird Hill is a garden estate that can host weddings and other special events, complete with on-site lodging for up to twenty-six people. Loxley is a great place to stay for a vacation wedding weekend because of its prime position at the entrance to the Blue Mountains, only an hour from Sydney.
The estate has a lovely outdoor ceremony balcony, numerous spots for bridal photos, a drink cellar perfect for serving canapés, and a sophisticated upper-level reception hall. The gardens are beautiful and well-kept and offer breathtaking vistas of the countryside. 
46. Estate Vaucluse House
One of Sydney's most opulent bridal properties is Estate Vaucluse House. The heritage 1920s house is set in 10 ha of magnificent Victorian-style grounds in the city's eastern suburbs, with vistas across Sydney Harbour.
After your garden wedding service, you and your guests can enjoy drinks and canapés on the estate's grounds or retreat inside to the Homestead's reception hall and patio. If you want to have an outdoor celebration on the Harbour, the venue's favoured chefs offer a variety of wedding packages, some of which include unique food station choices.
47. Palladio Arcadia
You can find the new Palladio Arcadia bridal site in the leafy northern suburbs of Sydney. Annual restrictions exist on the number of weddings that can be held on the private 33-acre site. The country house in the Italian manner is available for weekend stays, and guests can expect their every need to be met during their stay.
The centre Homestead is a tranquil, elegant retreat surrounded by trees and vast European-style grounds. Beautiful vistas and spacious furnishings make this venue ideal for weddings. Palladio lends an aura of whimsical opulence to the select few weddings held on this stunning property, from the pool house to the main house.
48. Kimo Estate
Kimo Estate is the ideal bridal location if clear, starry heavens and wide open spaces are what you're looking for. You can house 28 visitors in shearers' accommodations, two homesteads, and one-of-a-kind, off-the-grid eco huts on this functioning sheep and cattle property spanning 7,000 acres.
On-site, a converted grain shed dates back over 115 years and features lofty ceilings and tin walls, making it ideal for country-themed bridal parties.
49. Redleaf Wollombi
Redleaf Wollombi is just outside the Hunter Valley, a 6-bedroom, Italian-style house on a 100-acre sanctuary. The private estate is ideal for small, intimate bridal ceremonies and receptions in the yard or under a tent.
Long table receptions under the starlight are common in the Tuscan-style courtyard, or you can put up a teepee on the property's vast grounds. The Garden House, a nearby location with a luxurious farm aesthetic that can host up to 60 people, is another option.
The cost to rent the location on the weekend is $24,200, but smaller or midweek weddings can take advantage of discounted prices. If you're willing to spend the money, this location is perfect for a ceremony that lasts three days.
50. Longview Farm
The luxurious revolving home at Longview Farm can accommodate up to sixteen guests. Both the house's spacious external balcony and the barn next door are ideal for intimate bridal ceremonies and receptions. You can rent the land exclusively in several beautiful riverside settings for your wedding.
Visitors can choose luxurious camping and a campsite at the unstructured and adaptable Longview Farm. There are no restrictions or neighbours on this 80-acre lot.
50. Goolawah Retreat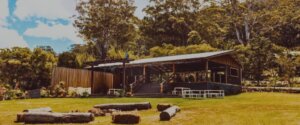 Goolawah property is an idyllic spot for a small, laid-back bridal celebration, accommodating up to 60 guests throughout a three-day weekend. Five remodelled cabins are on the site, and more lodging options are nearby. On-site camping is also welcome.
The proprietors of Goolawah Retreat have built a new pavilion that can be used for receptions and accommodate up to 120 people for drink parties. With bridal packages, you get exclusive site use, including all accommodations; you arrange catering and other services. There is no bedtime.
Conclusion
A wide variety of private properties are accessible for your exclusive use as wedding farms near Sydney. There is a wide variety of estate wedding locations, from grand mansions to rustic farmhouses.
The average cost of renting a wedding farm is $25,000 around Sydney. At the low end of the price spectrum, you can get a whole weekend's worth of entry to the property or just a day's worth. The hire charge at luxury wedding properties typically includes lodging for at least two nights.
Estate weddings at high-end locations typically begin at around $80,000 in the peak bridal season. There is sometimes a price break for weddings with at most 50 people or during the week.
Estates that accept BYO food and beverages are often the most cost-effective choice for those on a tighter budget. To reduce expenses, you should begin your location search with private estates with an interior reception area. If the wedding venue provides these items, you can reduce the cost of renting silverware, dishes, arbours, seats, and tables.